Robert & Kym Finally Kissed On 'DWTS'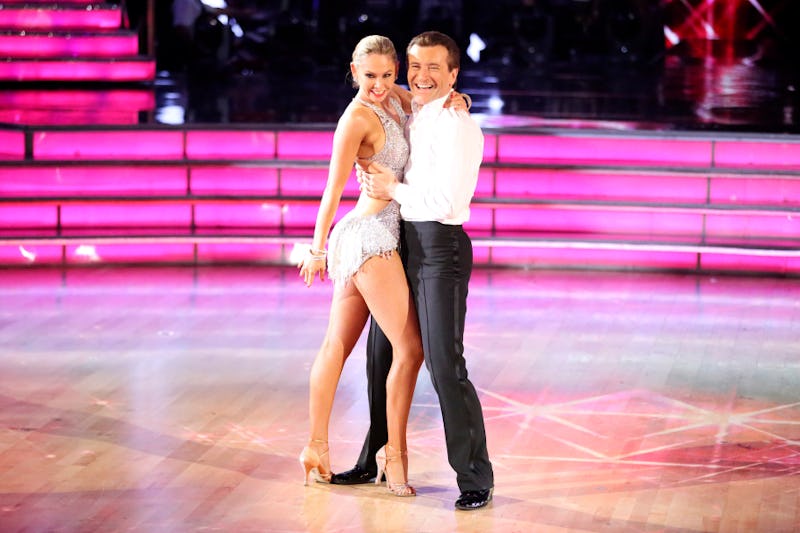 Although they're not quick to address their dating rumors, Robert Herjavec and Kym Johnson were only too happy to kiss on Dancing With the Stars this week. Of course, the idea originated from the fans, who have been 'shipping the adorable pair all season. Monday night was America's choice, which meant that DWTS fans got to choose the song the pair danced to ("Champagne Kisses" by Jessie Ware), and they demanded that their lips finally meet — even if it was only as part of the dance.
Herjavec and Johnson have been teasing fans all season by dropping hints that there's more than just friendship between them, but they've danced around outright admitting any feelings. "I'm not sure either of us pay attention to that stuff," he said a few weeks ago of the rumors. Kym agreed saying, "No, we're too busy dancing aren't we?"
But as the season's progressed, so has their chemistry. Even Herjavec admitted things felt different as they rehearsed their "Champagne Kisses" piece. "Kym and I have genuinely liked each other from the moment we met, but I think this is a whole other level." Johnson, too, seemed to have more pep in her step this week. "I'm really happy, I can't wait to dance this with you," she told him before they went on.
And after the dance, fans were really happy too. Finally they got their kiss, and everyone — judges included — were thrilled. "I thought that kiss upped your game a bit," Carrie Ann Inaba said. "There was magic in the air and a sparkle in your eye." Judge Bruno Tonioli agreed saying, "Express yourself my darling, who cares?"
No one cares, especially when they look this adorable.
Now we can only hope that kiss was just the start.
Image: Adam Taylor/ABC