How The Met Gala Totally Celebrated The Booty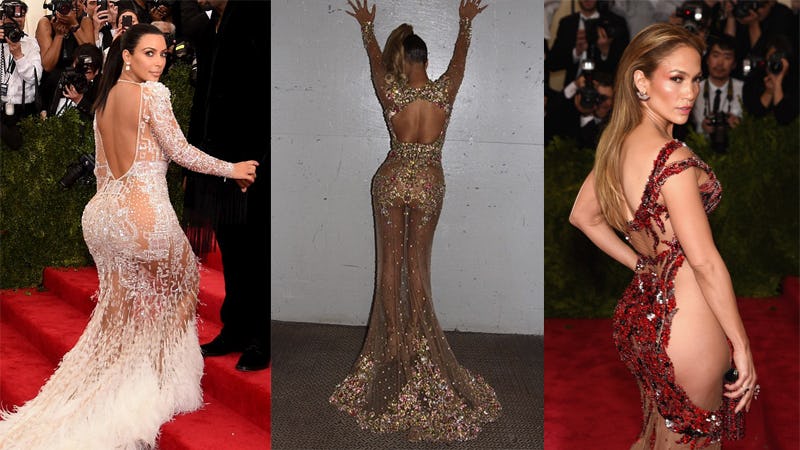 OK, people. This just in: The 2015 Met Gala is super body positive. "What ever does that mean?" you might be asking. Well, let me tell you. As well as celebrating the wonders of Chinese sartorial history in what is turning out to be a totally non-culturally-appropriative way, celebrity attendees at the Metropolitan Museum of Art's Costume Institute Gala are celebrating something else. Something totally unexpected, especially when you consider this is a media-heavy event filled with people constantly hounded to look "perfect": the booty.
While there are plenty of reasons to love your butt, we all know body positivity is complex. Not loving our bodies is pretty much the state of existence we're conditioned to inhabit, and no matter how problematic or unfair or gross that fact is, it's undoubtedly our reality. And part of this reality is an almost fear of imperfection. In most cases, a fear of fatness, jiggly bits, anything that's not toned or flat or model-esque — basically a fear of anything that feels contrary to the definitions of "perfection" we've been presented with through recent decades. It's a fear of excess — of taking up too much space, being "too big," or having "too many" curves.
This is where celebs like J. Lo and Kim Kardashian come in, though. Women who have never been afraid of showing a little skin, even if their bodies are considered more "voluptuous" than average (read: what's accepted by the mainstream). I mean, Kim K broke the frikin Internet with her booty in what was honestly a pure statement of body positivity and healthy vanity, and I have to give her major respect for that. I have to give any woman who doesn't apologize for having a body — even if/when that body doesn't fit invisible standards of beauty — major respect.
So all that being said, let's take a moment to appreciate the majestic beauty of the rump, as exhibited by some bad ass babes at the MET.
Kim Kardashian
So perhaps there's a bit of a striking similarity between Kim Kardashian's gown this year to Beyoncé getup in 2012, but hey, that doesn't make Kim's any less admirable. The sheer paneling of this dress is nothing short of exquisite, and what's even more exquisite is that said sheer paneling doesn't just stop when you hit booty. Rather, it's designed in such a way that deliberately shows off some gorgeous skin.
Kimmy K has never been shy about her derriere, and for this I am grateful. (Not even a little sorry.) Whether she's rocking latex or bodycons, she always makes it a mission to show off every curve of her body — even those that some trolls might consider "too much." Because, really, there's no such thing. And owning those curves — especially the ones on body parts that we all obsess over and scrutinize — is beautiful.
Jennifer Lopez
I mean, what would a body positive roundup of booty love be without Jennifer Lopez? Since first watching Selena in 1997, I've been starstruck by J. Lo — she who has never been scared of having curves. In Lopez, I always felt a sort of kindredness. My Latina curves had someone to relate to! Always a fan of low-cut necklines, body-hugging silhouettes, high-slits, and anything that makes a statement, J. Lo is fearless. And tonight is no different.
This gorgeous gown is all about that bass, but it's way better than that song. The cut-outs in Lopez's side are big and bold and beautiful. Yes, we're seeing butt cheek. And yes, I'm loving every minute of it. Seriously, if you needed a reminder that bigger booties are stunning (not to mention super comfy to lie on), look no further. Lopez is impeccable.
Beyoncé
I know Queen Bey's ponytail is a little bit distracting right now, but pay close attention to the sheer detailing on this epic gown. Not unlike the level of sheer we saw Kim K sporting, Beyoncé is reminding us all of just how fierce and free she is. From her tummy to her thighs to her booty, we're seeing a lot of Beyoncé tonight, and when a woman chooses to make herself visible on her own independent, beautiful terms, well, it's cause for celebration.
I just adore how Beyoncé is NEVER afraid to put herself out there, aesthetically, artistically, and otherwise. Like all women, her body has gone through changes, through varied sizes, through the natural process that is growing up. But through it all, she's always had this radiant confidence. She's always worn what she's wanted to wear — and she's always been proud of her rump!
Zoe Kravitz
While not quite as in-your-face-rump as J. Lo or Kimmy, Zoe brings the booty pride to the Met Gala in her own special way. Rocking a sheer gown with solid black undies underneath, she knows we can all see her behind, and she's owning that fact.
Whether your rump is big or small, cutely flat or too-big-to-fit-in-your-palms, it's worth celebrating. Seriously, butts are great.
Joan Smalls
I know what you're going to say: Of course it's "easy" for a fashion model to wear slits and cut-outs and sheer that show off her, um, assets. But honestly, putting yourself out there for the world to see, judge, and ruthlessly Tweet about is never easy, even if you fit the media and the fashion industry's definition of "ideal" beauty.
Showing a little booty requires an IDGAF attitude, and that's always something to applaud.
So who's ready to give their badonkadonk some lovin'? Just remember — whether your booty is big or small, thick or flat, it's great! It's soft and comfy and lovely and worth showcasing to the world á la Kim K or J. Lo. (OK, maybe we all can't get away to rocking sheer overlay on our butts in the everyday, but a girl can dream. Because what's more body positive than embracing everything you've been taught to hide away?)
Images: Getty; beyonce/Instagram