Dahlia Never Stood A Chance On 'The Originals'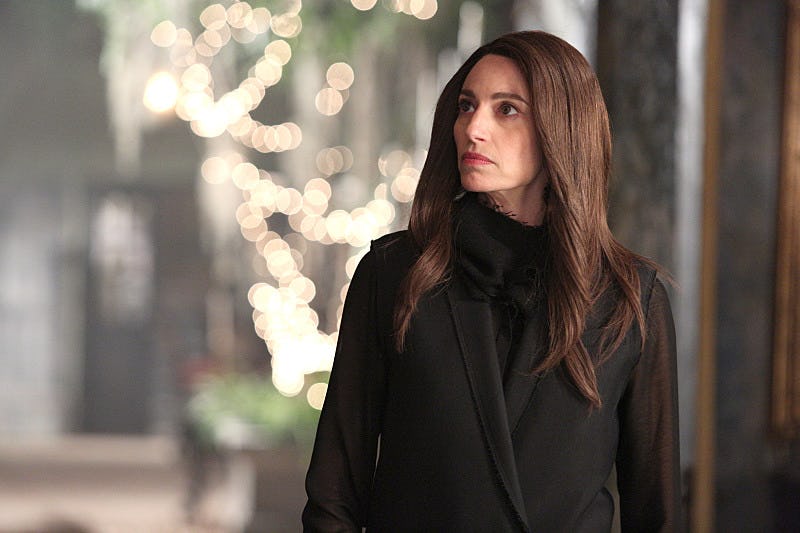 Just when we all thought that Klaus had really gone off the deep end for the last time, he surprises us by being the smartest Mikaelson in the room. OK, fine, I never believed that Klaus trusted Dahlia on The Originals . If there's one thing we've learned about this King of New Orleans, it's that he never trusts anyone — especially when that person is trying to take his daughter. On Monday's episode of The Originals, "Fire with Fire," Klaus outsmarted Dahlia and revealed to Cami that he'd been playing his aunt all along. So, what does that mean for this witch? Well, Dahlia's going to die on The Originals , of course.
In the final moments of Monday's episode (just when I was cursing Klaus for literally cursing Hayley) The Originals dropped what we all should've seen coming — Klaus had be bluffing everyone this entire time to play towards Dahlia's obvious weaknesses. And he was so damn good at it that even Elijah was shocked to learn that he'd just been setting the groundwork for the ultimate power-shift. As soon as Klaus followed through with Dahlia's plan to incapacitate Hayley and the rest of the wolves and was reunited with Hope, he basically told Dahlia to shove it. OK, he didn't say those exact words, but he reminded us of exactly what makes this Vampire Diaries spin-off an excellent series.
When Dahlia assumed that she was going to swipe Hope right out of her carseat with Klaus' consent, he turned the tables on her extremely quickly. In an extremely calculated move, Klaus told his aunt that she couldn't channel or siphon power off of his daughter until she figured out how to reverse her sleeping curse and, instead, she would have to channel him for the time being. So, what's Klaus' grand plan? Apparently, the success of it lays on Cami's shoulders.
Before Klaus carefully laid out his very believable path of destruction, he told Cami exactly how to kill Dahlia. Which, I'm sure it's safe to assume, will take into account Freya's spell on Klaus' paintings that will turn Dahlia human when she passes between them. Cami has Klaus' knife that can kill Dahlia and, because she's so inconspicuous and, well, human, Cami is the perfect person to come out of nowhere and take Dahlia down. So, really, we shouldn't be worried about Dahlia at all, because, as usual, Klaus' mind has managed to outsmart even the most worthy villain The Originals has thrown at him in awhile.
Image: Annette Brown/The CW