The Boston Marathon Runner Found Her Mystery Man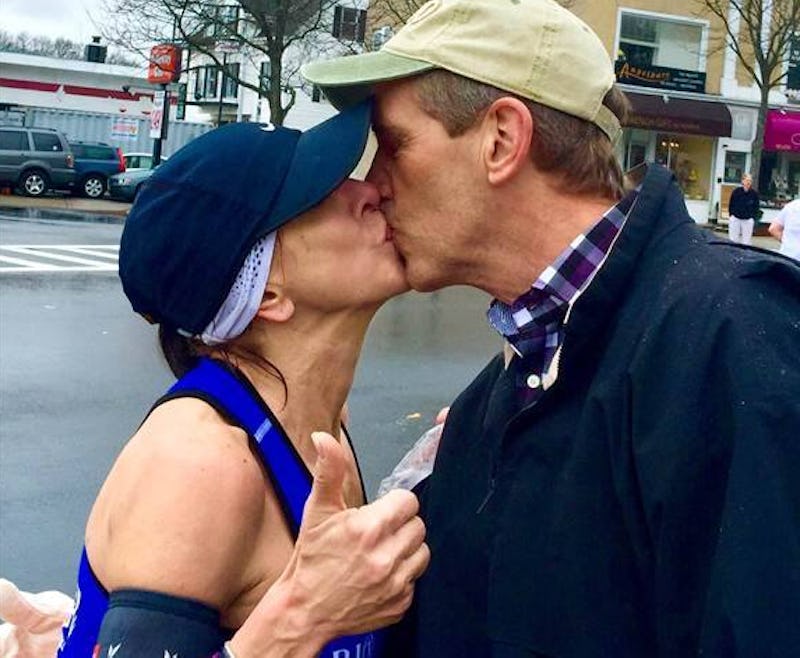 This is not the meet-cute you're looking for. Barbara Tatge, the Boston Marathon runner who kissed a stranger on her daughter's dare, has finally found her mystery man. Unfortunately for all your romantics out there, she found him thanks to a letter from... his wife.
Tatge first made headlines last month when her daughter began a public search for the mystery man she dared her mother to kiss during the Boston Marathon, the Telegraph reports. Paige Tatge posted a photo of the kiss on social media in the hopes that the Internet would do what it does best, i.e., dig up someone's identity based on very little evidence, and it garnered a wider response than either of them could have ever imagined. It's easy to see why — you've got your romantic chance encounter, a mystery to solve, and even a matchmaking child. It's pretty much Billboard Dad come to life, only with a tragic lack of Olsen twins. Despite the story's romantic appeal, the Tatges were floored by all the attention their search received.
"I can't believe the responses from random people wanting my mom to find this man. It's been great," Paige told the Daily Mail. For the most part, Barbara seemed amused by her daughter's determination. "I don't want it to seem like I'm this desperate woman that's seeking this man," she said. "But my daughters are so sweet, and they're always looking out for my best interests."
She was also very clear that she was "definitely the aggressor," in case the man was in a relationship, and as it turns out, that caution was warranted. The mystery man's wife came forward in an open letter to Tatge, published in the Wellesley Townsman, and she is a surprisingly good sport about the whole thing."When this story aired on the news we were pretty surprised," she wrote. "For me, I'm not mad... I have thoroughly enjoyed watching [our friends] give my husband grief!" She continued to wish Tatge "many happy races in the future," which is pretty gracious considering there was entire nation of people rooting for Tatge and her husband to live happily ever after. If you were waiting avidly for our unknown smoocher's identity, by the way, prepare to be disappointed, because the couple wishes to remain anonymous. But is the mystery man's name really that important? His wife summed it up perfectly. "While this may not be the ending that you had hoped for, that spontaneous, silly moment in Wellesley captured the fun, energy and spirit of the Boston Marathon," she wrote. There may have been no riding off into the sunset, but it's a pretty happy ending anyway.
<img alt="" src="http://38.media.tumblr.com/tumblr_lrh7hqNIM51qii6tmo1_500.gif" class="article-body-image"/>
Images: NBC 7 San Diego Official Facebook Page, gif-buffet/Tumblr