Get Cara Delevingne's Met Gala Temporary Tats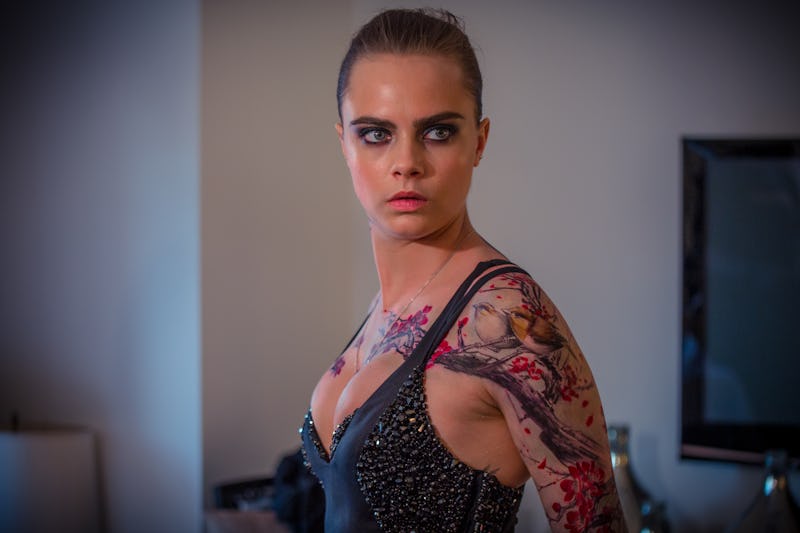 Flash tattoos have been revitalized as of late, with the addition of rainbow metallic colors and some haute couture jewelry inspiration. But that just wasn't enough for Cara Delevingne, who's Met Gala body art kicked the temporary tat trend up a notch (as our fave supermodel does with so many trends), thanks to the insane talent of tattoo artist Keith 'Bang Bang' McCurdy.
Inspired by this year's theme, China: Through The Looking Glass, Delevingne went above and beyond with her ensemble, eschewing the typical (yet gorgeous) confections of tulle, silk, and down-to-there trains, and opting instead to pair her head turning body art (an homage to Chinese culture, according the press release) with a sleek black jumpsuit.
Keith "Bang Bang" McCurdy, the mastermind behind the temporary tat, has gone from tattooing bikers in a trailer park to inking the bods of some major celebs, including Rihanna, Miley Cyrus, and Katy Perry. Bang Bang has given Cara D. some awesome permanent ink in the past — you know that index finger lion? Yup, that was him — but this one takes the cake, even if the model-turned-actress already washed it off in last night's shower.
Bang Bang designed a sprinkling of plum blossoms, symbolizing resilience and perseverance in Chinese culture, that wrapped around the model's figure, complete with floral branches hugging her limbs and soft, watercolor swallows.
Plum blossoms and cherry blossoms have been a popular tattoo choice for several years now, and, as pretty as they are, I'm a total wimp and would never be able to sit through hours of stabbing little needles necessary to apply the intricate design. If you're totally inspired by the gorgeousness that is Bang Bang's handiwork, but are a total crybaby like me, have no fear — the beauty bloggers are here. Yes, of course, those gals are already at it.
For temporary floral tattoos of your very own, you can paint those babies on, or you can dry fresh flowers and attach them with eyelash glue like beauty blogger Emily Geraghty. Happy tatting!
Images: Gurber Matthews (2), Youtube (3)