What Would Have Happened If Ashley Became A Star?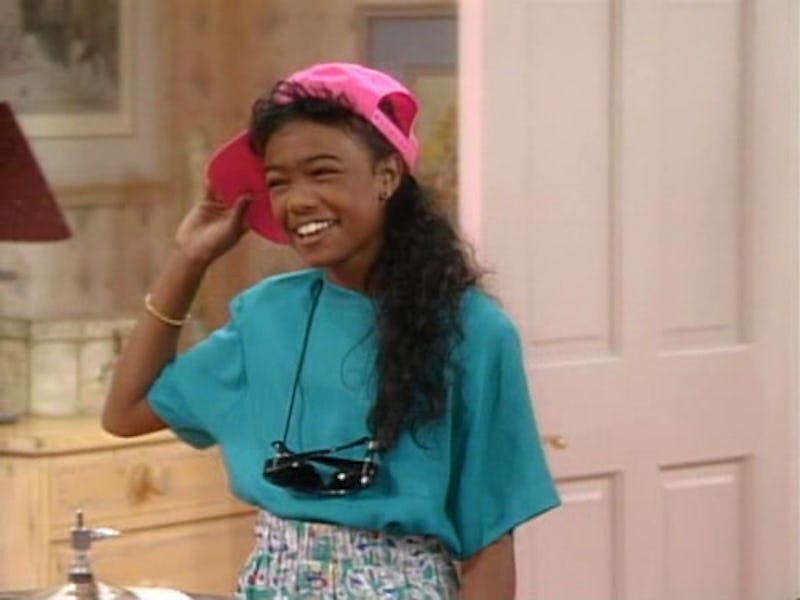 From its introduction, The Fresh Prince of Bel-Air was much more than a sitcom. In addition to the comedic ingenuity of the series, music also played a vital role in making Fresh Prince iconic. The show's musical guest stars were aplenty. From Boyz II Men to Heavy D, the show welcomed a number of famous musicians throughout its six season run. But artists like Bell Biv Devoe weren't the only ones to show their harmonic prowess, Will and the Banks family often showed their musical talent, as well. From Uncle Phil bellowing out soulful oldies, Will's catchy rap lyrics, and Carlton's renditions of Tom Jones' "It's Not Unusual," Fresh Prince always gave us something to dance to. Still, perhaps the most gifted and underused performer from the Banks clan was Will's younger cousin Ashley.
Played by the uber-talented Tatanya Ali, Ashley's musical gifts were first displayed in the pilot episode of Fresh Prince. Though Uncle Phil had only previously allowed Ashley to listen to children's music like Care Bears, Will's entry into the Banks household exposed Ashley to hip-hop and R&B. As she got older, we got to see a bit more of her singing skills. During the fifth season of the series, Will becomes Ashley's manager and she has a breakout hit with her single, "Make Up Your Mind."
Though Ashley eventually chooses to leave Bel-Air to attend a performing arts school, I can't help but think of how Fresh Prince would have been different if Ashley's career had taken off in a big way after "Make Up Your Mind."
We Wouldn't Have Seen Those Adorable Moments Between Ashley & Will
With Ashley traveling so much because of her career, we wouldn't get to see all of those heart warming moments between Ashley and Will. From sex talks to lessons on fighting, Will and Ashley always had an extremely close bond.
Will Could Have Continued On As Ashley's Manager
Fresh Prince without those super cute Will and Ashley moments seems unthinkable. If Will continued on in his position as Ashley's manager, they would have been together all of the time. However, with Will and Ashley gone so much, the Bel-Air mansion would seem empty.
Carlton Might Have Been Ashley's Choreographer
If Will continued on in his role as Ashley's manager, the show would have had to find a way to incorporate Carlton in the mix. (Obviously Will and Carlton could not have been separated for long. Who would we laugh at?) With Carlton's dance moves and Will's long limbs, the duo would have made perfect background dancers for Ashley.
The Show May Have Had A Spin-Off, A Bel-Air Gal in NYC
In the series finale of Fresh Prince, we find out that Hilary and Ashley are moving to New York City together. If Ashley had received a major record deal in the middle of the series, the sisters may have moved to the Concrete Jungle earlier. Ashley was always more down to earth compared to her older brother and sister. However, in a spin off of the series, we may have seen her become a lot more like Hilary.
Ashley Might Have Had A Steady Beau
Though Ashley had a couple of boyfriends throughout the series, there was never anyone very serious. Despite Ashley's best intentions when it came to dating, Uncle Phil, Will and Carlton were extremely overprotective. Had Ashley been away launching her music career, we might have seen her in a more serious romantic relationship.
The Show Wouldn't Have Been The Same
When the first actress to play Aunt Viv left the series, the show was was luckily able to maintain its footing. However, with Ashley gone it would not have been the same series that we grew up with and still love today.
Images: NBC (1); Giphy (6)