8 New YA Series To Jump On Before You Fall Behind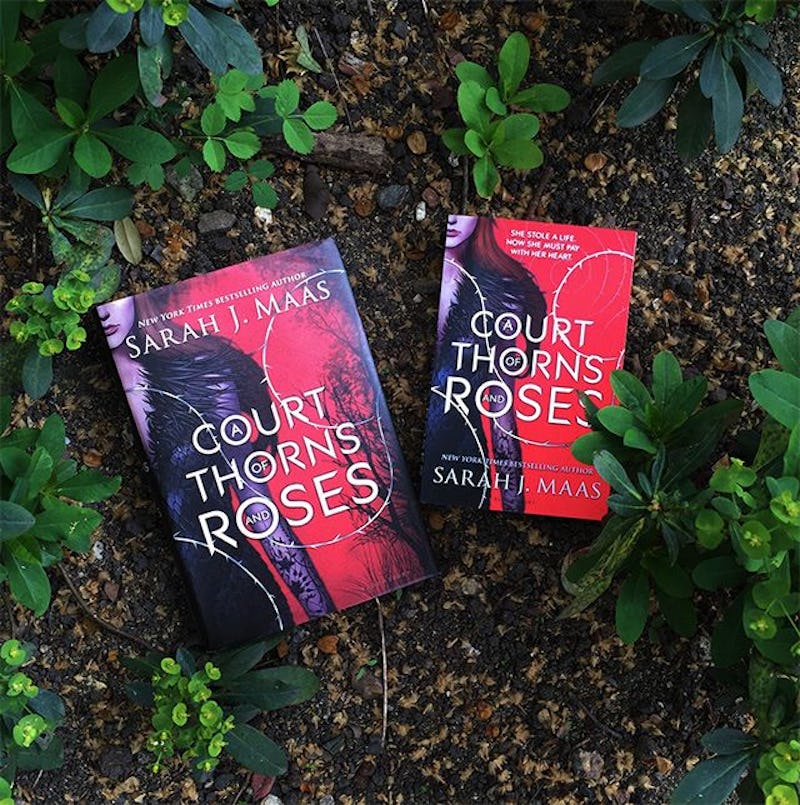 We haven't even finished her epic Throne of Glass series, and Sarah J. Maas is already giving us a new series to fall in love with. It's like she knows exactly what we need while we wait for Throne of Glass No. 4, Queen of Shadows (and the upcoming books 5 and 6 in the next few years). People had high expectations for Maas's new series A Court of Thorns and Roses ahead of its release May 5, but did you really think the woman who created Celaena Sardothien would back down from a challenge?
A Court of Thorns and Roses is a sexy, action-packed fairytale, a twisted Beauty and the Beast like only Maas could imagine it. Feyre, a teenage huntress, is dragged to a magical land by a beast after she hunts and kills a wolf. Turns out that beast is the notorious Tamlin, a dark faerie who once had power over the world she knows. But as Belle once sang to us about in Disney, her hatred of Tamlin turns into something just as powerful: a dangerous passion she can't seem to control. And with Maas's incredible world building, it's not hard to see why Feyre may want to stay in this faerie land.
Needless to say, this is one new series you have to stay on top of. If you fall behind, you're going to miss out on some rabid fan base chatter across the YA interwebs. But there are several other new series coming out and returning you should have your eyes on, too. These books either kickstart a brand new series this year, or the series already has one installment released recently and others to come, so you have time to catch up.
There are a couple notable new series that fell just short of those guidelines, with two books already published recently. If you have yet to read Lynne Matson's Lost -like Nil , it's not too late to catch up on that and its recent sequel Nil Unlocked. And earlier this month marked the release of the sequel to Matt de la Pena's incredible disaster story The Living, titled The Hunted.
If you're a savvy YA-reader armed with a calendar, you can get ahead of the game by catching up on these 7 new series now, before you're in binge-read territory.
The Cage by Megan Shepard
Human zoo — say what? That's the premise behind Megan Shepherd's eerie new series. Like many teenagers before her, Cora Mason wakes up in an zoo, except she's the one behind the bars, and she's being watched over by an otherworldly race that treats humans as the exhibits. Even so, Cora begins an attraction to her captor Cassian, who might be the only way she's able to escape. The story feels like you stepped into an episode of The Twilight Zone, in the best possible way.
The Murder Complex by Lindsay Cummings
Medical advances after a plague make it so humans are so healthy they literally cannot die by anything other than murder. So basically that's exactly what happens, and the murder rate skyrockets higher than the birthrate as The Murder Complex uses assassins to control the population. Book one of the series caught everyone's attention last summer, telling the story of teenage Meadow who is taught to fight and survive in this brutal world. The end of May marks the release of book two, The Death Code, that continues Meadow's story, especially surrounding the secrets of her family.
The Perfectionists by Sara Shepard
In case you missed all 16 books and the hugely popular TV series of Pretty Little Liars , you know very well who Sara Shepard is and the lies, mysteries, and fun that goes along with her stories. Her new series, beginning around when Pretty Little Liars ended, follows a new set of girls who all share a hatred of a male classmate who, whoops, winds up murdered. The Perfectionists is a much shorter series, at two books, so you should be able to catch up on book one well before the series finale The Good Girls hits shelves this June.
Red Queen by Victoria Aveyard
In the world of Red Queen , blood is shed to keep the rich rich and the poor poor. And like royalty, power and wealth is tied directly to the blood—not just one bloodline, but a whole division of society that was born with Silver blood and the power to do magic. They rule over the peasant class, the plain Red bloods, who don't possess magic. That is, except for a Red blood named Mare, who finds out she has powers and is swept away and hidden in plain sight in the castle, disguised as a missing Silver blood princess so that her powers don't spark a Red uprising and upset the status quo. It's fantasy, yes, but it's not hard to see how these issues of a dominating wealthy class and the loss of war reflect our real-life society today. There will be two more books in Aveyard's Red Queen series, but you have time to catch up because they are set for publication in 2016 and 2017.
Dove Arising by Karen Bao
Karen Bao starting writing her debut novel Dove Arising while she was still in high school, and it was published earlier this year during her college career. Considering most people can't even bear to make it to an 8 a.m. class in college, here's hoping she has the wherewithal to keep the sequels coming in her announced Dove Chronicles series because I seriously wouldn't blame her if she'd rather go to a capella concerts, dorm parties, and football games. Dove Arising is set on a Moon colony, and teenager Phaet Theta must enlist in the militia tasked with keeping Earthens off the Moon in order to save her own personal problems: save her mom after she was arrested and protect her younger siblings.
Lois Lane: Fallout by Gwenda Bond
Finally, finally our favorite intrepid journalist is getting her due. Gwenda Bond takes Superman's leading lady back to high school in Metropolis, where she's already been encountering things a bit ... out of the ordinary. But she's also busy using her side job as a reporter to solve a cyber bullying crime in the halls of her high school. Oh, and she's also chatting online with a guy under the handle "SmallvilleGuy," and we all know what that means. Picture this: Lois Lane as the snarky, whip-smart Veronica Mars character she was before she stood her ground alongside the Man of Steel. Don't worry, this is only the beginning of a new series.
The Young Elites by Marie Lu
If you've read the Legend series, you don't even need to read past this sentence to put The Young Elites in your TBR pile, if it's not already. She may be trading in dystopia for epic fantasy, but the same action and suspense we know Marie Lu for is alive and well. Adelina Amouteru survived a blood fever that eviscerated her nation, but instead of being welcomed back into the community, she is treated as an abomination, even by her father. You see, all the children who survived this plague were left with strange markings; Adelina's hair turned silver and a scar exists in place of her eye. But there's also another rumor going around: Those that survived the plague received the gift of magic in return, and a team of the king's men aim to wipe them out. Book two, The Rose Society, is set for October, which is perfect because The Young Elites will make great summer reading.
Image: Thrones of Glass/Facebook