Try To Resist This 'Magic Mike XXL' Trailer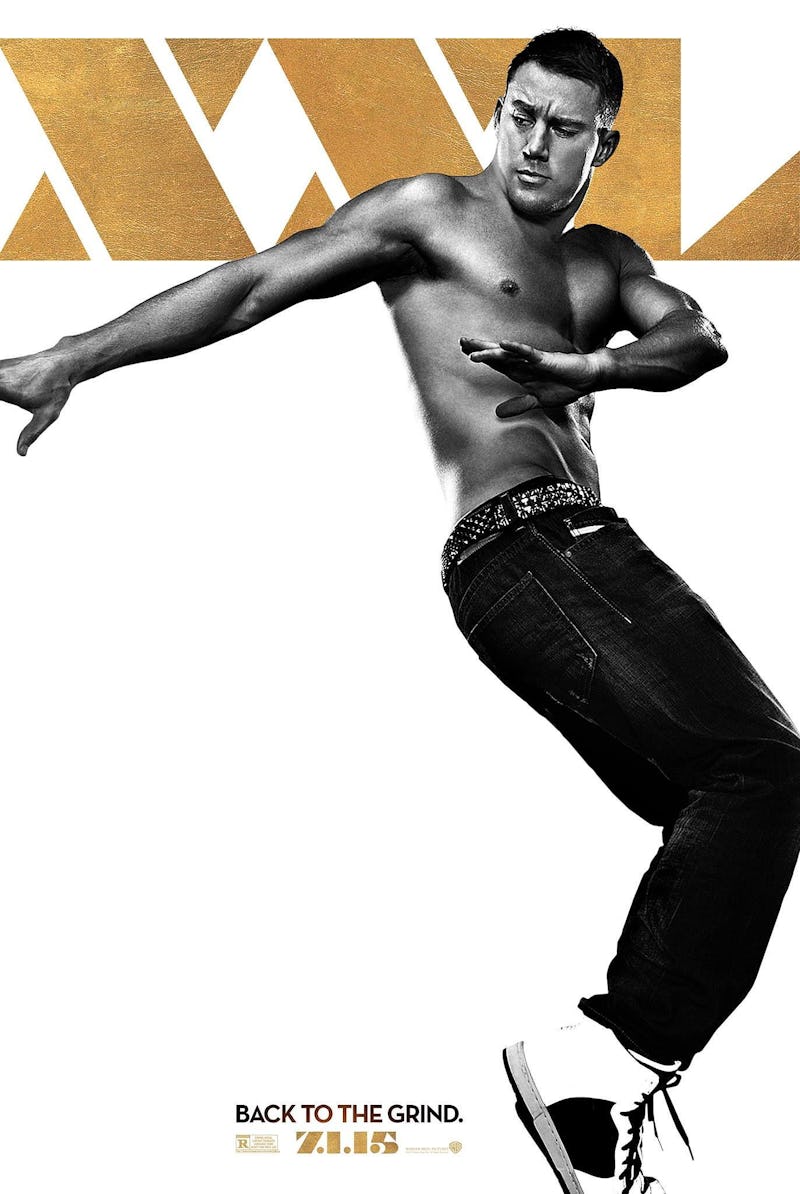 Warner Bros. have been teasing us with tantalizing footage from the new Magic Mike XXL trailer for the past few days, all the while promising us the full shebang. Well, ladies, our prayers have been answered. As you might expect, the full-length, uncut and oh so, ahem, cheeky Magic Mike XXL trailer is stuff that dreams are made of.
The title cards joke that they didn't want to show us all the best parts of the highly anticipated sequel in this two-and-a-half-minute trailer, but it was really hard to resist. Aside from Channing Tatum putting the magic back in that Mike, we see the return of Joe Manganiello as "Big D***" Richie, Matt Bomer as Ken, Adam Rodriguez as Tito, and Kevin Nash as Tarzan. The Kings of Tampa are ready to join Mike in retirement bliss, but, first, they all pile into a bus and head on over to Myrtle Beach for the big male stripping convention. Pause while I Google to see if that's a real thing... Yup, there are Exotic Dancing Conventions that take place all throughout the country. And, because it's these guys' last go with the G-string, they're gonna go all Step Up and choreograph their own stripping/dance routines.
Along the way, the guys will meet the likes of Jada Pinkett Smith, who just loves man-handling these gents; fellow male strippers in the form of Donald Glover and Stephen "tWitch" Boss; and folks like Elizabeth Banks, Michael Strahan, Amber Heard and Andie MacDowell. Titillate your senses with the full Magic Mike XXL trailer below.
As Big D*** Ritchie so perfectly demonstrates with his storefront strip tease, sometimes you just...
...get the itch...
...to strip!
Sofia Vergara, you lucky lady.
Of course, this is not just a movie about male stripping. This is a piece of art that rivals some of the most glorious cinematic endeavors. ...But, yeah, it's mainly about audiences cramming together to see Tatum shake it like a salt shaker. I'm just sad Matthew McConaughey and Alex Pettyfer aren't back to see their final blowout. Only one of them has an excuse; Oscar-winning actors are too busy for films like this.
Magic Mike XXL opens in theaters on July 1, just in time for Independence Day! Does this trailer make you feel patriotic?
Image: Warner Bros.