Sean & His Hubby Lip Sync For Mother's Day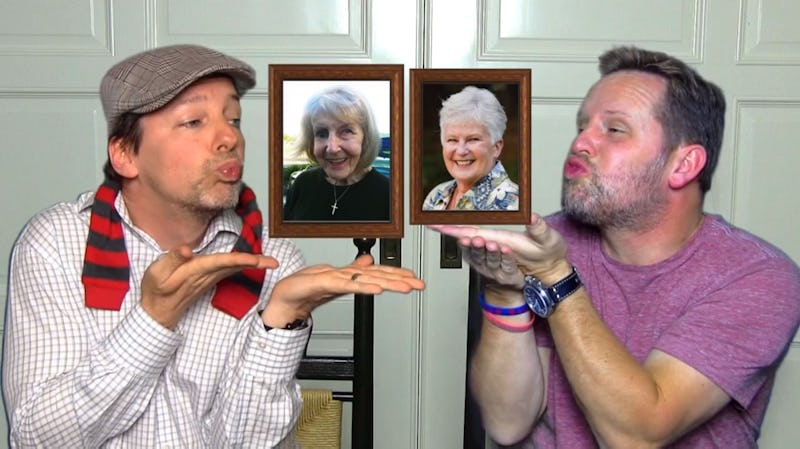 Apparently, lip syncing is the new trend taking over the world. For example, Sean Hayes and his husband Scott Icenogle are lip syncing, again, and this time it's in honor of Mother's Day. On Tuesday, the adorable couple released their latest video on Hayes' Facebook, where they showcased their impressive lip sync and props skills, all while jamming to LunchMoney Lewis' "Mama."
As you can you see below, Hayes takes on the role of lip syncing the main lyrics, while Icenogle dons a wig and a sweater as the "mama" of the video. If that isn't enough, Icenogle later trades his mother attire for a choir robe. As for Hayes, he uses some baby pajamas and flowers as a prop, while his husband uses a salt or pepper shaker to keep the beat, and, at one point, he even uses a mini-paddle labeled "bad." When it comes to filming these lip sync videos, there's no doubt these two pay attention to detail.
At the end of the video, Hayes and Icenogle honor their mothers by blowing kisses to pictures of their moms. Hayes captioned the video, "We're proud Mama's boys," and they definitely proved that with their sweet tribute to their moms on Mother's Day.
This isn't the first time Hayes and Icenogle have lip synced. Their first video was to Iggy Azalea's "Trouble," which was fantastic. Then, they did it again to Flo Rida's "I Don't Like It, I Love It," which was also spot-on. I can only imagine what the two will lip sync to next, but until then maybe they need to go on Spike TV's Lip Sync Battle? Either the two could compete or maybe there should be a special edition for couples (maybe Lip Sync Battle: Couples?) where they go head-to-head against another famous duo. I'd totally watch that.
Images: Sean Hayes/Facebook