Rayvon Owen Chooses Songs For Hometown Week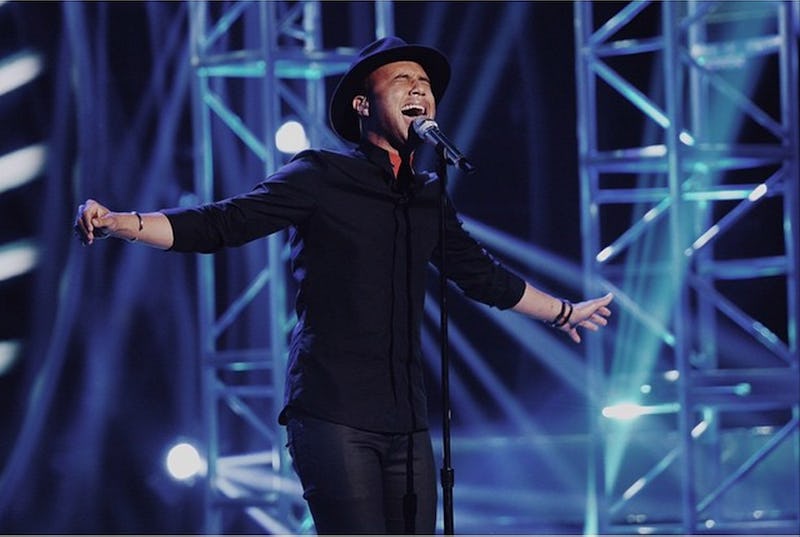 Rayvon Owen is like a phoenix that continues to rise from the ashes. The guy has been in the bottom two with the lowest votes on American Idol for the past three weeks but he continues to win the fan saves in the end, prompting the question: Why aren't his fans voting during actual voting time? But regardless of being so close to the end of his time on Idol, Owen keeps coming back with performances that further prove he deserves to be on that stage, and his incredible performance of Justin Bieber's "Believe" last week reminded all of the judges of that. Rayvon Owen has made it to the American Idol final four and the song selections that have been revealed for him so far could be the ones that take him to the top of the competition.
Although he hasn't personally revealed all of his songs via social media or any other source like fellow contestant Jax, a source from MJs Big Blog has been posting fairly accurate spoilers all season long. The blog definitely got all of Jax's song selections correct and looked to her hometown concert this past weekend to confirm. Over the weekend, Owen returned to Richmond, Va. on his media tour and sources at his concert confirm that one of his song picks is "As" by Stevie Wonder.
As you can see above, Owen has already had his turn at covering the song, and it's obvious that it holds a special place for him. What I like about the choice is that it will truly showcase his range and allow him to slip back into the falsetto that he loves to use so much. At this point, he needs to sing for the fans and this will definitely draw them back.
Owen revealed on Facebook that his second song is "Want You To Want Me" by Jason Derulo, which is already available for download on iTunes. Seriously, they move so quickly! This song is definitely one of my biggest guilty radio pleasures at the moment and it'll be fun to see him dance a little, show off his range, and give people that personality the judges are always complaining he doesn't show off enough.
As for that mysterious third song, I think to mix it up, he should sing a ballad, similar to the rendition he did of "Believe" last week. Harry Connick, Jr. has said that Owen's strength lies in ballad singing, so he needs to pay tribute to that with his final song choice. He has cited John Legend as one of his influences, so I definitely think a cover of "All of Me" would be really beautiful for his voice. Or, since he's already paid homage to Sam Smith twice in the competition, why not just end things with a cover of "Stay With Me?" I can already see the dense fog rolling out and the tears falling.
Images: Rayvon Owen/Instagram