How The Gilmore Girls Would Write Elena Off 'TVD'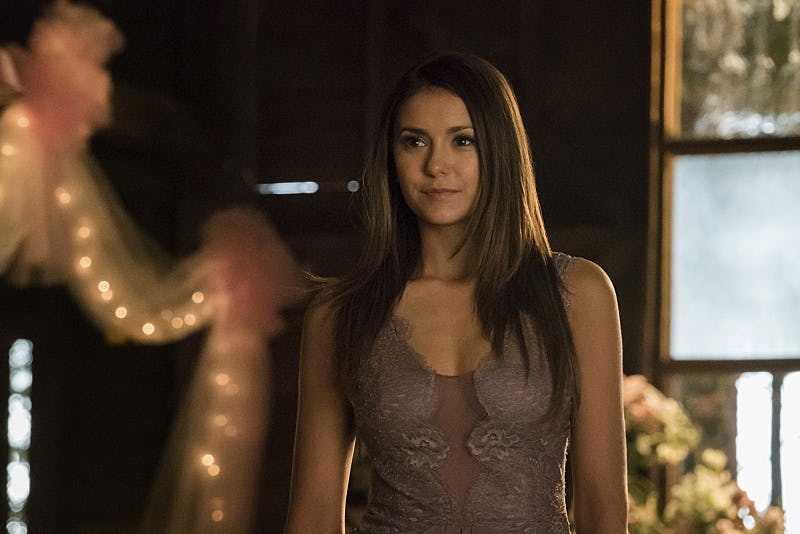 Oh Elena Gilbert, you will be so missed. There is going to be a major void to fill in Mystic Falls now that Nina Dobrev is leaving The Vampire Diaries , taking her perfect hair and love triangle with her. With her absence the big question everyone is worried about is will Elena die on The Vampire Diaries ? Death is just one of the theories floating around, but I suspect that Julie Plec will still somehow find a way to shock and surprise us — while still hopefully leaving room for Elena to return (I will never give up on my Delena endgame!).
There are plenty of great examples of writing characters off shows, even when it's the lead making their exit. If ER can survive the loss of George Clooney and Grey's Anatomy can handle McDreamy leaving, then The Vampire Diaries can make it through this. But I'm hopeful that the powers that be over on The Vampire Diaries take a page not from more serious, gruesome shows like Grey's or ER, but instead take a kinder, gentler path. Which leads me to wonder how the pop culture mavens of Stars Hollow, those titular Gilmore girls, would write Elena off of the show. Because you know they'd find a darling way to do it.
I mean, Stars Hollow and Mystic Falls are both East Coast towns, right? Virginia and Connecticut aren't that far apart. Maybe it's wishful thinking, and maybe her exit could never go down this way, but just for a little while I want to live in a world where Damon Salvatore and Kirk exist in the same universe. If they did, this is how I picture Elena's exit going.
Elena Leaves To Attend Cal In Berkeley
And not in the "art-school that's really vampire hunting kind of way." I mean Rory takes a firm hand with Elena's education and sends her to sunny California to get a degree. And hey, maybe she meets Seth Cohen along the way. Hey, it could happen!
Elena Opens A Boot Boutique
You know that Rory and Lorelai would be into Elena's boots: Her shoe game is always on point, and boots are a passion that won't get her killed. She would have to move to a town with better tourism, where people don't get sacrificed on the regular — but that would be easy obstacles to overcome. I see them naming it something a little whimsical like... These Boots Were Made For Walking.
Elena Opens The Geller & Gilbert Law Offices
Gellar as in Paris Gellar. Wouldn't this be the dream team? Sure, Elena doesn't quite have a law degree, but that wouldn't be an issue since Paris would be doing all the defending. They'd be crime fighting dream team with Elena using her special talent as a danger magnet to find clients — the Kalinda to Paris' Alicia Florrick, if you will. Paris (in all of her awesomeness) would then swoop in and defend them. Actually, I want that spin-off!
Elena Travels To Nepal For Some Self Discovery
Nobody knows the importance of being alone to figure your life out like a Gilmore girl. They'd write a strong (but emotional) goodbye: Elena boarding a plane with a duffle bag of clothes and her journal as she leaves town. Once she lands in Nepal she takes one last look at her phone with a photo of her, Caroline and Bonnie, then abandons it on the plane. She's off on a journey of self discovery.
Elena Leaves To Run A B&B And Raise A Baby
Pregnancy twist! This might be a little autobiographical on Lorelai's part, but it's still a sweet send off: Elena discovers she is pregnant (pick your favorite magical option) and runs away to make it on her own, away from the vampire danger zone. She works her way up the bed and breakfast ladder from maid to owner, Lorelai style.
Elena Falls In Love On A European Vacation
Remember that time Rory went to Rome with Emily? Yeah, it would be like that, only Elena would fall in love. Traveling to Italy she meets someone tall, dark, and human (and bonus, someone without an equally attractive, alluring brother). It's a meet cute and love at first sight, so Elena stays in Europe to live with her man at a winery where nothing insane ever happens.
Elena Keeps Really, Really, Really Busy
The old deflection routine! Rory and Lorelai might also go the road of least resistance and have Elena never actually leaves town, just be super busy working and living her life. She's constantly on the phone, and only referred to off camera — until she makes her glorious return.
Images: The CW; questolatodiparadiso (3), vampirefangd (2), careforbesgifs /Tumblr; Giphy