Sandwich Hacks From 'Top Chef's Richard Blais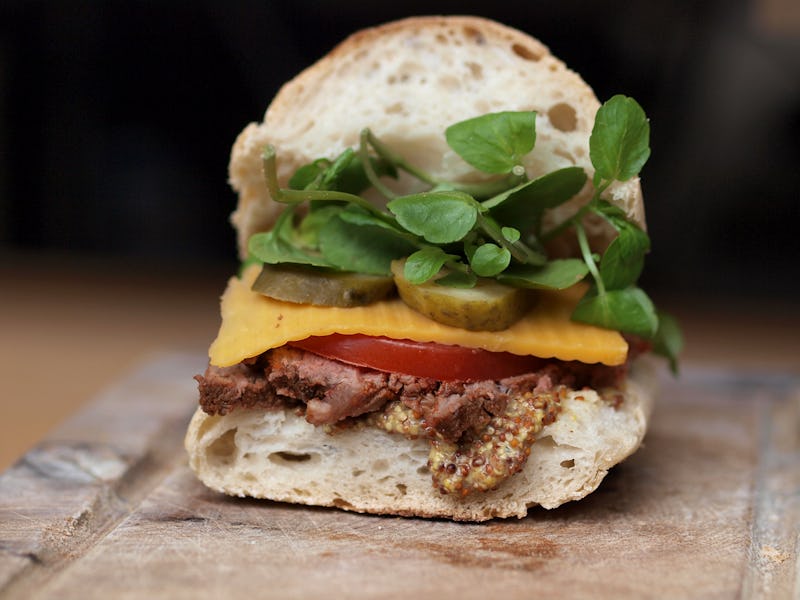 As the weather begins to warm up, everyone comes out of hibernation and starts venturing outside. One of the best parts about summer weather is picnic season, and even though you can get fancy with a spread of cheese, charcuterie, and wine, I prefer to keep things simple with great sandwiches. PB&J is a great option for traveling — and is easy to customize for more fun variations — but for something with a little more substance, a great cold-cut sandwich is a pretty foolproof plan.
However, you don't want to bore your friends and family with a basic sandwich. To avoid the pitfalls of a lame turkey and cheese, I turned to Top Chef's Richard Blais to get some of his favorite sandwich hacks. Not only is he a sandwich connoisseur in his professional life, but he also is the new brand ambassador for Boar's Head Black Forest Beechwood Smoked Ham, which is perfectly "stackable" in his dream sandwich. And in addition to things that go between two slices of bread, he also shared some awesome recipes for picnic sides that will travel in your basket without spoiling along the way, and an unconventional option that transforms a chicken dinner to leftover lunch without a microwave.
1. Crunchitize Me, Cap'n
"I'm going to go way back to when I was in high school. The first thing that I learned, before I was a professional chef, was texture," Blais says. "It's an old-school trick, but take your Boar's Head Beachwood Smoked Ham sandwich, mustard, and potato chips. Then crush it together. Whatever your favorite chip is, just get that texture."
2. Always Add Acidity
If Blais had to choose a chip, it would be a "salt and vinegar thing." Overall, he says, "I'm a big vinegar fan. A lot of people want to know what to do to wake up their food or win that next challenge on TV, and that's acidity. Whether it's a squeeze of fresh citrus or vinaigrette, add something like that."
3. Don't Be Afraid To Stack The Meat
"I might throw another meat on and stack the meat, like a roast beef as well," he adds, noting that horseradish sauce is a must-have since it's "nice and zesty." And as for cheese? Blais is a "sucker for Monterey Jack." He says, "Cheddar is OK, but I like the balanced flavor and a little more spice in there."
4. Pickled Anything Is Perfection
Blais' secret weapon is anything pickled. In addition to typical dill pickles, he suggests going for other veggies, too. "[Try] onions, just marinated in some vinegar. Or a Banh Mi sandwich — you have a cold cuts and then all these pickled radishes, carrots, and jalapenos. Fresh herbs are another big thing for sandwiches. Just get a lot of those fresh flavors in there, especially when you have a saltier meat in there like ham or roast beef."
5. For Picnic Food, Think Outside The Box
It doesn't just have to be cold cuts on your sandwiches. Try using leftovers from dinner without heating them up. "Because I spent some time in the South and I'm opening up a chicken restaurant in Southern California, what's wrong with leftover fried chicken?" he says. "Cold fried chicken and a little honey mustard, some white bread — I keep it simple. People think that I'm ultra-creative, but sometimes keeping it simple is best."
6. Skip The Mayo & Use Hearty Greens For Picnic Sides
To keep your sides from spoiling, don't use mayonnaise for any of your picnic salads. Blais' favorite variation on coleslaw is using a heartier green: kale. "One of the things I'm doing now — and maybe it's California that's done it to me — but I'm doing a version called kale slaw. It's just shredding great, hearty greens, whether it's collards, swiss chard, or kale, and getting some of that nutrition in there and mixing it up with some cabbage," he suggests. "You can use a dressing that's more like ginger and a little soy and olive oil — it doesn't have to be creamy. You still get the acidity and the funk. Cabbage is something that's amazing because it's funky in a good way."
7. Bonus: Try Blais' Awesome Kale Salad
I could eat this salad every day — it's truly crave-worthy. The balanced, smooth flavors of the ham pair perfectly with the chickpeas, sweet dates, and cilantro-spiked dressing, but you could also add another protein like chicken if you don't have ham on hand.
Images: Joy the Baker; Eric Hossinger/chiotsrun/denverjeffrey/evertstudio/ntcrwler/nd_lora/Flickr; Boar's Head