Shirts With Stains Are No Longer Embarrassing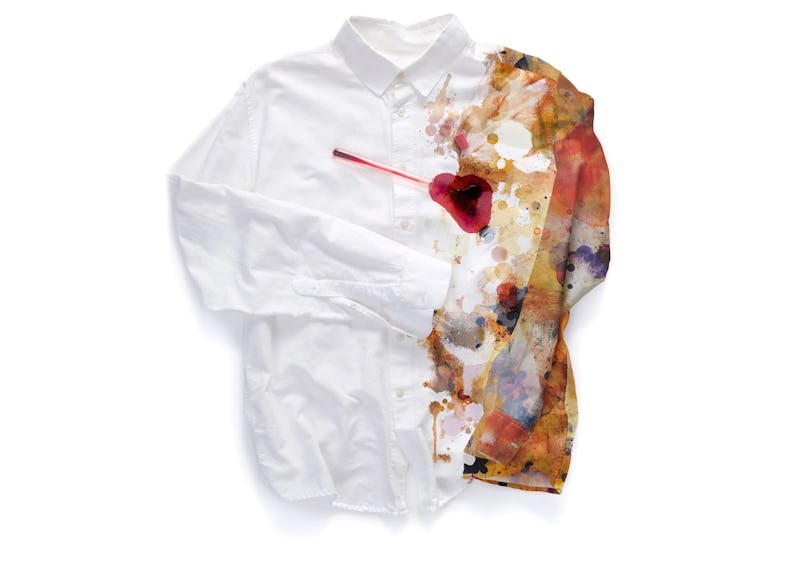 Is there anything more annoying than publicly spilling a drink or glob of hummus on your new white shirt and knowing that stain is like, never going to come out? It normally sucks when a white shirt gets up close and personal with coffee or condiments, but Mair/Wennel's Dirt Pattern Material prove stains can actually be awesome. Seriously, I'm tempted to squeeze ketchup on myself right now.
The designers describe the shirt as "a camouflage pattern made from a selection of the most common stains ... such as blood, grass, red wine, [and] bike oil." Although I'm more than a little curious/concerned where these people are getting blood for their shirts, the color scheme of blended stains is surprisingly chic. Why wear sheer dresses when you can basically wear your lunch and be equally fabulous?
Given that I'm an admittedly messy gal (how can I be expected not to spill coffee until I've had coffee?!), this is a shirt I'm confident I'd wear again and again. In fact, I'm already sitting here thinking about the top five drinks and condiments I can't even wait to *cough cough* "accidentally" stain this white shirt with.
And without further ado, here are those 5 things I'd happily wear on my shirt with pride.
1. Green Smoothie
If you've never stopped what you're doing to appreciate the deep green hues of kale or spinach, you should really reevaluate your life priorities. Seriously people, green smoothies look so bright and fresh, and I'm convinced pouring one all over a white shirt has got to be a good idea.
2. Starbucks S'mores Frappuccino
The s'mores frappuccino exists, and is now widely available for your sipping and spilling pleasure. What's great about this frap is that you get a 3-in-1 stain thanks to its cream-colored marshmallow whipped cream, dark brown chocolate squiggle, and, of course, coffee. Fashion bargain, like whoa, am I right?
3. Harissa
Harissa is a Middle Eastern condiment similar to Sriracha, usually made with roasted red peppers, coriander, and garlic. Beyond tasting delicious on everything from hummus to eggs, this paste is bright, bright red and ready to brave even the whitest shirt.
4. Mimosa
With a rich, sunny orange color, this boozy brunch classic is a must for any stained shirt connoisseur. Instead of dodging mimosa spills from cheers gone awry, we should all be diving into them chest first.
5. Crunchy Peanut Butter (the kind that requires stirring)
If you're looking to spice up your white shirt with a warm nutty color and add texture, crunchy peanut butter is the way to go. I specify the stirring kind, since the loose oils on top allow for easy spillage and maximum stain coverage. You're welcome.
Image Credits: Dirt Pattern Material; Starbucks; gfairchild, jules:stonesoup; stephanski, certified_su/Flickr