Things A 'Goonies' Sequel Would Need To Include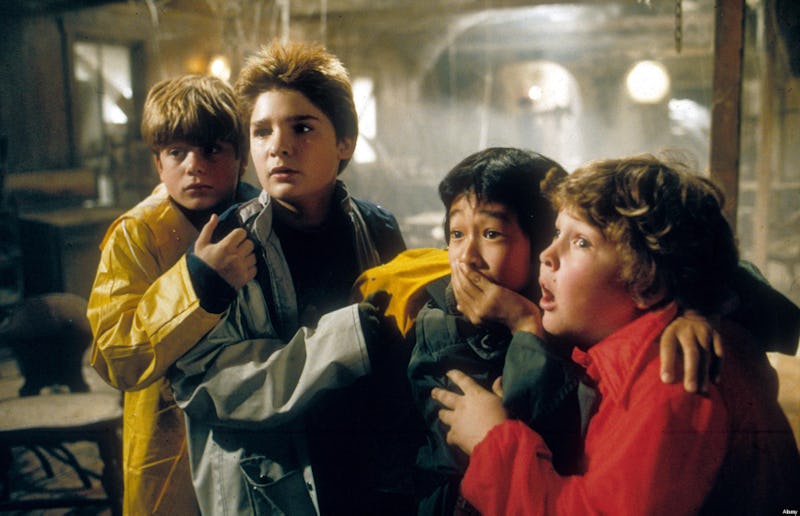 Good news for Goonies fans! If you were amongst those who have slight reservations about the fact that a Goonies 2 may be in the works, then reading Sean Astin's update on the Goonies sequel might not do much to quell any of your movie-related anxiety. In an interview on PoliticKing with Larry King, Astin revealed that producers are experiencing some difficulties with ensuring the film measures up to its predecessor. As a die-hard Goonies fan, I'm trying to remain hopeful that this sequel, should it really happen, will be less like Sloth's secret dungeon at the Lighthouse Lounge and more like a ruby, emerald and diamond-filled treasure chest.
Astin answered King's questions on plans for the possible sequel, which would purportedly follow the children of the original Goonies, saying, "Yeah, they're trying. They can't figure it out." He also disclosed that the formula that Spielberg and director Richard Donner used for the first film, "is really hard to engineer."
So far, it sounds like there's quite a bit of work remaining for the movie to come anywhere near completion. The original Goonies film debuted 30 years ago, and talk of a reboot has been circulating for at least a year — but if producers have to take a little extra time to perfect Goonies 2, then fans probably won't mind the wait as opposed to watching a sequel that lacks quality and fails to do the original justice.
Here are seven elements from the original film that Goonies 2 absolutely cannot afford to screw up:
Goonies Who Are Just As Adorable And Mischievous As The Original Crew
Cuteness overload for the Goonies 2 cast is non-negotiable.
Chunk's Truffle Shuffle
If this epic dance makes the sequel, it must be executed flawlessly.
Data's Wacky Electronic Gadgets
I fully expect to be blown away by the technological inventions of Data's kids.
Sloth's Slothiness
A CGI-enhanced character just won't do. I want to revisit the creature with the distinctly misshapen face that only a Goonies fan could love.
Sibling Squabbles
Nope, if this sequel happens, the new Goonies certainly cannot take it easy on one another.
An Unlikely May-December Teen Romance
Instead of the original scenario that involved an awkward kiss with braces, the new Goonies crew would probably be all about snapping selfies and making girls their #WomanCrushWednesdays.
The Fratellis
I can't imagine anyone procreating with any member of this absolutely rotten family, but a theoretical Goonies 2 wouldn't be complete without their awful presence.
Images: Warner Bros.; Giphy (7)