9 Reasons Jaime Camil Doing Improv Is A Great Idea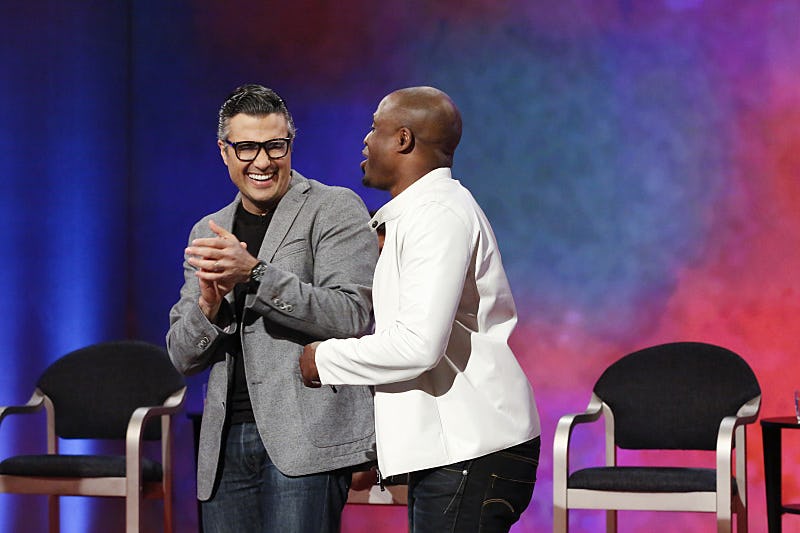 It probably goes without saying that Jane's dad Rogelio, aka Jaime Camil, is kind of the runaway fan favorite on Jane the Virgin. And now, Jane the Virgin fans are in great, great luck, because Jaime Camil is on Whose Line is it Anyway this Friday — and you can bet it's going to be pretty darn fabulous. Camil's proven time and time again that he's got comedic chops to spare, and now we're really going to get to see him put them to the test, as he squares off against Whose Line legends Colin Mochrie, Wayne Brady, and Ryan Stiles, as well as host Aisha Tyler (who's helmed the show since its reboot back in 2013).
Yep, he'll be taking to the short-form improv floor to fight it out with Mochrie, Brady, and Stiles, and hopefully we'll get to see him exercise all of his skill sets — from his character Rogelio's propensity for drama (paired with some of his trademark charming goofiness, of course), to his well-documented singing prowess. When it comes down to it, you couldn't ask for more from an upcoming Whose Line Is It Anyway contestant — basically, Camil's sure to knock it out of the park, and here are nine reasons why:
1. He's Well-Versed In The Absurd
Come on, he's played a floating head in space; he's pretty much up for any situation that might get thrown his way.
2. He's Fearless
Only someone really, really brave would dance like that in a green morph suit on national television — and it's that same bravery that will ensure that his turn on Whose Line is every bit as hilarious as the above GIF.
3. He Can Sing
Camil has trained in opera, and he's even released an album — but can he sing improvisationally? Let's throw him into the ring with the inimitable Wayne Brady and find out!
4. He Can Dance
And good thing too, because according to the episode promo, he's going to have to groove a little.
5. He's Not Afraid To Go Big
With improv, sometimes it's go big or go home.
6. He Can Do a Damn Good Impression
According to Camil, a lot of his take on Rogelio's telenovela acting is a bit of an impression of some of his dramatic Mexican contemporaries...
7. He's Got a Background In Comedy
Before he took on the Rogelio de la Vega mantle, he starred in La Fea Mas Bella, a sitcom-like telenovela inspired by the same Colombian show that inspired Ugly Betty.
8. ... And Theater
He's been on Broadway before, and you know those theater chops are going to come in handy when it comes to the death-match improv he'll be partaking in on Whose Line.
9. His Physical Comedy Is Pretty Genius
Yep, that spriteliness is definitely going to come in handy when it comes to all of those short-form improv games.
In a nutshell? Bring on the competitors, because Camil has what it takes to win all of those totally useless points on Whose Line!
Images: Robert Voets/The CW; jtvgifs, talesofnorth, queerpeaks (2), janegifs, janethevirgin-gifs, kleyttonh, beakatris