Will Summer Be Dominated By Another Sexist Song?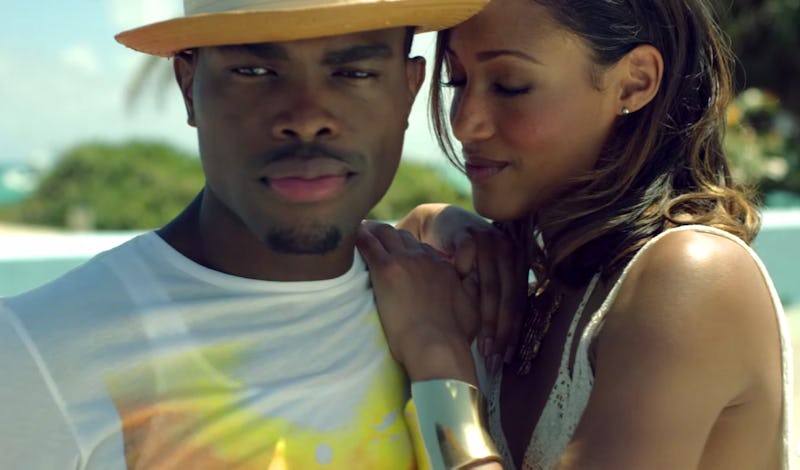 While many people are predicting that Britney Spears and Iggy Azalea's new single, "Pretty Girls," will be 2015's Song of the Summer, recently, another contender quietly entered the ring: OMI's "Cheerleader." Mic reports that the infectious track was originally released back in 2012, but it didn't take off until 2014 when it was remixed by German DJ Felix Jaehn. Jaehn's rework of "Cheerleader" just went No. 1 in the United Kingdom this week, and according to Digital Spy, it's also topped the charts in Australia, Belgium, Denmark, Germany, the Netherlands, and Sweden. Is the United States next? It certainly looks like it. There's no denying that "Cheerleader" is incredibly catchy, but unfortunately, its sexist lyrics are likely to leave a bad taste in your mouth.
"Cheerleader" isn't nearly as overtly sexist as 2013's Song of the Summer, Robin Thicke's "Blurred Lines," for example, but it's still troubling. The breezy tune finds OMI, a 28-year-old singer, gushing about the woman of his dreams: a beautiful "model" who cheers him on from the sidelines and lives to serve, granting his every wish "like a genie in a bottle." Awww, that's so... barf-inducing?
Of course, there's nothing wrong with cheering on/supporting your partner and doing things that make them happy (obviously) — but a relationship is a two-way street. "Cheerleader's" notion of an "ideal" girlfriend is a woman who essentially remains in the background at all times, only emerging when her boyfriend wants something ("motivation," lovin', etc.), which is, you know, terribly sexist. The single's entire vibe just doesn't sit well with me. Take a look at the lyrics:
1st VERSE:
When I need motivation
My one solution is my queen
'Cause she stay strong (yeah, yeah)
She is always in my corner
Right there when I want her
All these other girls are tempting
But I'm empty when you're gone
And they say...
PRE-CHORUS:
Do you need me?
Do you think I'm pretty?
Do I make you feel like cheating?
I'm like, "No, not really, 'cause..."
CHORUS:
Oh, I think that I found myself a cheerleader
She is always right there when I need her
Oh, I think that I found myself a cheerleader
She is always right there when I need her
2nd VERSE:
She walks like a model
She grants my wishes like a genie in a bottle (yeah, yeah)
'Cause I'm the Wizard of Love
And I got the magic wand
All these other girls are tempting
But I'm empty when you're gone
And they say...
PRE-CHORUS
CHORUS
3rd VERSE:
She gives me love and affection
Baby, did I mention
You're the only one for me
No, I don't need a next one
Mama loves you, too
She thinks I made the right selection
Now all that's left to do is just for me to pop the question
CHORUS
It sounds like what OMI actually wants is a good-looking sex robot that comes pre-programmed with a variety of encouraging phrases, like, "You can do it, babe!" and "Great job, honey!" — not a living, breathing human woman with her own thoughts and needs. (I'm being facetious.) I know it may seem silly to get so worked up over a three-minute pop song, but ask yourself: How often do we hear women sing about men like this? I think it's important to call out and challenge this kind of subtle sexism in pop culture.
Sadly, I don't have the strength to address the ridiculousness of "Cheerleader's" "Wizard of Love" line or OMI's reference to his "magic wand." No, not today. Check out "Cheerleader" for yourself below.
To borrow an analogy from one of my closest friends, listening to "Cheerleader" is a lot like walking into a single-stall public bathroom right after the previous occupant has sheepishly bolted out the door: immediately, you're smacked in the face by a wall of just-sprayed air freshener. At first, everything seems fine. In fact, it smells pretty good! But after about 30 seconds, your nose begins to pick up on the underlying stink. Needless to say, it's unpleasant.
"Cheerleader" was only sent to U.S. radio stations on Tuesday, but the exposure's already helped it climb into the top 40 on iTunes. Additionally, it's the third most Shazam'ed song in the world right now. Wow. Something tells me we'll be hearing it quite a bit in the coming months.
Images: Ultra Music/YouTube; Giphy