'Man Men' Creator Teases Finale Spoilers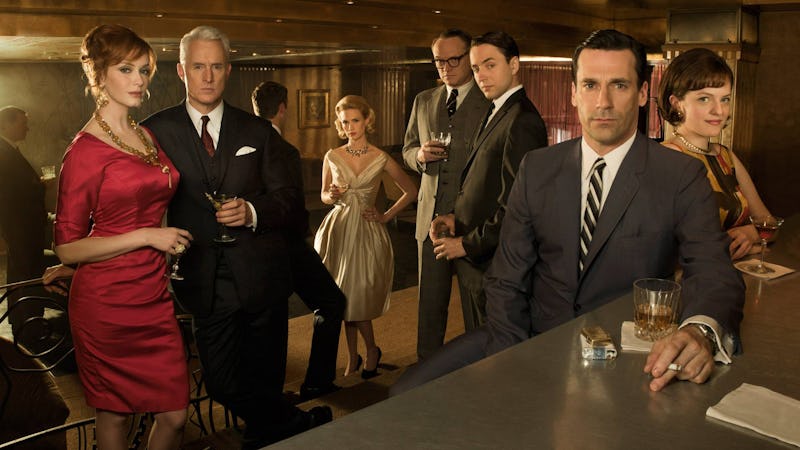 There are only two episodes left of AMC's crown jewel, Mad Men. Throughout the past seven seasons, we've dived deep into the troubled world of Don Draper, watched Peggy Olson become a total feminist hero, Roger Sterling remain unflinched in his ways, and Joan Holloway teach the world a thing or two about taking orders. We've seen war, divorce, affairs, tragic deaths, people lose their minds, children become adults, and the way America changed in the 1960s through its most powerful lens — advertising. Now that the series is almost at the end, fans are wild with predictions about how it will all end. On Thursday night, series creator Matthew Weiner dropped some major clues about Mad Men's finale and debunked a few fan theories.
When Sterling Cooper & Partners was absorbed into McCann-Erickson, Don Draper tested the glass of his office window. It seemed like a major clue as to how it might all end for Don, leading fans to guess the falling man in the opening credits has probably been him all along. Based on Weiner's interview, the likelihood of that is even greater. He and Conan discussed the DB Cooper conspiracy — another fan theory in which we find out Don Draper is actually the infamous DB Cooper who hijacked a plane with $200,000 in 1971 and then parachuted to his own death. According to Weiner, that theory is way off: "Lots of people think it's going to end in a plane crash, which Lionsgate would never pay for."
The plane crash was actually a much stronger theory, since a lot of the marketing material for Season 7 was focused on air travel — perhaps foreshadowing the way it would all go down. Now that we know that's not the case, the likelihood of Don jumping to his own death may be even greater. Either that, or Don testing the glass was just a ploy by the writers to trick all of us, and he just continues on his sad, detached path.
While on his way to find his mysterious waitress, Don was visited by the ghost of Bert Cooper, and he said to Bert that he was just so tired. He's on a road to nowhere, exhausted, and he's surrounded by ghosts. If that's not a big fat clue, I don't know what is. It might all happen up in the air... just not from a plane. Here's hoping Peggy and Joan at least get the happy endings or, at least, the resolution they so deeply deserve. Check out the interview below.
Image: AMC; thisadschoolife/Tumblr