'Once Upon A Time' Season 5 Needs These Characters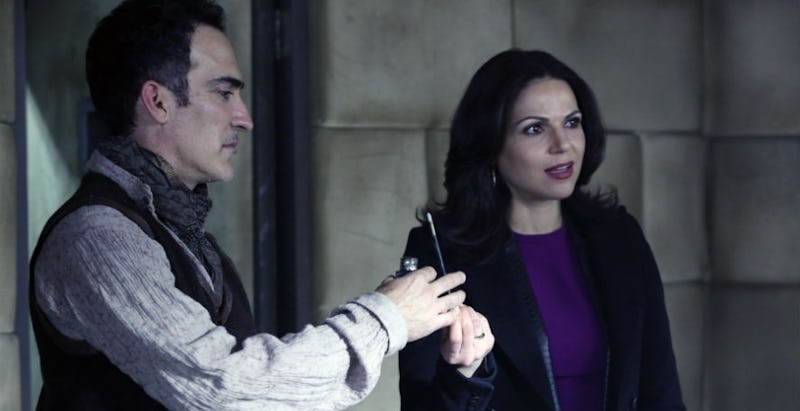 Finally — FINALLY! — there's cause for celebration in Once Upon A Time land. Well, maybe not in actual Storybrooke or the Enchanted Forest or any of the other locales in the series, but in real life, for fans of the show. Look, what I'm trying to say that Once Upon A Time is renewed for Season 5, and that's amazing news, because not only do we have way too many loose ends that desperately need tying — a feat that can't possibly be achieved during this Sunday's two-part finale — but also because there are still way too many fairy tale characters we've yet to see integrated into the series, and now they've got a chance.
While the characters we already know and love will mostly be sticking around, this show never rests on its laurels for too long, and in order to keep things moving, no doubt a plethora of new characters will be introduced next season to help with that task. There's no real way of knowing which fairy tale heroes and villains will be chosen, or how they'll be incorporated into life in Storybrooke, it's worth considering who we'd like to see and getting excited just in case they arrive. So without further ado, here are seven classic characters I'd like to see on Once Upon A Time Season 5.
Alice
Look, I know there was Once Upon A Time In Wonderland and it didn't do too well, but that's not because Alice isn't an amazing character. Bring back Sophie Lowe as Alice, find her in Wonderland, and make it work. After all, there's a way to connect the dots here — Regina's mother did end up as the Queen of Wonderland at one point, didn't she? HELLO, this is obvious!
Jasmine
Surprisingly, we haven't really touched on the world of Aladdin yet, which means it's wide open for him AND Jasmine to join the OUAT cast. Even if they're not in Storybrooke, they've got to be back in the old world somewhere, and Jasmine's status as royalty would have made it possible for her to have had contact with the Evil Queen...
Christopher Robin
I mean, we can't really bring Winnie the Pooh to Storybrooke, can we? The next best thing is Christopher Robin, who could end up being some random character's son... and maybe befriend Henry? I don't know how he'd fit in, but I do know he should.
Goldilocks
I doubt Goldilocks would become a major character — we'd probably only see her in flashbacks, like what happened with Hansel & Gretel a few seasons back — but she's a classic fairy tale character and should at least make an appearance, don't you think?
Mary Poppins
I know Mary Poppins wasn't technically a fairy tale, but so what! This is my game — and hey, OUAT is always breaking the rules when it comes to including characters they want (AHEM, Elsa!), so this could totally happen, and it'd be WONDERFUL. I think baby Neil needs a new nanny, don't you?
Bluebeard
Bluebeard might be slightly dark for OUAT, considering the classic French folktale features a wealthy aristocrat who loves killing all his wives. But WHATEVER! I'm sure they can clean his story up enough to be appropriate for Sunday night primetime. Besides, many fairy tales have dark and gruesome roots, like Peter Pan, but there's always a way to make it "kiddy," at least slightly.
Aladdin
As mentioned above, Aladdin and Jasmine would be great additions to Season 5, especially since they're two of the only major characters (in the Disney sense) that haven't been represented yet.
The Three Musketeers
Can you imagine the Three Musketeers in Storybrooke — or better yet, back in the enchanted forest? So good, and so perfect that I honestly can't believe it hasn't been done yet.
Images: ABC (1); Giphy (5); QED Publishing (1); Gustave Dore/Wikimedia Commons