I Tried Making Lipstick From Crayons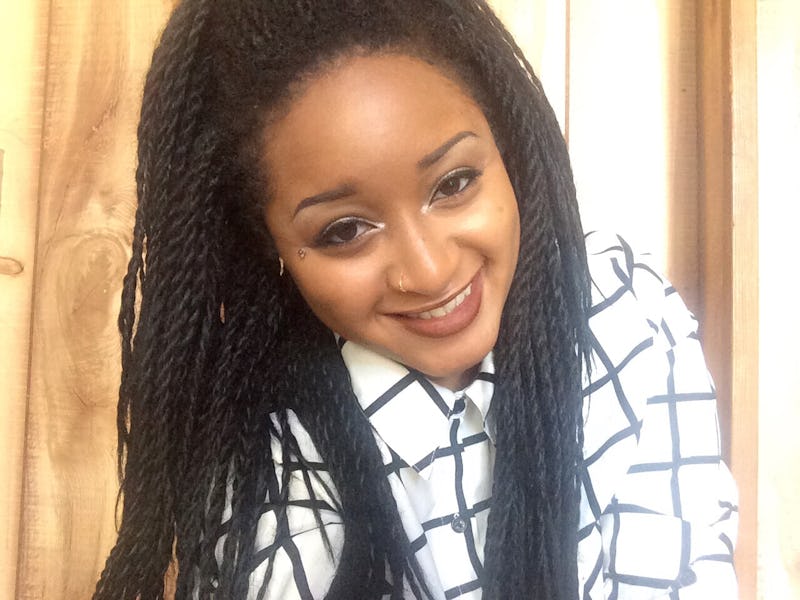 As a lipstick lover, I often struggle with the fact that I only have one set of lips, but dozens of color choices to paint on them. Of course a collection that large adds up — I'm talking major scrilla spent on lippies and glosses here. Therefore, when the day came to put DIY crayon lipstick tutorials to the test, I had to jump on that bandwagon. As a budget-conscious, 21-year-old, lipstick lover, it was only appropriate. My inner makeup artist cringed a bit, but the temptation to save some cash was irresistible.
The materials for this DIY are simple and inexpensive. The main ingredients are Crayola crayons (they have the best pigmentation of all crayon brands) and coconut oil (but you won't need to splurge on the largest jar like I mistakenly did). Most tutorials call for using glass jars to melt the crayons in a skillet or pot, but plastic condiment cups from the dollar store worked just fine for me. Toothpicks are sufficient for stirring the colors once they are melted. Finally, bead storage containers are perfect for storing your finished product. I opted for stackable bead containers over pillbox-like storage, as I wanted to be able to carry one lipstick at a time for possible touch-ups throughout the day. Other than these few slight changes, I followed this Crayola lipstick tutorial to a T.
I must say that I was both impressed and turned off by my results. Most of the tutorials I watched only praised the DIY, so I didn't really expect any flaws in the finished product. While I loved my swatches — for the most part they came out exactly how I expected — I was disappointed with their longevity and texture. After drying overnight, I put my lipsticks to the test.
Only after removing a top, cruddy layer of crayon that formed overnight was I able to swipe a brush down into my swatches. Applying a dab of coconut oil to my brush did help, but that marked strike one for me. I also found priming my lips with Chapstick beforehand helped for a smoother consistency and appearance in photos.
After a couple of weeks, the waxy smell of the crayons amplified times ten. I don't know about you, but I sure don't enjoy the aroma of wax-ridden coloring book smacking me in the face every time I attempt to apply makeup. Strike two. It also wasn't long before that cruddy top layer worsened. I've gotten makeup application down to a roughly 17-minute process and I didn't intend on extending it to a full 20 by going digging for fresh Crayola lipstick to use. Strike three. I'm no baseball expert, but I do know three strikes and you're out is quintessential to the game.
I won't say crayon lipstick is a total fail, however. Why spend $15 to $25 on an unusual color you'll only use once or twice when you want to dress up as a mermaid for Halloween? It's a great way to inexpensively try out some of the crazier color trends too. After all, this DIY helped convince me I could pull off unconventional lip colors like blue or grey before I decided to splurge on some of the pricier industry favorites.
I can't say I felt completely at a loss either, considering I only spent about $15 total for supplies. A 48-pack of crayons would have been even cheaper and sufficient, but I just had to go for the 64-pack my mom claims she bought me as a child. Nice try mom! I remember the embarrassment of being the only five-year-old with just a single shade of green and a carton of crayons that came sans-sharpener.
As for taking on this DIY project yourself, I'll let you be the judge. It's quick, easy, and definitely a fun way to spend a casual afternoon. Plus, I have to admit that the second time I tried this DIY my results came out so much better. I guess practice really does make perfect. Personally, however, I'll just be sticking to the Kat Von Ds and OCCs in the future.
Images: Summer Arlexis; Nicholas Noyes/Flickr