Britney Spears Interviews From The 'Oops!' Days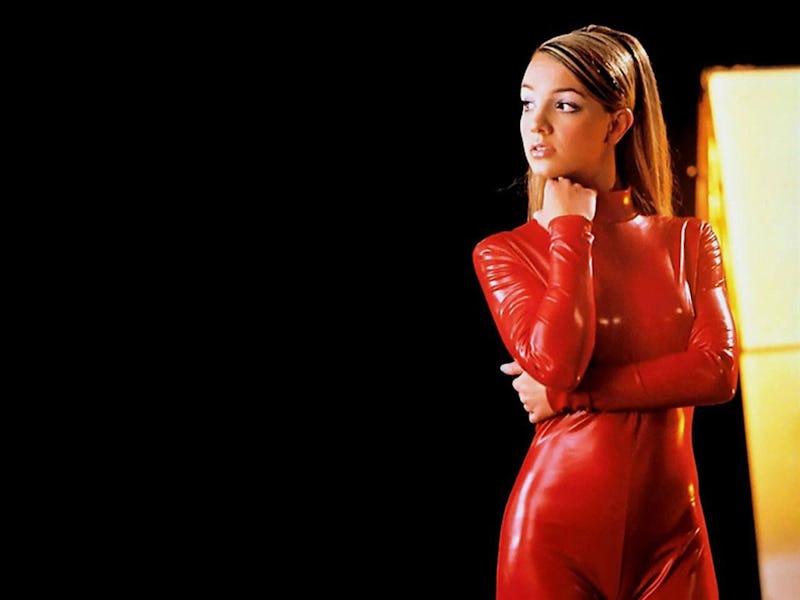 When I first heard Britney Spears on the radio singing "...Baby One More Time," I became instantly obsessed and was convinced that I had discovered the newest pop superstar on my own (only I knew of her magic!). When her second album Oops! . . . I Did It Again hit the music scene on May 16, 2000, I was glued to my TV for all of Spears's promotional interviews. Even then, her live vocals were faltering as I distinctively remember one special performance of "Oops! . . . I Did It Again" live where her backup singers were much stronger than her. But she looked great and I always respected her ability to really dance.
Just like her vocal talents, Spears isn't really known for her great interview skills either, but it doesn't stop us Britney fans from loving her. To promote her new album (and her new tour and her new book — girl was busy) back in 2000, she did the talk show circuits. Spears of course went on TRL, which was really her wheelhouse, but she had to hit up the daytime talk shows, the late night comedy shows, and even some international shows to get the word out about Oops! . . . I Did It Again.
So let's go back to the days when our beloved Britney was still singing live and check out the best interviews of Spears promoting her new second album Oops! . . . I Did It Again.
The View
She calls herself an "old soul" while being interviewed by Meredith Vieira and Lisa Ling alongside her mom Lynne Spears. The mother-daughter duo were on talking about the album and promoting their book together Heart to Heart (oh man, how painful of a read do you think that is?). If you're not already excited to watch the interview, you get to see Spears perform in some truly mystifying lace-up crotch pants and hear Barbara Walters say "Oops! . . . I did it again."
Late Night With Conan O'Brien
Conan O'Brien and Andy Richter interviewed "the queen of teen" where she wore "fairy dust" and admitted that the music video of ". . . Baby One More Time" was cheesy. Like on The View, the topic of Spears's clothing choices came up and she claimed she wore crop tops because she's from New Orleans. Hey in-the-year-2000 haters — if you had abs like Britney, you would have been wearing crop tops too!
The Today Show
Katie Couric scolded Spears for calling her m'am in this The Today Show interview. (Don't you know she's southern, Katie?! She can't help it!) Things got real weird when Couric busted out a Britney Spears doll, but though Spears seemed uncomfortable, she kept it classy.
The Rosie O'Donnell Show
Rosie O'Donnell was in her heyday (just like Spears) when she joined the singer on her tour bus for a segment on The Rosie O'Donnell Show. Spears picked out O'Donnell's outfit to wear to her Miami concert since O'Donnell was always harassing Spears about how she dressed. The pair seemed genuinely comfortable together — even when O'Donnell played the drums during ". . . Baby One More Time." Spears also confided in O'Donnell about the distressing nickname of "Broccoli Spears" and how boob job rumors upset her.
The O-Zone
Although Spears is known for being an American southerner, she has international fans too. She appeared on the British show The O-Zone and was asked to dispel some rumors that were circling her life around the time Oops! . . . I Did It Again was coming out. The one rumor she said she wished could be true? The one about her dating Prince William. Awww, time flies since now both of these crazy kids have two kids each (not together . . . from what we know).
MTV's All Access: Backstage With Britney
Although this isn't technically an interview, Spears had her "number one fan" Michael come backstage to her Oops! . . . I Did It Again tour, where he got to meet her, her dancers, and her mom — and then introduced her onstage at her concert that night. The awkwardness of meeting your favorite pop star as a teenager is apparent, but Spears is so endearingly sweet, real, and approachable that you understand why we all loved her 15 years ago — and why we still do.
Image: BritneySpearsVevo/YouTube