5 Baltimore Fashion Designers To Support Now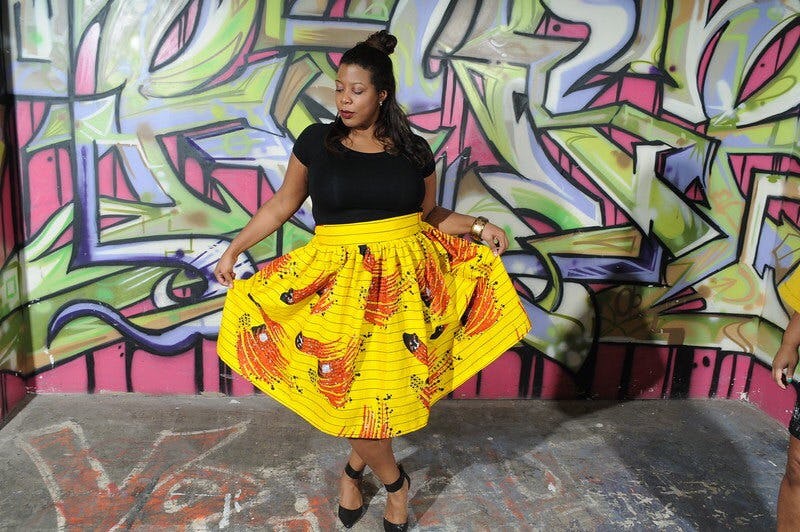 Baltimore is an artist's city. From Baltimore's fashion designers to its painters — whether they study at MICA, graduated years ago, or have no affiliation to the school — the city's relatively low cost of living, local scene, and easy access to New York make it an incubator for creative talent. Galleries abound in Fells Point; independent businesses thrive in Hampden and Mount Vernon. Here, DIY is alive and well.
Whether you think the protests (peaceful and non) were right or wrong (or your opinion is more nuanced than that), we can all agree that recent events brought a lot of attention to Baltimore, much of it negative attention. Sometimes we have to see ugliness to have important conversations, but it's also OK to hit pause and entertain a brief diversion. In this case, let's have that diversion be fashion. Specifically, Baltimore fashion, because no matter what is or isn't happening, the city's clothing and accessory designers are still moving their fingers, squeezing their glue guns, and treading their sewing machines.
Since shopping on a smaller scale is generally a smart idea, here are five independent fashion designers you can support as Baltimore moves on from recent protests.
1. Jordan Matthews
A 2013 graduate from MICA, Jordan Matthews is a rising star who was born and raised in Baltimore. Her bad-ass clothes and limited edition sneakers feature bold colors, big patterns, and attitude (as seen at Baltimore's RAW, a local art showcase in cities across the country). Order online or find her threads at Entropy Ink & Boutique, a shop committed to selling urban wear by the region's independent designers.
2. Juliana Yasmine
Juliana Yasmine is the designer behind the fanciful Moon Flower Child. Her collection's look is as hippie and romantic as it sounds, with globally inspired patterns and reimagined vintage denim. All of her designs — which she says incorporate upcycled and eco-friendly fabric — are one of a kind. She also welcomes custom designs.
3. Michael Bracco
To understand Michael Bracco's steampunk apparel, it helps to know that he is also a graphic novelist who specializes in sci fi stories. Those stories are the inspiration behind his line, Spaghetti Kiss. If you're a fan of robots and tentacles, this is your guy. Bracco designs apparel for women, men, and children, so even your boyfriend or little niece can sport some metal/suction cups.
4. Dreams By Danielle
Dreams by Danielle does "loud" with grace. Her attention-grabbing designs (as seen at events in not only Baltimore but Washington, D.C.) are incredibly body positive, coming in sizes S up to 3XL. All items in her year-old Etsy shop are handmade and made to order.
5. Shawnie Best
Shawnie Best runs Crochet N Plenty, an Etsy shop full of flirty crochet. While you'll find toasty crochet hats and scarves, her standout pieces challenge typical notions of crochet. Think bikinis, cascade earrings, and even barefoot sandals.
Images: Dreams by Danielle; Jordan Matthews; Juliana Yasmine; Michael Bracco; Shawnie Best.