Ben Mendelsohn On His Iconic 'Slow West' Coat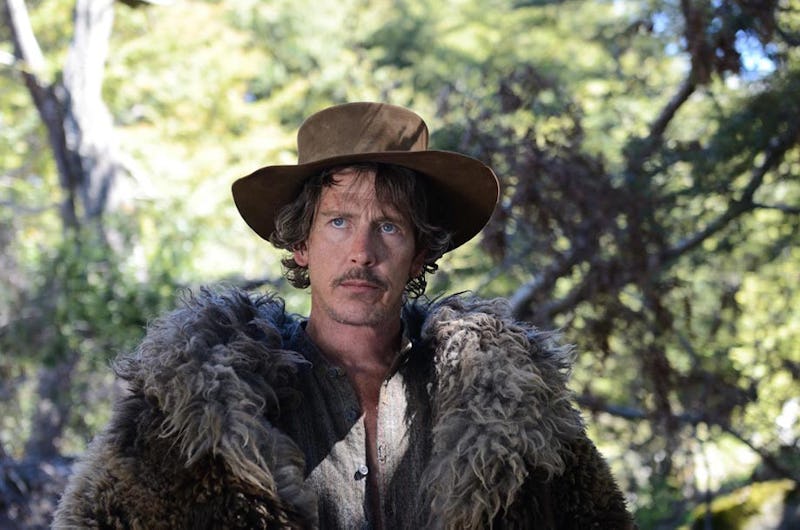 When I tell actor Ben Mendelsohn I saw his film, Slow West , at its Sundance premiere, he immediately asks: "Did you see me in the coat?" The coat, for the unfamiliar, is practically a separate character in the John Maclean directed western starring Michael Fassbender. It's colossal in size, probably made from the likes of 20 (faux) furry creatures, and looks immensely heavy. It has an undeniable presence, looks like it came straight out of the video from Macklemore's "Thrift Shop," and Mendelsohn says, "I love that f*cking coat."
"I could talk about that coat until the cows come home," he says. He wore the coat to Sundance Film Festival, the Utah-based festival where temperatures (perhaps conveniently) drop to below freezing. But Mendelsohn's road to calling the coat his own was not an easy one. When he initially asked the costume department if he could hang on to the souvenir, they were skeptical. "Here's how it went," Mendelsohn says. "I'd known that I'd be wearing a big coat cause John [Maclean] had it in the script. But when I got there and I saw it in all it's beauty, I was like 'Do you suppose I could keep this?'" he says.
Unfortunately for Mendelsohn, he was met with immediate hesitation. "They were like, 'Umm.. uh... well... uh...' But I kept going on about it! But then we wrapped and there was still no coat." Yet defeat would not suit the actor, as he schemed a way to get the prized item back into his hands. The film was set to premiere at Sundance, "So I asked, 'How about I wear it to Sundance?' and they were like, 'Oh, OK! Great! That's a great idea!' So long story short, they sent it up, I wore it, and kept it. It worked out well. It was as close to a stroke of genius as I'm ever going to get."
When I ask Mendelsohn how heavy the coat is, he sets down his cup of tea and looks around the room. He picks up a chair, a blanket, and other various objects before landing on a bag full of books. He hands it to me. "It's heavy, but not too heavy. It's bulky. But I was glad to have a physical object to act with," he says.
See Slow West, which features more than a glorious fur coat, in theaters May 15 and on DIRECTV now. Watch the trailer below:
Image: A24; YouTube