Does The Ice Cube Blow Job Trick Work? I Tried It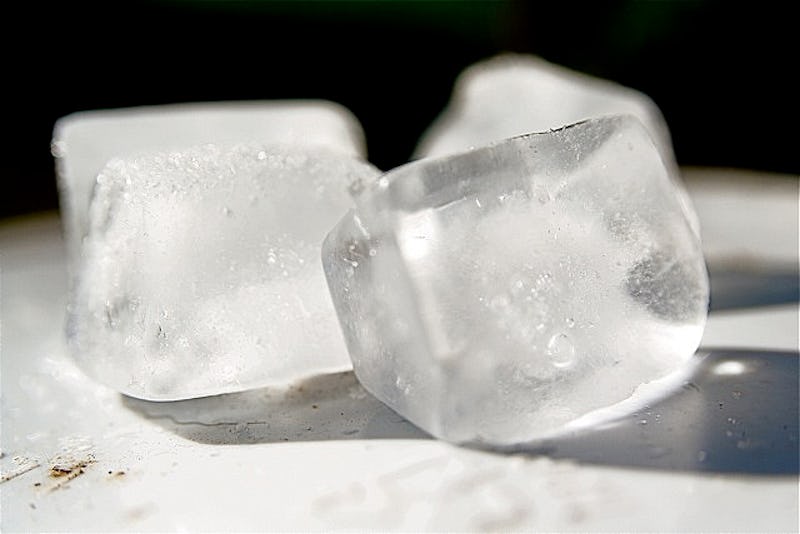 Like the theory that you should use two condoms at once if you want to be extra safe, or the tale of the hook-handed ghost who kills virgins on prom night, the concept of the ice cube blowjob is one of those teenage urban legends that never quite added up for me. For those of you who spent your high school years thinking about math or your inner spiritual life or something, rather than listening to the dubious erotic advice dispensed by your one friend who is pretty sure she got to third base once at tennis camp, the ice cube blowjob is exactly what it sounds like. The blowjobber fills their mouth with crushed ice, and then proceeds to perform oral sex on the blowjobee, who is then transported to a realm of unparalleled sexual ecstasy because...ice?
Considering that ice is a thing that most of us regularly go out of our way to avoid making physical contact with, I never thought the story of the ice cube blowjob checked out. But while those other urban legends have been fully debunked (wearing two condoms is actually less safe! That virgin-killing prom ghost was just Chad, your school janitor, killing virgins on prom night!), the ice cube blowjob seemed to maintain its hold on the imagination of many grown-ups. I read message boards that proclaimed that shoving your mouth full of crushed ice before performing oral sex on someone was the "best feeling ever," that "crushed ice blowjobs are the bomb," that an ice cube blowjob is "10x better than the best normal blowjob." And this praise wasn't just coming from weird anonymous forums, either — one major website declared ice blowjobs "the best blowjob."
Despite all this good press, I was still unsure. I mean, I didn't even like ice in my soda at the movies, so what were the odds that I'd like it in my mouth while I engaged in the physical expression of love? But I didn't have much going on this week, so I decided that it was finally time to put this legend to rest. Is the ice cube blowjob actually pleasurable for anyone involved? Or is it just a bunch of (cold) hot air?
When I broached the idea of an ice cube blowjob to my boyfriend, he was immediately more enthused than I would have been if he had suggested running an ice cream sandwich all over my lady parts. I soon discovered that this was because, as a teen, he had gone all American Pie on a carton of Tofutti ice cream (the healthful option when you want to put your penis in a frozen dessert).
So to him, this was like running into an old, beloved friend (and having said friend rub ice all over your genitals). Frankly, I had expected a little more resistance, which would have required me to talk us both into it a bit. But now, here I was, with my boyfriend ready for me to Mr. Frosty his junk, while I still wasn't sure exactly what I would get out of this. A sense of a job well done? I just wasn't that turned on by the idea of filling my cheeks with ice like some kind of sexual ice squirrel, but I thought maybe it would feel sexier (or at least less squirrel-y) once I started doing it.
As my first act, I swished an ice cube around in my mouth until my tongue and inner cheeks felt almost unpleasantly cold to me. Then I spit it out, and put my boyfriend's penis in there instead. He seemed to enjoy the sensation slightly more than a regular mouth temperature mouth. So far, so good!
Having been given the go-ahead, I crunched up some more ice cubes, kind of held them in my cheeks, and went to town. And no, it did not feel any less squirrel-like once I started actually doing it.
I noticed that when I put my slushified mouth on my boyfriend's penis, he made the same kind of noise that you do when the water in your shower unexpectedly changes. This made me think I was hurting him — but he repeatedly reassured me that I wasn't. Over the course of about a minute of oral sex, the ice melted in my mouth, kind of dripping all over his general penis area in the process. I sought constant reassurance from him that I was doing this right, like someone learning to drive stick-shift, but he gave his approval out freely. He seemed way into the ice cube blowjob, confounding all of my expectations.
Just for bonus points, I then rubbed an ice cube all over his penis with my hand. "Not the head, not the head!" he yelled. I moved it away from the head. "Not the balls, either!" Duly noted. With the head of his penis and his balls off the table, I rubbed the ice cube all over his shaft, which he seemed to enjoy. I stopped when the ice cube started making my fingers feel kind of numb, but my boyfriend seemed to be interested in going for more.
We then proceeded to have normal, room temperature sex, as the bowl of ice cubes turned into a bowl of water on my nightstand. Moments after we finished, I conducted a post-game interview with my boyfriend about his (re)introduction to the world of icicle boners.
I learned that he found the sensation of a mouthful of ice on his junk to be "refreshing," in that the contrast between the mouth and ice temperatures made things feel cool, but not cold. He stressed that he enjoyed the way that my having a mouthful of water made things wet and sloppy, which are certainly two highly prized traits in a sexual interaction. He also noted that having ice cubes rubbed all over your penis offers a "nice sensation...it's tingly, exciting."
But all the ice and sloppy water splashing didn't seem to make him orgasm any faster than usual.
This is because, my boyfriend told me, the ice felt good, but it kept him from making progress towards his orgasm. Though he enjoyed having an ice cube applied to his junk, every time I did it, it made him feel like he was "starting from zero" in terms of actually getting off. I assumed this would be a turn-off, but my boyfriend reported that it was just part of what made the whole ice cube b.j. process so unusual and exciting to him: the ice "shocks your penis into this state where it kind of can't do anything...which is exciting."
And to answer the obvious question: doesn't an ice cube make your penis shrink? Not necessarily — "when it was on my tip or balls, it definitely made my erection go down," he told me, but rubbing ice cubes along his shaft increased the firmness of his erection, and having ice in my mouth while I went down on him didn't make a noticeable impact either way.
Of course, there's an elephant in the room here that we must address: what about my take on receiving ice cube-aided oral sex? During our sexual encounter, I had declined to receive any ice-ilingus from my boyfriend — since I have no rosy adolescent memories of making love to a container of frozen non-dairy treats, I wasn't actually that eager to have an ice cube anywhere near my genitals. But as we unwound from our freezer burn adventure, I got curious. Could I really report on the ice blowjob if I didn't know what taking a cube to the junk felt like myself? So I rubbed the last remaining cube across my ladybits. It felt like getting a gynecological exam from a Rocket Pop, but hey, what do I know? Maybe you'll like it.
So is the ice cube blowjob worth it? It depends on how much time you have on your hands. If you're looking to mix up your sexual routine a little bit, and maybe pretend that you're characters in a Sade song or something, then sure, give it a shot. But it's definitely not a shortcut to a mind-blowing orgasm. It makes sense that the ice cube blowjob would fascinate a sexually inexperienced teen, but for a grown-ass woman, it seemed like something to try for variety's sake more than anything else. Just like your other teenage dreams — like, say, dating John Mayer — the ice cube blowjob seems like a better idea when you don't yet understand how life or sex really work.
Images: Steven Depolo/ Flickr, Giphy (4)