What Your Favorite Barden Bella Says About You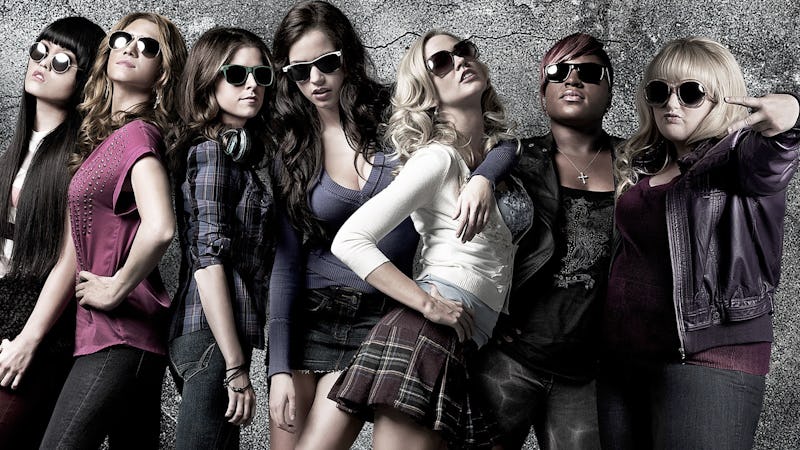 As a Pitch Perfect franchise fan, I love the movie and I love the music to the ends of the Earth — but, most importantly, I love Pitch Perfect 's Barden Bellas. Considering the movie does a fantastic job of showcasing a cappella groups in a way audiences have seldom seen before, I quickly fell in love with the girls of Pitch Perfect within moments of watching the first film — and, like many fans, I know I haven't been the same since. With the release of Pitch Perfect 2 on May 15 now, I'm more than ready for tons of a cappella puns, iconic song mashups and scenes between Jesse and Beca. Enough so, in fact, that I've taken to rewatching the first movie a few times out of pure excitement — and it's given me a lot of insight into just how much your favorite Pitch Perfect Barden Bella says about you.
I know, I know: Naming your favorite Barden Bella is hardly the same thing as taking a personality test, or reading your horoscope. But, trust me here: Who you favor in the film does reveal a lot about you, because each character's personality is so unique.
So, in honor of the amazingness of Pitch Perfect, let's jump right into it: Here's exactly what your favorite Barden Bella says about you.
Beca
Honestly, you're a boss pitch. You play by your own rules, and no one tells you what to do. With such a strong personality, sometimes people are easily intimated by you — but you don't care, because you're too rad for that.
Fat Amy
Not only are you the hilarious one in the group, you're confident in who you are. People are drawn to your amazing personality.
Chloe
The two things you value most? Friendship and second chances. You always see the best in people, even when they don't see it in themselves.
Aubrey
You're a bit high-strung sometimes, but that's only because you want to be the best. You're extremely passionate about what you do, though, and that can sometimes get the best of you.
Cynthia
You are a strong, independent person. Sometimes, people don't know how to read you, but you eventually open up once you get to know a person.
Stacie
To call you "boy crazy" would be an understatement. Of your friends, you are the most stylish, because you take a lot of pride in how you present yourself.
Lilly
Because you're so quiet, people mistake you for being shy — but, in reality, you're the complete opposite. You definitely know how to surprise people, that's for sure.
Images: Universal Pictures, Giphy (7)