'Arrow's Finale Teases Damian Dark's Arrival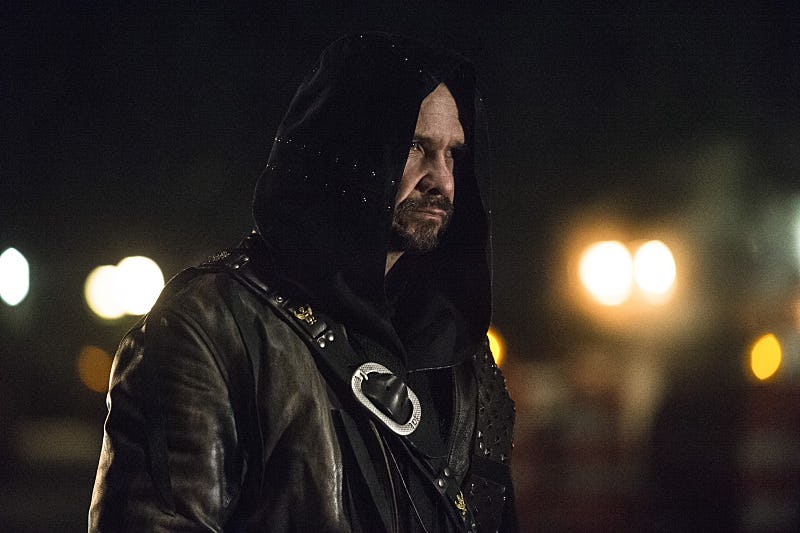 OK, you guys, it's official. Starling City is the absolute worst place to live ever. Just when one big bad villain goes away, there's another one that pops up to take its place. Like weeds. (Where's a can of superhero Raid when you need one?) During Wednesday night's Arrow Season 3 finale, Oliver was finally able to do what he's been destined to do since falling off of that snowy cliff last December: he killed Ra's al Ghul, thus allowing Malcolm Merlyn to replace him. (God help us all.) And while that's not necessarily a bad thing, it doesn't mean Starling City's crime-infested problems are over. Far from it, actually. Because judging by the way things look, Ra's nemesis Damian Dark will be Arrow Season 4's big bad.
What makes me think that? Well, for starters, his name was mentioned yet again during Wednesday's finale when Ra's attempted to assassinate him in Starling City. (He failed BTW.) Then there's the fact that in a recent interview with Entertainment Weekly, executive producer Marc Guggenheim himself hinted that Damian's story arc is only just getting started. "There's definitely more coming," Guggenheim teased. "I don't want to spoil too much about what happens with Damien Darhk. We've never teed up the big bad of the following year in a season finale the way we do in this episode." I don't know about you guys, but that pretty confirms for me that he's the Season 4 villain.
Known as Damien Darhk in the D.C. Comics, this former League warrior once tried to claim the title of Heir to the Demon for himself, thinking he was more worthy of the title than Ra's. But when Ra's faced him in battle, he hesitated just long enough before killing him so that Damian was able to escape. Since then he's become someone else. He's become something else. (Hey, if Felicity can steal Oliver's material then so can I.) Seriously, though, he went rogue from the League, which I can only imagine means that he's bad, bad news. Like League of Assassins on steroids kind of bad news.
We have yet to see his face (probably due to the fact that they haven't cast someone yet), however, if he's anything like Ra's we know it's going to take more than just the length of one episode to bring him down. Sorry to cut your romantic road trip short, Oliver. But something tells me Team Arrow is going to need your help for this one. See you next fall!
Image: Cate Cameron/The CW