Is J.Law Mocking Jennifer Aniston?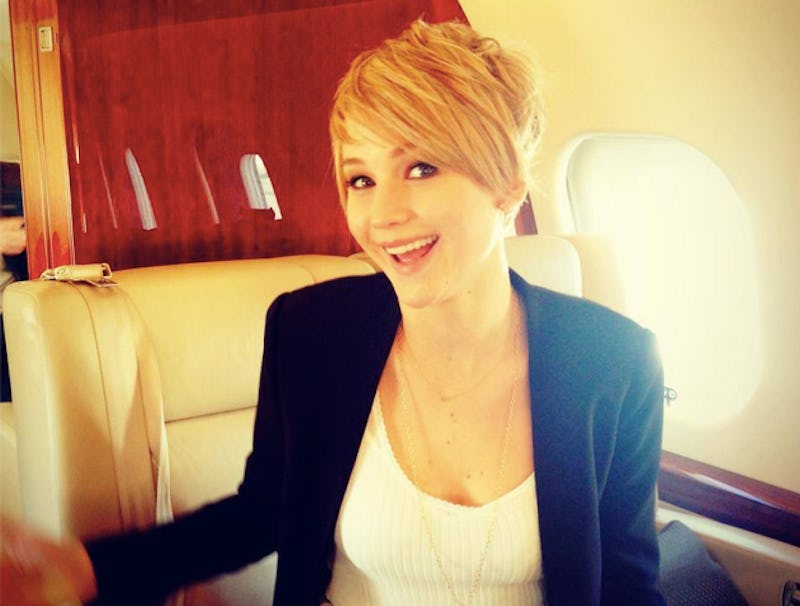 Holy mother of all things exciting and true and real and beautiful and revelatory: Jennifer Aniston got a bob and now, Hunger Games star Jennifer Lawrence cut her hair, as well. I know what you're thinking and you're absolutely right: it's time to get out the scissors in the top drawer in your kitchen and chop off your locks. We must fearlessly follow the Jennifers lead for they are our only real leaders in this world.
Aniston revealed her new haircut on Tuesday and the Internet exploded. The grainy photos of her new 'do looked like they were snapped in some secret back alley after some super covert CIA mission and now, Lawrence has shown off her brand new locks, as well. The 23-year-old actress uploaded the photo to Facebook with a caption: "Headed up north for #GLOBALFANDAY with The Hunger Games Catching Fire cast. Follow this page all day for updates!"
Noticeably missing from the caption was a mention of her haircut. That simple fact, combined with her cheesy grin and "look at me now" pose make us think that this new 'do of hers is actually a wig. No way that's a real haircut, right?
We have a hunch that Lawrence is tipping her hat to Aniston here in some "we Jennifers and our haircuts, amirght?!" sort of way because hell, that seems totally like her sense of humor. It looks like something only Lloyd Christmas would approve of, right?
It's hard to tell what's real and what isn't, though. Yesterday, she wore her hair under a hat, and today, during the a Hunger Games press event, her hair still looked short ... Your guess is as good as ours as to whether Jennifer copied Jennifer, but either way, bobs are back, y'all.
Image: JenniferLawrence/Facebook