7 Times Amina Mucciolo Broke The Plus Size Rules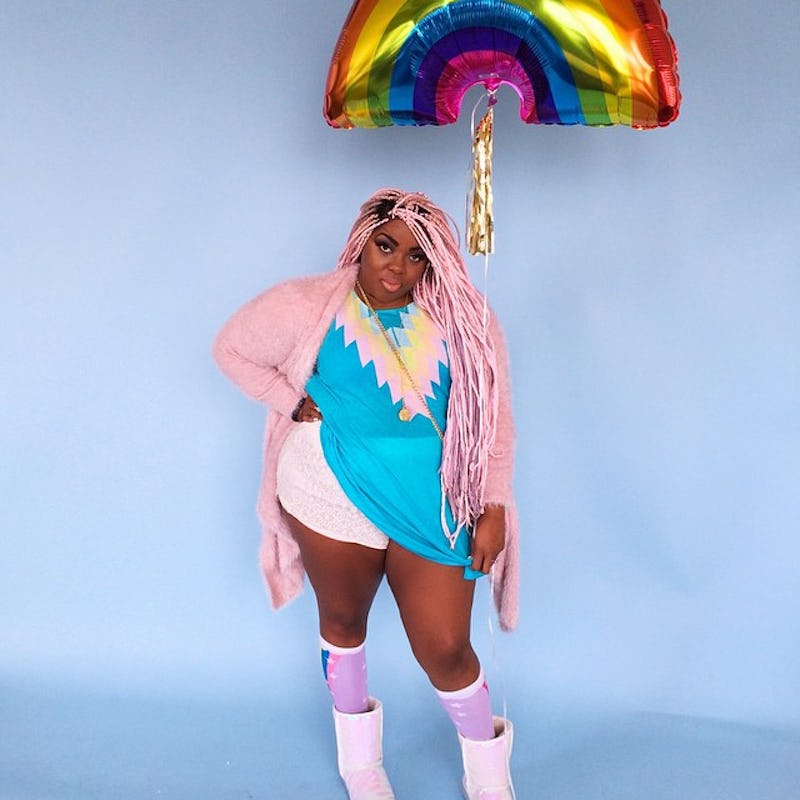 Rules were made to be broken, so the saying goes. I say, who needs rules anyway?! Society as we know it is awash with pointless "rules" about the way people should dress, and the plus size fashion rules for women are particularly strict (and particularly ridiculous).
There are few things that bring me more joy than seeing someone who knows that "dressing for the body you have, not the body you think you should want" is the most outrageous and offensive rule of them all. Step forward, Amina Mucciolo.
Mucciolo, of Tassel Fairy Chronicles and Studio Mucci, is a plus-size blogger and designer whose primary concern is being a fierce unicorn-mermaid-queen. Her style mixes pastel shades with cute prints for a unique look that gives me pure, unbridled ecstasy.
As a plus-size woman who grew up with all of these "rules" being engrained into my psyche at all times, I still find it a challenge on occasion to step outside the boundaries of what is deemed flattering. As much as I consider myself fat positive, it takes deliberate effort for me to break the rules and just do me. I am getting better at it, though, and with women like Mucciolo out there to blaze the trail, I know I can do it.
Here are seven times she broke the rules on Instagram:
1. Short Shorts (Without Tights)
I have been given a gazillion reasons why as plus-size women we should not wear shorts. This proves them all false.
2. Short Shorts With A Crop Top
Bold print fabric short shorts, crop top, food-related accessory: All rule breakers, all fabulous.
3. Bold Printed Mini-Dress
Just so awesome.
4. Wearing A Bold Print And Eating Pizza
Whilst holding the cutest phone case I have ever seen!
5. Horizontal Stripes
The classic no-no is clearly a yes-yes.
6. Skinny Jeans Without A Tunic
I think most of us know now that skinny jeans do not require thin legs, but many of us will still team them with a long top to keep that belly hidden away. Now you know, you don't have to.
7. Going Braless
Like a boss.
I think we can all agree that what Mucciolo actually does is break the number one plus-size rule at all times: She refuses to be invisible.
Images: studiomucci/Instagram