On Switching Beauty Routines With Mom For A Day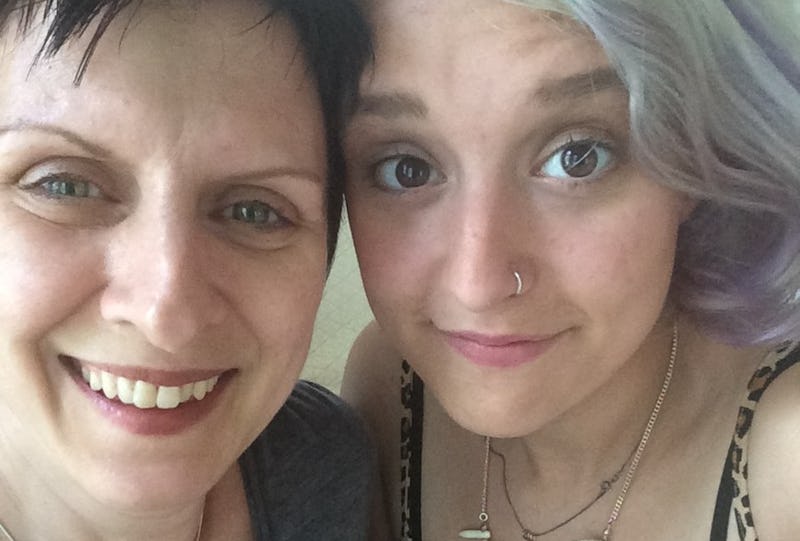 My mother represents the foundation of my beauty knowledge, and the origin of my fascination with makeup. Whenever she wasn't looking, I would go through my mother's makeup bag, and play with her powders and brushes for hours on end. I mostly liked becoming acquainted with all the different textures of the brushes, and seeing how they felt against my face.
Sometimes, I'd dust some powder on my cheeks to feel the products' soft and silky finish. I even loved to smell the makeup, and would go through the whole bag sniffing every last stick, tube, compact, and container. Each product represented a piece of the puzzle of my mother's beauty routine. And when they came together, with enough skill and know-how, you'd get my mother's gorgeous face. It wasn't until later that I really started to ponder exactly how each tool and product was used to create the finished look.
I started watching my mom apply her makeup in the mornings, and sometimes asked her to put makeup on me. Eventually, my mother taught me how to apply foundation and eye makeup. I quickly realized that her look wasn't for me, and began developing my own. My beauty routine has evolved a lot over the years, but it all started with a black charcoal pencil applied too thickly to my bottom eye line. Pivotal transformative moments when it comes to my beauty routine have since been my discovery of lipstick and my abandonment of feminine beauty norms.
However, yesterday I had the pleasure of going back to my roots. My mother and I decided to trade beauty routines for a day, and do each other's makeup using the products and looks we've each come to know and love. We set out each of our makeup bags, ready for our Freaky Friday-style makeovers.
Our makeup bags couldn't be more different. Mine mostly consists of lipstick and liquid eyeliner, with a few other beauty essentials that make up my minimalist beauty approach. Plenty of options (mostly in the lip department) and not much consistency, besides my daily routine of shading in my eyebrows. My mom on the other hand, who doesn't use lip product at all, has her beauty routine down to a formula that she follows every day. Her makeup collection's color palette is more neutral, and covers more ground in terms of products for all parts of her face.
Fresh-faced and ready to go, I started us off, and did my mother's makeup exactly the way I would have done my own that morning. First, I shaded in her eyebrows with an eyebrow pencil that my roommate gave to me after a botched eyebrow waxing. It's a couple shades too dark, but I always strive for dark and bold eyebrows! However, my mom's super thin eyebrows made this a little bit tricky.
I then applied some nude creamy shadow stick on her lids, and a touch of brown eyeshadow for the creases, which I applied with my fingers. A few swipes of mascara and we were almost done. Lipstick is always the most important part of a look for me, and since I have so many, I let my mom choose the color. She picked NYX's Wicked Lippie in Wrath, one of my favorite shades, and a color I think goes great with her hair. I stood back, assessing my work, and was shocked to see myself in my mother's face more clearly than usual.
My mom was hesitant about the lip color. Not only is she not a lipstick kinda gal, she also was not too sure how she felt about my rainbow of a lipstick collection and tried to choose the most neutral color in the bunch. However, she was happily surprised when she looked in the mirror. She wasn't too crazy about the exact shade, but now feels encouraged to try to find a color she's comfortable with so she can add lip color to her beauty routine.
When she saw the way her eyebrows looked, she appeared a bit shocked at first, saying, "Those are really dark eyebrows." But she seemed to adjust to it, and complimented me on their shape.
My mom is very into my beauty look, and notices I look "more mature and sophisticated," even "European" with the darker palette I have now. "And you never used to use eyebrow pencil or lipstick," she said. However, she's way more comfortable with her own beauty routine — a routine she has taken years to craft, expand upon, and master. And, like old times, I once again had the pleasure of having my mom do my makeup.
First, my mom used a powder brush to spread bronzer all over my face. With a different, smaller brush, she applied a dusty rose-colored blush to my cheeks. She did a beautiful and very intricate job of blending multiple colors of eyeshadows on my lids, creases, and brow bone with golds, browns, and purples. She finished it off with some caramel-colored eyebrow pencil (lighter than what I'm used to), and a few coats of mascara.
After a few minutes of flinching and laughing through every stage of the process, I looked in the mirror. I felt so done up and pretty, and was especially impressed with the eyeshadow (the purple in it really complimented my hair). I also loved how the bronzer and blush looked. I usually stay away from face makeup because it's always felt too heavy and made me break out. But it didn't feel heavy and it really warmed up and accented my face quite nicely. Walking away from this experience, I think I'm going to experiment more with bronzer and blush, and practice contouring.
It was nice to have my mother do my makeup again, and to be able to appreciate her technique and tips as a makeup-loving adult. It was even cooler to see my mom, who is usually so particular about her cosmetics, have such fun doing my makeup and getting done up herself.
Embracing traditional femininity for a day, and trying out another beauty look was fun! In a space free of judgment and beauty expectations, the beauty routine switch was one of the most loving and eye-opening experiences I've ever shared with my mother. Learning about each other's routines and bonding over products and beauty concerns while laughing and applying makeup was a blast. And the fact that I was able to share the joy and magic of my beloved lipstick with my mom, who formerly hated lip color, is an added plus!
My mom and I may have very different routines, but we have a lot to learn from each other. Honestly, I'd ask her to do my makeup again.
(Look how cute we are!!)
Images: Meg Zulch