'The Wrath & The Dawn' Joins The Storytelling Best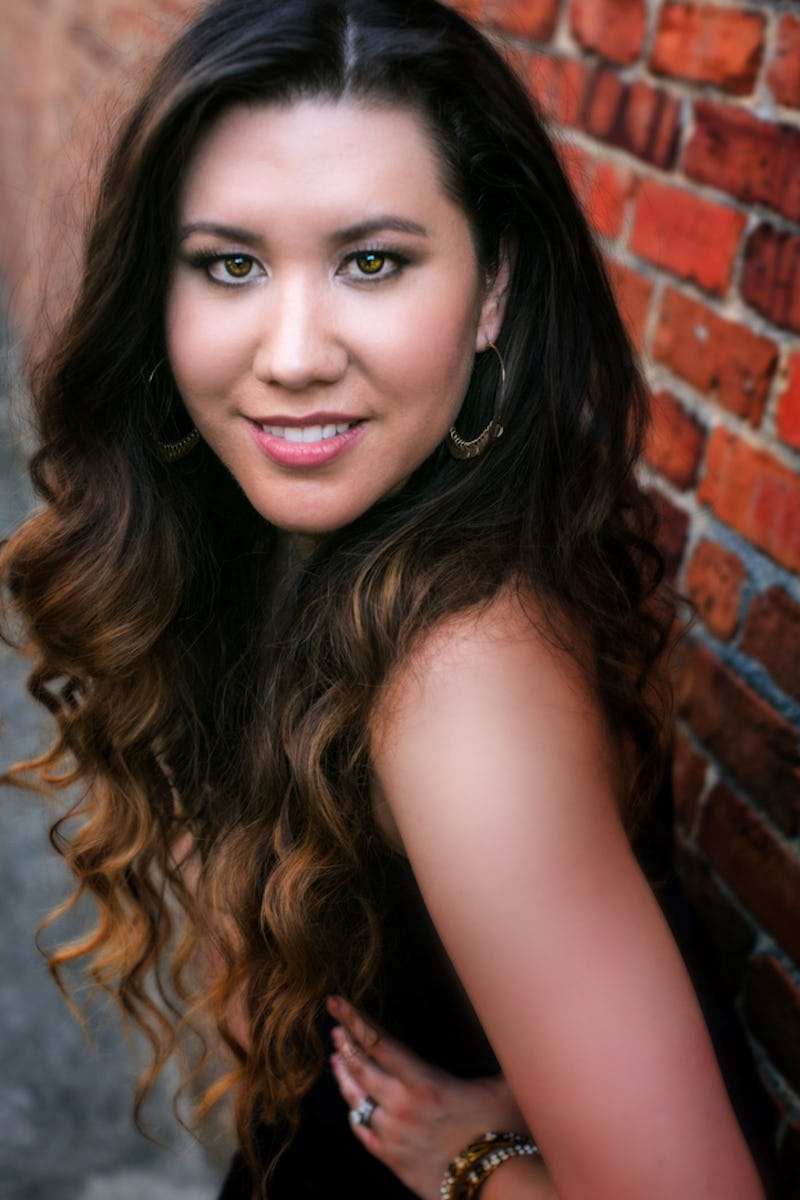 If you're basing your understanding of Arabian Nights on Disney's Aladdin, you're in for an enchanting treat when you pick up Renee Ahdieh's YA debut The Wrath and The Dawn . No shots to Prince Ali, Jasmine, or the genie, but this is only one speck of the incredible, zig-zagging story in One Thousand and One Nights, the timeless collection of West and South Asian folk stories. And Adhieh's new YA novel does justice to the intoxicating, magical tales in a fresh, new way.
One Thousands and One Nights, often just referred to as Arabian Nights in the U.S., uses the frame story of Scheherazade, a woman doomed to death at dawn after her wedding night by her new husband, a murderous Persian king. To delay her death, the legend goes that Scheherazade started telling the king stories, captivating him into keeping her alive for, yes, 1,001 nights.
Ahdieh expands on this frame story, turning Scheherazade into young Shazi, and adding in her childhood love Tariq, her younger sister, and her father. Shazi volunteers to wed Khalid, the 18-year-old Caliph of Khorasan who murdered numerous prior wives — most importantly Shazi's best friend who she seeks to avenge. Like her homage character Scheherazade, Shazi spins the lush tales of Aladdin's Wonderful Lamp, The Seven Voyages of Sinbad the Sailor, and other classics to save her own life. And the YA novel is full of cultural details, so you can practically picture the luxurious silky fabrics in Shazi's bedroom and taste the spices of her food.
While One Thousand and One Nights basically just makes the king a murderer, full stop, The Wrath and the Dawn does Khalid more justice, painting him as a full character with motivations beyond just killing because he can. Warning: Prepare yourself for some passionate love affairs.
The star, however, of course is Shazi the brave and clever storyteller. Shazi joins the best of the best in literary storytellers, including these seven:
The Grandfather from The Princess Bride by William Goldman
If and when I have children, I'm officially hiring The Princess Bride's Grandfather character as my nanny for bedtime. As the story goes, he reads to his grandson from the fictional The Princess Bride book (by the fictional S. Morgenstern), but he only tells the "Good Parts Version," leaving out anything humdrum. The fact that he manages to get a young boy to listen intently for two straight hours is its own kind of magic.
Vida Winter from The Thirteenth Tale by Diane Setterfield
The mysterious novelist Vida Winter hires author Margaret Lea to write her biography, but it's Vida that's the real storyteller. Lea is ready to pass on the offer, but Winter pulls her in by spinning a wild real-life ghost story. Winter is one of those infuriatingly secretive storytellers who likes to taunt readers with revelations and then slip into another yarn all together. I mean, she did write a book called Thirteen Tales of Change and Desperation and then only include 12 tales. But, ugh, it so works, and we're as rapt as Lea.
Nelly Dean from Wuthering Heights by Emily Brontë
Nelly tells such a captivating story of Heathcliff and Catherine that readers get so wrapped up in it they sometimes even forget she existed in the book in the first place. Isn't that the mark of an excellent storyteller: to put the story ahead of your own character? Mr. Lockwood is renting a space from aged Heathcliff, when Heathcliff starts to act totally bizarre about a ghost named Catherine. Lockwood is so confused, he finds the housekeeper Nelly and requests that she tell the entire tale about the family at Wuthering Heights, which she does. Never forget.
Jing-Mei Woo, Waverly & Lindo Jong, An-Mei Hsu & Rose Hsu Jordan, and Ying-Ying & Lena St. Clair from The Joy Luck Club by Amy Tan
Each of the three mothers and four daughters of The Joy Luck Club could all have written their own book about mother-daughter relationships and cultural and generational gaps. They're able to captivate everyone else in the club, sparking their own tales, as well as basically every reader who picked up the book, spanning generations. And now I can't believe we don't have more novels about a large group of women weaving their own stories about their lives together, so can someone write a dozen or so?
Verity from Code Name Verity by Elizabeth Wein
I'd be remiss if I didn't mention another (less obvious) young adult adaptation of Scheherazade in a list of great storytellers. Like Ahdieh's Sharzi, Verity has to tell a story to delay her enemies from killing her. Except this time, she's a British spy stuck in Nazi-occupied France who is captured and forced to tell her story of the British war efforts. Instead she tells a much more complex, more human story about her friendship with her pilot Maddie and how she found her way to France in the first place.
Salamanca (AKA "Sal") from Walk Two Moons by Sharon Creech
I was obsessed with Sal when I was younger reading Walk Two Moons because she seriously knew how to tell a story. Ostensibly, she entertains her Gram and Gramps on their roadtrip to see her mother by telling a strange story of Phoebe Winterbottom, but like all good authors, the story has far more to say about real life than the fictional. And this 13-year-old hits on universal truths like most professional writers can only dream about.
Alonso Quixano (aka "Don Quixote") from The Ingenious Gentleman Don Quixote of La Mancha by Cervantes
When you think about it, Don Quixote's entire epic journey is a fictional story he is telling to himself and others. (I mean, he even made up a new character name for himself.) And how can you deny that a story that has survived 1605 had a great storyteller? From windmills as giants to friars as kidnapping enchanters Quixote's storytelling style is pure imagination.
Image: Renee Ahdieh