9 Reasons Dorinda Rules All The 'Housewives'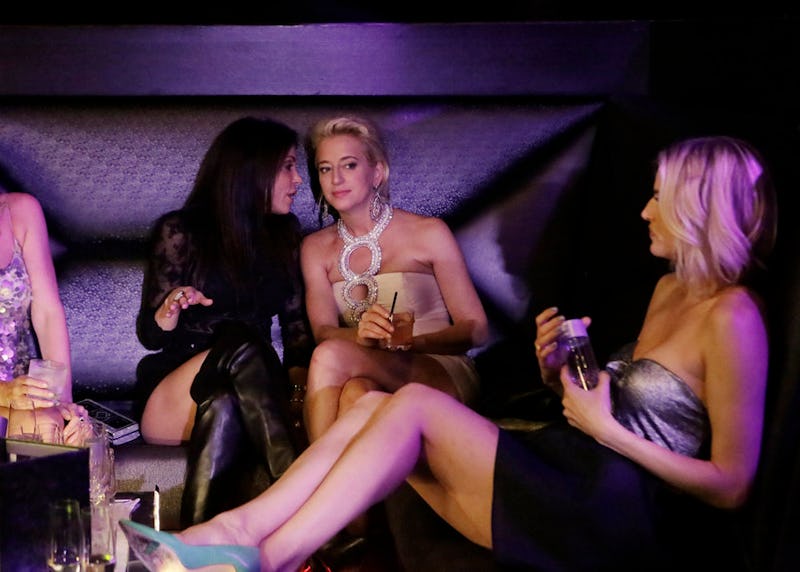 Dorinda Medley is a breath of fresh air on The Real Housewives of New York City — she's as weird and eccentric as Sonja Morgan, as genuinely involved in the New York social scene as Carol Radziwill, and as tight with her daughter as Ramona Singer. But she's not just the best new person or the best RHONY cast member. Dorinda Medley is the best Real Housewife in general. That may sound like an unprovable standard to achieve, but Dorinda is up to the challenge. Even with five other cities, plus shows like Married to Medicine and Ladies of London, (which are Real Housewives shows in everything but name), Dorinda has found the perfect balance between sticking up for herself, befriending the other ladies, and being a great funny personality in her talking heads.
What I really appreciate about her is that Dorinda is the perfect mix of practical and weird. She doesn't constantly start social gatherings with a lecture about being "sisters," nor does she hold an Olympic gold medal in throwing shade. Basically, she actually might be cool to hang out with in real life, yet she also managed to handle the white-hot craziness of the RHONY cast. Plus, her commentary doesn't feel as instantly camera-ready as Bethenny's feels this year. I know all of the Real Housewives shows are prompted, poked, and spliced together by a crack team of editors, but coming across as over-rehearsed or canned is less than charming. That's why she works so well — it may be Bethenny's catchphrase, and Dorinda also "may not be a Housewife," but she's definitely real.
1. Her Relationship With Her Daughter
Unlike Ramona, who was always embarrassing Avery as she was growing up, Dorinda and her daughter Hannah are clearly close and have a good relationship.
2. Her Relatively Normal Dating Habits
Even though her boyfriend, John, was acting like a total creep earlier this season, Dorinda is now going out with an age-appropriate, equally successful kind of guy. And when he suggested that their relationship was already more important than hers with Hannah, she shut him down immediately.
3. She Knows When Not To Show Up
Someone like NeNe Leakes always overplays their choice to miss a special event, bossily declaring that she is far too busy in a way that makes everyone roll their eyes. Dorinda is a pro at blowing people off without them even noticing.
4. She Can Cross-Promote Without Being Annoying
Only a few Bravolebrities can interact without it seeming really awkward and forced. Case in point: everyone who's ever appeared in a "Summer By Bravo" ad.
5. Her Closet
I know every Real Housewife prides herself on a big closet, but Dorinda may be the only one who stores her clothes three stories high.
6. Her Blogs Sound Like... Real Blogs
She puts in the effort to write detailed blogs that actually give us a look at how she was feeling, opinions she has on how she was portrayed, and vocabulary words like "deluge" and "foyer."
7. She's Not Constantly Dropping Names
As much as I adore Sonja, she's soooo guilty of this. She loves to mention who she used to hang out with, what club they'd go to, what type of sex they had... I love the tales that Carole tells about her aristocratic past, too, but between those two and the former Countess, I'm glad Dorinda isn't constantly chipping in.
8. She Knows Her Cultural References
Ever been watching an episode where Alexis or Kim Richards tries to reference something but gets trapped by their own faulty memories? Thankfully, Dorinda is sharp and can come up with witty comparisons on the spot.
9. She's A True Audience Surrogate
She's not one to look down on the idea of the show, unlike some newbies like RHONJ's Teresa and Nicole, who showed up hellbent on usurping the veterans like Teresa Giudice. Instead, Dorinda just lets the veterans do their thin, and she just watches, and of course, chimes in when she has something really funny to say. She really is the perfect example of a Housewives superstar to be.
Image: Nick Valinote/Bravo; Giphy (4); Beamlyus, BriceSander, RealityTVGifs/Tumblr