Why Celebrities are Chopping Their Locks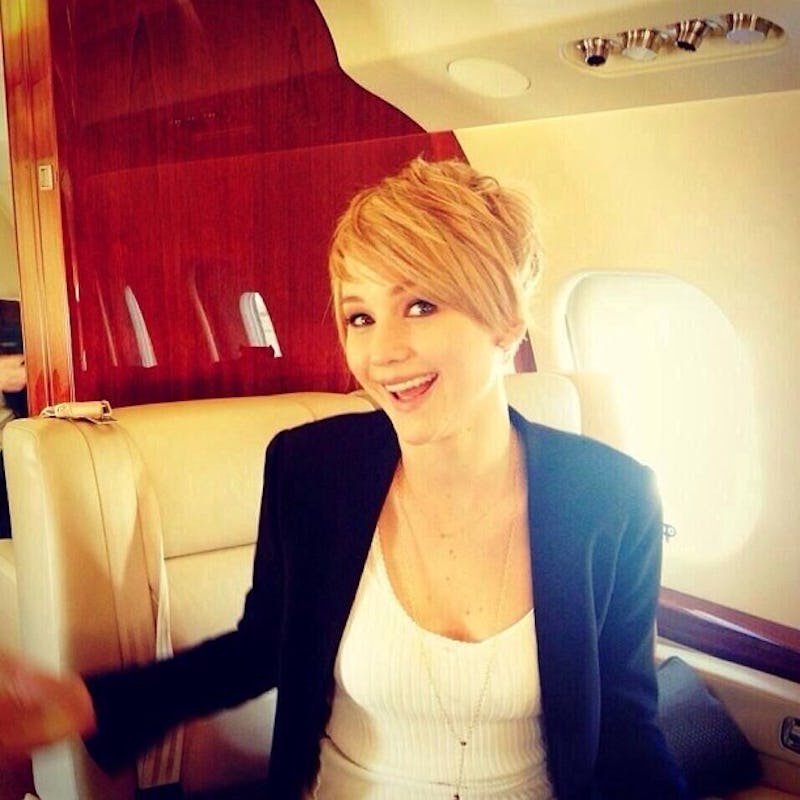 The cropped hair trend has officially taken over Hollywood, and in a surprising twist, adopted by celebrities whose images are largely connected to their long locks. Jennifer Lawrence and Jennifer Aniston are the latest stars to jump on the trend, and we're shocked.
In a culture where long, Sophia Vergara-esque hair is the Hollywood standard of beauty and femininity, cutting one's hair is often considered a sign of aging, of rebellion, or in the case of Britney Spears, potential instability. After all, Britney was merely considered a little loopy until she shaved her head, an act which prompted the world to think she'd finally cracked. So unless Hollywood has gone off the deep end, there is a new beauty ideal in town.
Tracing the haircut's roots, the short crop first hit in the 1920s and has popped in and out of vogue since. 1930s silver screen stars from Marlene Dietrich to Bette Davis showcased the gamine style, supermodel Twiggy was synonymous with the pixie cut, and Winona Ryder ruled the '90s grunge scene with her short cut.
It's had a big role in Hollywood's back catalog, too. In V for Vendetta, Nathalie Portman's character Evey is locked in a simulated prison camp and, in a cringe-worthy scene, has her head shaved completely. Anne Hathaway's Fantine experiences the transformation from an upstanding woman to a prostitute when her hair is irreverently chopped in Les Miserables. And Demi Moore's shaved head for GI Jane has become the stuff of legends. Historically in film, women who undergo this type of drastic cut are enduring great trials and transformations in their lives.
So why the sudden rush to embrace this once-stigmatized style? As with all of life's great questions, we can look to Jennifer Aniston for the answer.
Aniston first charmed audiences as Rachel on Friends, and despite appearing in a number of blockbuster films since, is first and foremost a style icon whose taste is notoriously influential. For every mention of her latest film or television appearance, there are at least five about her makeup, clothing, and most importantly, hair. Aniston's hair is arguably more famous than the actress herself, debuting in the early 1990's with "The Rachel", a classic cut by Chris McMillan which Aniston later said in Allure magazine was "the ugliest haircut I've ever seen". Luckily, her fans felt differently, and the unexpectedly popular style launched countless women into salons, each demanding a similar short, layered cut.
Aniston went on to adopt far more appealing styles, from the choppy bob to long layers, each prompting women across America to follow suit. So linked is Aniston's public persona to her hair that in a recent interview, Aniston revealed that her studio for the film Horrible Bosses initially refused to let her wear a wig for the role due to their theory that fans would not recognize her. In 2012, Aniston further capitalized on her most recognizable asset by signing on as a spokesperson for hair products brand Living Proof, a partnership which continues today. It seems that Aniston's meteoric success in large part hails from her hair.
And so, the world was shocked when they discovered on Wednesday that Aniston had shorn her hair. Aniston simply decided to adopt the cut on a whim, having long eschewed time-honored style traditions in favor of a more laid-back, easygoing approach. Aniston said, "I was ready for a change". And when one of America's Sweethearts adopts a new metric of beauty, the rest of the country won't be far behind.
Riding the coattails of celebs including Charlize Theron, Miley Cyrus, Pamela Anderson, Beyoncé, and Kristen Chenoweth, Aniston has made a choice that signifies a haircut epidemic. Each celeb fan of the style has a legitimate reason for the change, or at the very least a friend to blame for the suggestion. Theron, always the Method actor, made the change for an upcoming role, while Chenoweth attributes the radical idea to Jennifer Lopez, and Jennifer Lawrence said her hair was at an awkward length and "couldn't get any uglier". Beyoncé, for her part, cut her hair because she's Beyoncé — and who dare question Sasha Fierce?
From Rihanna to Hayden Panettiere, celebrities are ready to buck beauty conventions and encourage others to do the same. Long hair may still be considered a universal sign of youth and femininity, but the decision to do away with the style by so many public symbols of style indicates a move to do away with the standard altogether.
As the short haircut is adopted by more of our favorite tastemakers, traditional Hollywood standards of beauty are, thankfully, being redefined. We're hoping heels are the next trend to go out the window.
Image: jenniferlawrenc/instagram