That 'Scream Queens' House Sure Looks Familiar...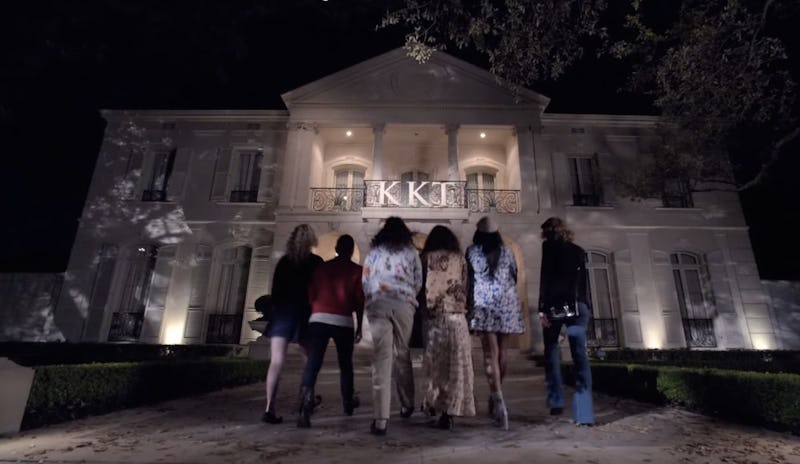 For those of you who are awaiting the arrival of Fox's new Ryan Murphy-helmed show Scream Queens as desperately as I am (aka: really, really, really desperately) you may have noticed an interesting thing whilst watching/rewatching the new official trailer about 30 times in one hour: The sorority house featured in Scream Queens looks insanely similar to the one featured in Season 3 of American Horror Story, titled Coven. Since both shows are created by Ryan Murphy, it's not an insane connection to make — and does sort of make you wonder whether or not the houses are actually the same one. Plus, as The Times-Picayune points out, Scream Queens was shot in New Orleans, just like Coven was.
So, could they be the same house?
Unfortunately for those of you hoping for a reason to theorize a Scream Queens/ Coven connection, no, the houses don't seem to be the same. At first glance, they look similar, but, after some analyzing, it becomes clear that there are some key differences between the home used on Scream Queens, and The Buckner Mansion as seen on Coven . So, in honor of the Scream Queens official trailer hitting the web on Tuesday, here are just a few of those key differences.
But first, the trailer:
And now...
The Staircase
Scream Queens
AHS: Coven
So, though they look similar, the structure of the house is clearly different — and the Coven house looks much older, which makes sense since it's a school for witches.
The Dining Room
Scream Queens
AHS: Coven
While they're both gigantic, Coven's dining room is more of an open space — while Scream Queens' dining room has a much larger table.
The Living Room
Scream Queens
AHS: Coven
Scream Queens' living room features more pink.
The Courtyard
Scream Queens
AHS: Coven
Two key differences: Scream Queens' courtyard is more spacious, plus it has doomed sorority sisters buried in the grass.
The Exterior
Scream Queens
AHS: Coven
The houses actually look quite similar at first glance — but it's clear after a moment that there are some subtle differences. The deck in Coven's home, for instance, is larger.
Scream Queens will premiere this fall, on Fox.
Images: Fox (5); FX (5)