Can The Green Bay Packers Really Sing?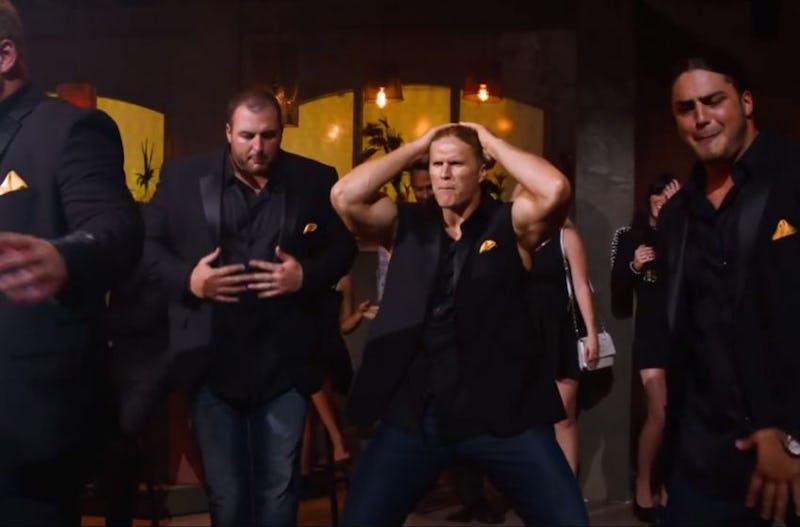 The wait for Pitch Perfect 2 to hit theaters has been a long one, so it's absolutely no surprise that fans of the film (yours truly included, I can't front) have been analyzing the film from start to finish since it hit theaters on May 15. It helps that Pitch Perfect 2 was pretty much an epic movie — and that Pitch Perfect 3 may be in the works, so all this theorizing and analyzing the second film might come in handy in the long run. Amongst the many questions the film raised, however, the most potentially intricate and pressing one is as follows: Considering they formed an a cappella group in the film, can the Green Bay Packers really sing?
While Bustle's very own Caitlyn Callegari already answered the question of whether or not a Green Bay Packers a cappella group really exists (the answer can be found here, if you're wondering about that as well), it's not immediately clear whether or not the Green Bay Packers featured in the film — Clay Matthews, David Bakhtiari, Don Barclay, Josh Sitton, T.J. Lang, Jordan Rodgers — can actually sing. However, after some digging, it's clear that they at least tried, and that the voices we hear in the film are indeed their own.
According to Fox Sports, the Matthews, Bakhtiari, Barclay, Sitton, Lang, and Rodgers went to a recording studio to perform their song for the movie. As those of you who have seen the movie know, the song chosen for them is "Bootylicious" by Destiny's Child — obviously the best choice ever. Additionally, executive producer Max Handelman confirmed to People that the guys did all the dancing and singing themselves.
As reported by Packers.com, it was diehard Pitch Perfect fan Bakhtiari who actually secured the guys a role in the sequel — all by reaching out to director Elizabeth Banks on Twitter.
"A lot of determination by Dave to set the whole thing up – determination-slash-desperation, because he was at it quite a bit trying to get a hold of the producers to get us in the movie...shockingly, they actually let us in after all his desperate tweets and phone calls and emails. It was fun," Lang said. I know I'm certainly thankful for that — the movie wouldn't be complete without them!
Image: Universal Pictures