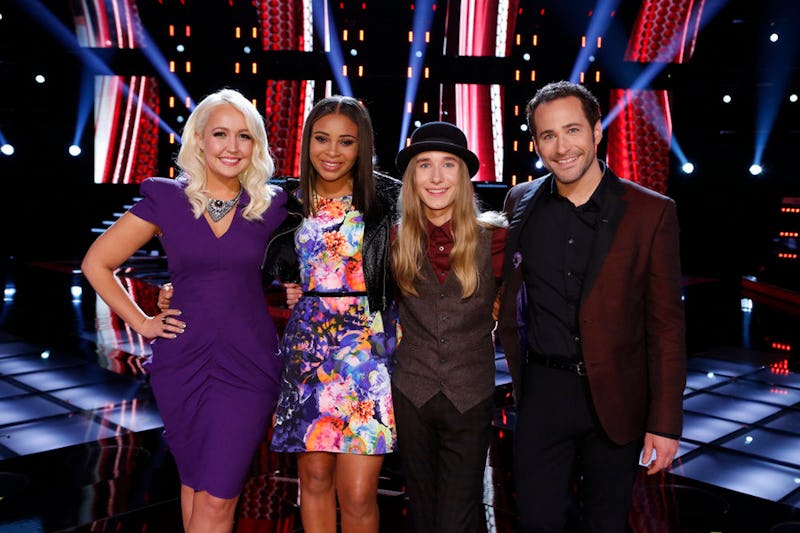 After a very long The Voice finale, we finally know who took the title. Sawyer Fredericks, 16, is The Voice Season 8 winner! This is also a major win for Coach Pharrell Williams — it's his first! Fredericks wins a record deal with Universal Republic Records and will start working on what is sure to be an amazing record. Fredericks has had a truly amazing journey on this show and it's been really cool to see him grow as an artist. He has impressed both the coaches and America week after week and definitely earned this title. Fredericks is bring folk music back to the mainstream music scene — and that's a pretty cool thing for such a young artist to do.
Fredericks has proved himself as a standout artist since his Blind Audition. He earned a four-chair turn and had the coaches fighting over him. He ultimately chose Pharrell to be his coach — and has stayed on his team since then. This was the best decision he could've made as Pharrell is a genius producer and really takes his artists under his wing. Fredericks' performances have been pretty flawless week after week, which helped him win over America. But despite his amazing performances, the contestant proved that he was a sweetheart in addition to being extremely talented — and that's why the fans stuck by him.
This win is sure to change Fredericks' life. He's still in high school — and doesn't even have a license — but is about to begin recording his first album. This new life is going to be a big difference to his life on the farm, but something tells me that Fredericks will keep that part of his life close to him. His family inspired him to pursue folk music, and I'm sure they'll be along for the ride — especially since they have to give him a ride to all his performances. There's no doubt that Fredericks deserved this win — he certainly worked hard for it — and I can't wait to hear his debut album. Until then, here's his debut single, "Please," so you know what you can look forward to!
Image: Trae Patton/NBC