11 Books That Actually Inspire You To Go Get 'Em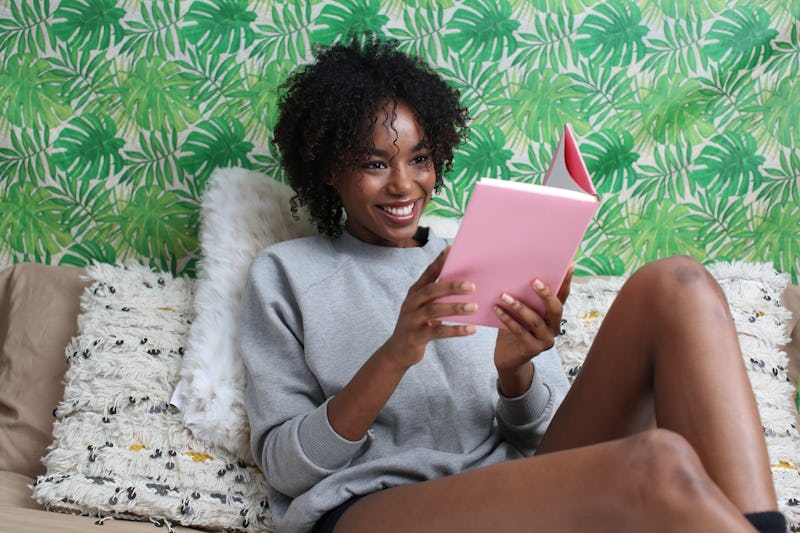 Sometimes we all need a little help. A spiritual tune-up, if you will. Our own little wellness retreat, a 5-minute meditation on the subway, a purse-sized personal guru... you're coming along with me here, right? I'm talking about inspirational self-help books!
Now, trust me, I know what you're thinking: "I already figured out what color my parachute is, I know how to Zen out when my cheese is relocated, yada, yada, yada." But hear me out, because these are not your mom's self-help books.
These titles will have you celebrating your own awesomeness and badassery in 300 pages or fewer. They've got your back on everything from new job-woes to romantic highs and lows, and won't leave you feeling like you have to hide that embarrassing book cover from onlookers while riding the bus. (Because, yes, some of us still have residual scars from that time Lorelai Gilmore reminded us how mockable self-help books can be.) In fact, after reading these books, you won't even care if he's just not that into you — because you'll be so into you that he (who?) will relegated to the territory of afterthought.
Sound good? Then check out these 11 inspirational self-help books that will actually, you know, inspire you:
Raise your hand if someone has recommended a Brené Brown book to you before. If not, use the hand you're not raising to text all your friends and ask them what rock they've been living under, because this self-help guru is literally everywhere right now: the New York Times bestseller list, the Nobel Women's Initiative, giving TED Talks, being interviewed by Oprah. The lady who taught you that vulnerability can be your greatest strength in Daring Greatly is about to rock your world again, in this guide to conducting your own revolution of personal transformation. In Rising Strong , Brené Brown writes that failure can be our loudest call to courage, and champions the idea of owning our stories of struggle. You'll have to preorder this one, but it's worth the wait.
Ever had a hard time making a decision? How about finally making up your mind, only to change it again... and then again. If you've ever found yourself standing at the MAC eyeshadow counter for hours, or wondering why you dated that one guy in college, when his best friend was clearly your soulmate, this book is for you.
Choice researcher Sheena Iyengar explores how we make decisions, about everything from favorite beverage to lifelong profession, and how those decisions are shaped by much more than just our own wants and needs. By understanding how your friends and family, society, and marketing play significant roles in your decision making, you'll be inspired to pay closer attention to why you choose what you choose — and maybe even to choose more wisely.
We're not talking about that dark closet under your basement stairs here. Remember that Gilmore Girls episode when Rory and Dean broke up because she was afraid to say "I love you?" That's the kind of scary place Pema Chödrön explores in this book about conquering your insecurities, living fearlessly in the present moment, and discovering the delightful person you are beneath all that fear. Because you really are delightful. I promise.
If touchy-feely self-help tomes make you feel, shall we say, less than inspired, this no-nonsense manifesto to awesomeness might be just what you're looking for. Filled with blunt and sassy advice, do-it-yourself exercises in personal transformation, and a whole lot of hilarity, You Are a Badass will silence your inner critic, and help you build a life worthy of the kind of Facebook news feed that others envy. Take a day off from looking for your inner goddess, and spending some time cultivating your outer badass instead.
If the talking your way through a 50 minute session with your therapist routine is getting a little stale, it might be time to give EMDR therapy (that is, Eye Movement Desensitization and Reprocessing) a try. Francine Shapiro, Ph.D., the creator of EMDR therapy, has put together a totally user-friendly guide to how EMDR can help you access and reinterpret those dormant and misunderstood memories you've kept in the back of your mind since forever. Shapiro offers simple exercises that will inspire you to push past places where you've become emotionally stuck, helping transform your life from one that's all about the past, to one that's focused on the fabulous future you're about to have.
This collection of new and previously published advice columns will leave you feeling ready to conquer literally anything: that new job, those overdue bills you've been hiding under your bookshelf, that less-than-faithful gentleman caller (be honest, you weren't that into him anyway.) And if you still haven't gotten enough of the wonderfully wild Cheryl Strayed after all this (and really, who has?) now there's a Dear Sugar podcast for you to listen to, when you're done reading this book.
Since Carrie Bradshaw's infamously rejected Crazy Kathy and Her Magic Cigarettes, children's books for adults have kind of been the greatest concept ever. This one is for anyone suffering from career burnout: it will help you fall in love with your job all over again, and remind you that your life's work — whatever that may be — is a critically important endeavor to be nurtured, not dreaded or minimized. This ABC-guide to living outside your comfort zone is like that third shot of tequila you took at the bar last weekend: totally necessary, a great idea always, and leaves you feeling prepared to take on the impossible.
The lady behind the joyful memoir The Happiness Project (read that one, too) zeroes in on those elusive little things known as "good habits" — and specifically, exactly how to foster them in your own life. Gretchen Rubin breaks down that age-old adage that says it takes 21 days to form a habit (and yeah, that does seem like a really, really long time to me, also) sharing tips and tricks on everything from unplugging from the grid, and getting more sleep, to maintaining a healthy mind, body, and spirit.
Mindfulness is having a moment (see what I did there?) and this book is a great guide for adding some mindful meditation into your hectic life. Wherever You Go There You Are breaks down mindfulness into practical tips, like how to declutter both your mind and your material environment, and which breathing exercises can focus your attention to the present moment. So the next time you stay in bed until noon on a Wednesday — because seriously, your sheets do feel just that good — instead of faking the flu to your boss, tell her you're practicing the ancient art of non-doing.
Whether you loved her or hated her (or loved to hate her) on MTV's The Hills, the PR powerhouse Kelly Cutrone tells you everything your mama didn't about putting your big girl pants on. Take the bad with the good in this tough-as-nails collection of advice about kicking your professional life into high gear, while keeping it together in your personal life, as well.
OK, so maybe this isn't quite a "self help" book in a warm-fuzzy, transformative, zen-y sense, but this book does basically cover everything else you'd ever want to know about anything. From delivering a baby in the back of a taxi (you never know), and making awkward elevator silences more bearable, to determining whether or not your blind date is an axe murderer, this book has you covered. Plus, there's some bit about surviving surprise mountain lions and quicksand — and what's life without a little whimsy, right?
Image: Bustle Stock Photo