Is 'Lizzie Borden' Coming Back Or Getting The Axe?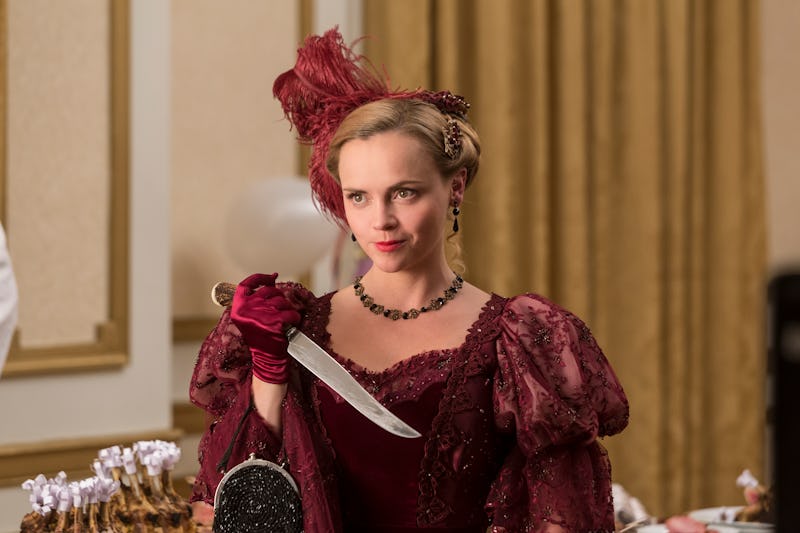 Lizzie Borden is a hard woman to keep down. Last year, it seemed like she would go away after Lifetime's Lizzie Borden Took an Axe, a TV movie that focused mostly on the original, axe-wielding legend of Borden. But then she returned in April with The Lizzie Borden Chronicles, a completely fictionalized six-episode limited series about what happened after Borden's famous trial. But wait, there's more! Before the show aired, Lifetime ordered two more episodes, expanding it to an eight-episode series. So, has Lizzie's luck finally run out, or is there more in store? Will The Lizzie Borden Chronicles be renewed for Season 2?
Lifetime hasn't made any specific announcement yet, and the outlook is mixed. The ratings for the show have stayed under a million viewers since the premiere, but it has managed to make ratings gains in the past couple of episodes, according to Show Buzz Daily. And I'd say it'd be hard to keep a movie actress like Christina Ricci tied down to a TV series, but it's a lot easier for her to juggle if she can do smaller, six or eight episode runs. The fact is, Lizzie's not gone yet, and here are some reasons why she should stay forever.
We Need More Evil Ladies
For every Norma Bates or Jackie Peyton out there, there are 10 Walter Whites. It's much more rare for women to get to play the deliciously evil anti-heroes, and there's nothing more sinister than a woman yielding a blade like Lizzie Borden. If you can root for Dexter, you can root for Lizzie.
I Heart Christina Ricci
And always have, ever since she smirked her way into our collective hearts as Wednesday Addams. While I'd love to see her in more movies — really, I tracked down that direct-to-video movie where she joins the cast at a Renaissance Faire (because of her and also because I have a weird Robin Hood thing, but that's a long story) — it's good when I have a place where I can dependably watch her on TV every week. I did it for Pan Am, but that's gone now, so Lizzie Borden is it.
...And Clea DuVall, Too
DuVall attracted a lot of attention for her performance in Argo, but the Argo bounce hasn't yet paid off for the actress. I know she's been floating around a lot of indie projects (movies with ridiculous titles like Zen Dog or Heaven's Floor), but it's also good to see her in a steady gig, even if she doesn't get to be as much fun (or, you know, murderous) as Ricci. Plus, the actresses have good chemistry together.
Just Look At Those Dresses
And hats! The year 1893 might not be a hot moment in fashion right now. We're just before the Downton Abbey-style Edwardian era and still more than two decades away from flapper dresses. But I still get a kick out of seeing these gigantic, shiny frocks swishing around. I get all Napoleon Dynamite about them.
It's Not Quite So Serious
With TV networks in an arms race to see who can produce the show that's the grittiest, goriest, or most adult, it's nice to have a series that indulges in its dark side, but isn't so dour about it. Blood goes best with a wink, don't you think?
Images: Marvin Moore/Lifetime; Giphy (4) ; televandalist/Tumblr; Chris Reardon/Lifetime