10 Ways To Reuse Old Compact Mirrors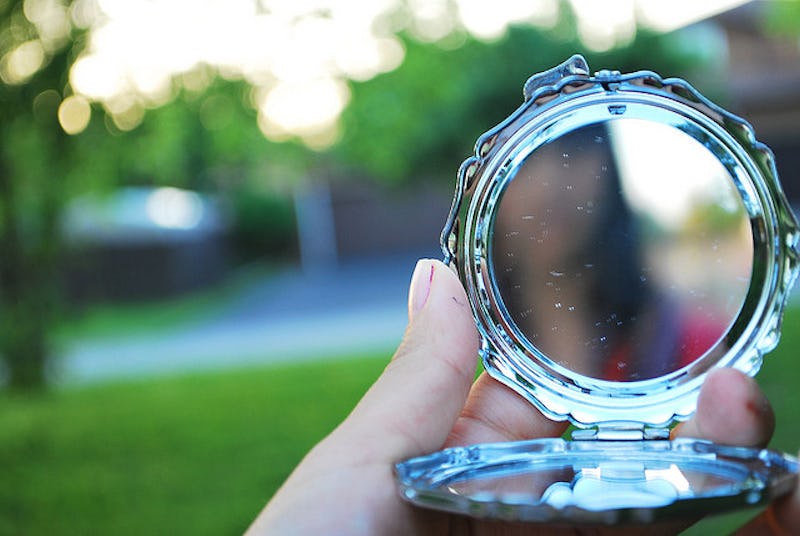 We're all pro getting more bang for our hard-earned bucks, right? It seems silly to send all your old purchases to the trash when you can repurpose empty lipstick tubes, refill empty palettes and reuse compact mirrors. Your beauty stash is probably worth hundreds when you consider all the untapped potential (I'm in the same boat, trust me)! By putting your old makeup containers to good use after you're done putting on your face, you can up the value of that coveted stash.
I think we all get a little DIY happy sometimes — and if you ask me, its for the best. Whether it's making your own creative makeup organizers or doing a home pedicure, there's few things you can't do yourself without a little Pins-piration. When it comes to crafting, compact mirrors are no exception. Both empty powder cases and straightforward mirror compacts are some of the easiest beauty products to use beyond their original purpose, so think twice before tossing them when you're done. A little ingenuity can go a long way in making them great for gifts, home décor, and storage. Below are ten awesome ideas for putting your vanity leftovers to good use.
1. Wall Mirror
No need to buy a large, expensive wall mirror when you've got plenty of compact mirrors lying around. Follow this Thistle Wood Farms DIY and all you'll need are pliers, a base for your mirrors, and hot glue. You'll be admiring yourself more than you ever did with a single compact mirror. Don't be afraid to use compacts of different shapes and sizes for a really funky wall mirror.
2. Photo Keepsake
Transform your makeup compact into a memento for yourself or someone else by gluing a photo inside. There are no limits to what you can do with your keepsake. Keep it in your purse to carry a loved one with you at all times or attach a ribbon to it to hang from a hook. Check out Every College Girl for simple instructions on making a compact photo mirror.
3. Accordion Note Holder
Attach a heart felt note, folded accordion style, inside your compact and pass it along to a friend. Use it to replace a boring old card, especially if she's a makeup lover! Get crafty by cutting and folding the note into circles. Decorate the outside too, using scrapbook paper, jewels, glitter and more!
4. Mini Picture Frame
Use your compact to make your own mini photo frame similar to ones on Aliexpress. Remove the mirror from the compact and attach a mini photo. Leave space around the photo for decorating the edges with anything you'd like, say rhinestones for example. Add a mini photo frame holder and you've got yourself an adorable picture frame.
5. Mints & Medication Storage
Clean out your old powder compacts and use them to hold mints, vitamins, or medication while you're on the go. Decorate the outside of the compact to transform its look. You'll look much more chic with a compact turned pill bottle when you get ready to pop that Advil.
6. Solid Perfume Holder
An empty powder compact is perfect for storing a custom perfume. You can make your own solid perfume by melting down coconut oil or beeswax and adding an essential oil or fragrance. If homemade perfume doesn't suit your fancy, add a brand name solid perfume disc. Either way you can take your favorite fragrance with you wherever you go.
7. Homemade Blotting
You spend precious time putting on your face in the morning and it would be a shame if it melted off during the day. Use an empty powder compact to store blotting papers to eliminate shine and oils from your face when you're on the go. Learn how to make your own homemade blotting sheets using tissue paper at Beautylish.
8. Emergency Hair Kit
When you could use a quick fix, an empty powder compact can become an emergency hair kit. Store a few bobby pins, small clips, and hair ties inside and you'll be ready to touch up your 'do whenever and wherever!
9. Jewelry Storage
Never lose your small rings and earrings when there are left over compacts to be used. Tuck them away inside and you've got storage for your small jewelry. Consider decorating the outside so that you're new jewelry box is as stunning as what it will be holding.
10. Lipstick Container
With DIY Crayola lipstick, making your own lippies has never been easier. Thoroughly clean out your old powder compact and you've got lipstick storage, complete with a mirror! Fill the compact with your favorite Crayola lipstick or consider dividing the compact to store more than one color.
With so many ways to reuse your old compact mirrors you'll never want to throw another one away. Now step away from your computer screen and cue the race to frantically tear through your drawers and makeup bags in search of your old compacts.
Images: Emilie, Jennifer Morton, Sarah (Rosenaue) Korf, Tara Aveilhe, Maegan Tintari, Jessica Reiss /Flickr; Courtesy Thistle Wood Farms; Getty Images; Courtesy Aliexpress, Courtesy Beautylish; Summer Arlexis