The 'Game Of Thrones' Cast Looks Totally Different In Real Life, Because Westeros Has A Way Of Changing People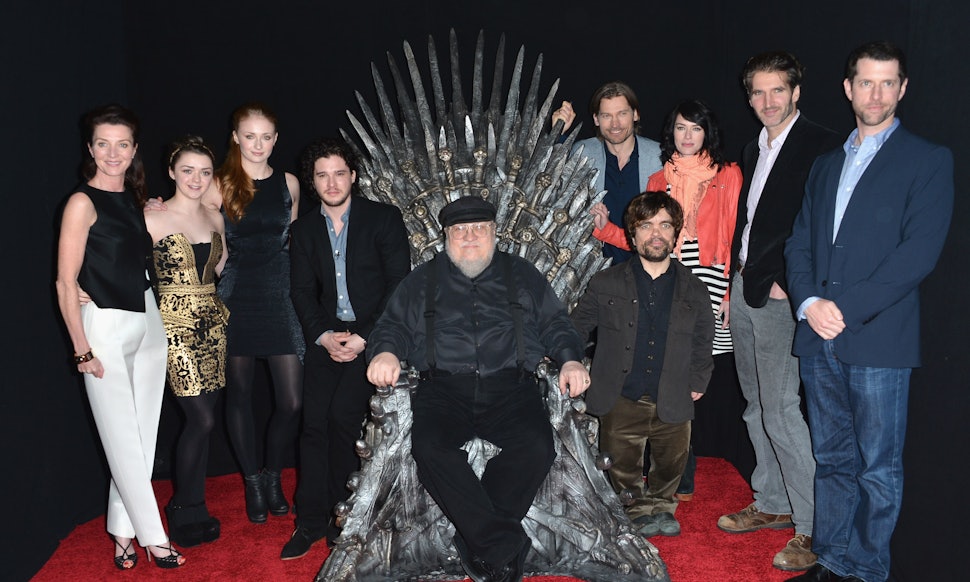 Alberto E. Rodriguez/Getty Images Entertainment/Getty Images
Although many women have probably wanted to look like Daenerys Targaryen with her striking eyes, luminous skin, and silken hair — raven-haired actress Emilia Clarke doesn't actually look that similar to her Game of Thrones counterpart. And that's the case for most of the actors in Game of Thrones since they look completely different in real life.
Living in Westeros seems to require the men and women to have a lot of hair, and though the fictional HBO show doesn't have an exact timeframe it's inspired by, the show definitely pulls in elements from the Middle Ages. So, when the actors of Game of Thrones hit the red carpet to promote other projects or the HBO show itself, they can look just a tad bit different.
Here are 11 times when the stars of Game of Thrones looked totally unlike their characters in real life.
Lord Varys
Although Lord Varys is known for his endless amounts of political gossip, the Spider doesn't get much attention for his looks. (Besides being called out on that whole eunuch thing.)
Image: Helen Sloan/HBO
Conleth Hill
In real life, actor Conleth Hill is actually quite dapper (and has hair!). He seems completely at ease hanging with Queen Elizabeth II around the Iron Throne, which makes sense since the Spider is constantly surrounded by royalty.
Cersei Lannister
Cersei Lannister actress Lena Headey is one of the most famous of the Game of Thrones stars. But even with her fame, she does look just a tiny bit different out of character.
Image: Macall B. Polay/HBO
Lena Headey
Although I know this is Headey promoting Wild Things with Dominic Monaghan, I'd probably have to do a double take to realize this woman with glasses, dark hair, and no makeup is the cold, blonde Lannister. Plus, Headey knows how to rock a leather jacket better than the queen mother ever will.
Jaime Lannister
Jaime Lannister is pretty infamous in the Seven Kingdoms as one-half of the incestuous Lannister twins and the Kingslayer. His pretty face (and metal hand) can be recognized throughout the land.
Image: Helen Sloan/HBO
Nikolaj Coster-Waldau
As a younger man, Nikolaj Coster-Waldau still resembled his character, but he looks so happy here hanging out with Harrison Ford (happier than he's ever looked on the HBO show), that it's a shock to the system. But who wouldn't be happy to star alongside Ford in the 2006 movie Firewall?
Stannis Baratheon
The curmudgeon who is Stannis Baratheon doesn't seem to worry much about his looks as long as the Red Lady is still taking an interest in him.
Image: Helen Sloan/HBO
Stephen Dillane
Who have we got here … Allison Janney, Meryl Streep, Julianne Moore, random guy, and Nicole Kidman?? The man behind The Hours photobomb is none other than Stannis Baratheon actor Stephen Dillane, who actually had more hair back then than he does on the show. And to be fair, it technically wasn't a photobomb since Stephen Dillane portrayed Virginia Woolf's husband in The Hours.
The Hound
Arya Stark may think she hated her travel companion the Hound, but fans of Game of Thrones (and Jaqen H'ghar) know she was really his badass little fighting buddy. (Just don't tell her I said that.)
Image: Helen Sloan/HBO
Rory McCann
Rory McCann is nowhere near as menacing as his Game of Thrones character with his big grin and trimmed hair, which just adds to my love of the Hound.
Grand Maester Pycelle
The man pretending to be the oldest man of all Seven Kingdoms is Cersei's favorite punching bag — Grand Maester Pycelle.
Image: Helen Sloan/HBO
Julian Glover
Jorah Mormont
Before Jorah Mormont was obsessed with Daenerys Targaryen, actor Iain Glen was in Tomb Raider with Angelina Jolie and Daniel Craig.
Image: Helen Sloan/HBO
Iain Glen
Glen, second from the left, proves he does know how to play it cool while hanging with Lara Croft and James Bond. If only he had used his casual style on display here with the Mother of Dragons, he might have had a shot with her.
Bronn
The greatest sidekick of Game of Thrones, Bronn, is currently on an adventure with Jaime Lannister in Season 5. And, though he looks the same on GoT as in his other show Ripper Street , there was a time actor Jerome Flynn looked different.
Image: Helen Sloan/HBO
Jerome Flynn
Bronn used to be a blonde when he was part of the English musical duo Robson & Jerome. (Please check out their version of "Unchained Melody" if you haven't seen it before — it will blow your mind.) I will speak for the Game of Thrones fandom by saying we prefer his sword fighting to his crooning.
Melisandre
German actress Carice van Houten, best known for portraying the Red Woman on Game of Thrones, isn't afraid to show some skin and seduce people with her magical powers.
Image: Helen Sloan/HBO
Carice van Houten
Before she was on the HBO show, she starred as Cruise's wife in the 2008 film about killing Adolf Hitler — Valkyrie. Although she hasn't changed her appearance that much, without her Melisandre swagger, I had a hard time recognizing her.
Gilly
Gilly, one of the many daughters of Craster, was able to escape her father's horrifying house with the help of Sam, and she is now hanging with him and the Night's Watch.
Image: Helen Sloan/HBO
Hannah Murray
What?! Gilly is a bombshell?! Sam — I know you're part of the Night's Watch and all, but you need to be paying more attention to Gilly in Season 5.
Oberyn Martell
Pedro Pascal was only on Game of Thrones for part of Season 4 before being killed by the Mountain (and now his death is causing loads of trouble), but something tells me that he's always been adorable.
Image: Helen Sloan/HBO
Pedro Pascal
And I was right! Although Pascal has aged, this past, fresh-faced self looks like he has a lifetime ahead of him! (… unfortunately, just not in the world of Game of Thrones.)