What Has Nick Been Doing Since 'The Bachelorette'?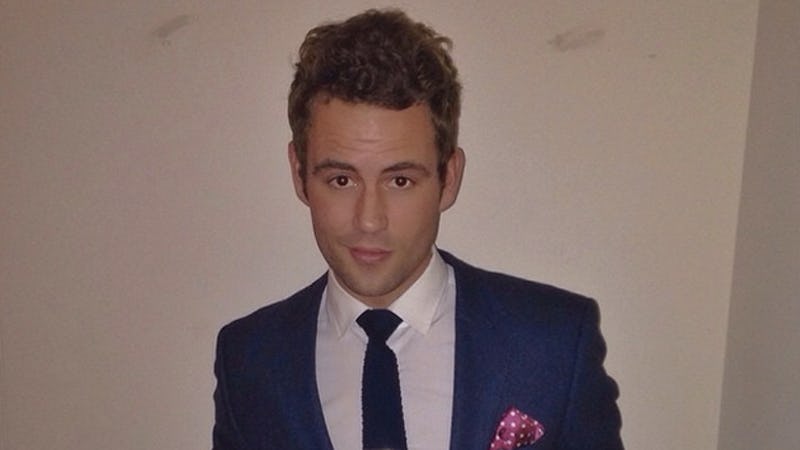 Perhaps the biggest shocker from the highlights reel for this season of The Bachelorette was the return of Nick Viall. Well, actually, according to the Internet, it's the fact that Kaitlyn dared to have sex with someone, because female sexuality, AHHHHH! Anyway, you guys remember Nick, right? He was on Andi Dorfman's season. He's the guy who, in order to sneak into her hotel room, told the people at the front desk that they were married and he had lost his key to her room. Ever wonder what happened after Andi gave him the boot? It's been a year since his love with Andi fell flat, so what's he been doing since then, and more importantly, is Nick Viall dating anyone? (Kaitlyn or otherwise.)
As far as his Twitter and Instagram show, he hasn't been dating anyone new. So, maybe he won Kaitlyn's heart and is hiding his love until the finale. But, despite a lack of a social media-stalkable romantic life, Nick has been up to a lot since Andi sent him home. He's been posting some fun #TBTs from his time on The Bachelorette and pictures with his exes, (so, something tells me he doesn't let go of anything too easily). Also, if the address on this photo of his office's evacuation plan is any indication, he's still working at Salesforce.com, where he was an account executive during his time on The Bachelorette. In unrelated news, I've officially reached a new level of stalker in determining where a man works from subtle details of his public Instagram. Yay, America!
Also, I'm confused about what he actually does at work, because it looks like he just hangs out with bulk bags of Sour Patch Kids trying to convince people to buy them. Like, this doesn't seem like such a difficult endeavor, just find any woman on the street who's on her period and ask her if she'd like some Sour Patch Kids. Easy money, dude. I'll be your first customer.
It also looks like he's been having some fun experimenting with facial hair, which is obviously an important thing to point out, if only so I can share this fun photo with all of you:
There's just something about a man with a good, healthy handlebar mustaches, ya feel me?
Anyway, as far as his potential success with Kaitlyn on The Bachelorette this time around, he may be one for the other contestants to watch. After all, he's been #TeamKaitlyn since way before she was chosen to be the Bachelorette. Don't believe me? Good, because I was going to share some visual proof with you, anyway, and there's nothing I love more than shutting down the #haterz. When rumors started swirling of the whole double-bach scenario, he posted this to Insta:
Before and after he did that, he spent quite a bit of time live-tweeting The Bachelor as most men do as well as promoting Kaitlyn's interests on Twitter:
I like that above one, not because it's indicative of his early interest in Kaitlyn, but because of the typo. Every time, I read this tweet as, "I'm pretty. I would never be bored around Kaitlyn." As though being pretty is a prerequisite for never being bored with someone. I like that confidence, Nicky boy.
There you have it: Nick has had his eye on our Bachelorette for quite some time, and since the producers love nothing more than causing unnecessary drama among grown men and women, it really should come as no surprise (in hindsight, at least) that they brought Nick around. Oh, and probably because they're hoping he'll bring his lion/chipmunk onesie to the party:
Who knows, maybe he'll try to pull his "We're married, and I lost my room key" stunt again to get into Kaitlyn's room? Here's hoping he's got some more fun tricks up his sleeve this time around, even if he doesn't make it all the through to the end.
Image: Nick Viall/Instagram