A Possible 'Pitch Perfect 3' Soundtrack Wish List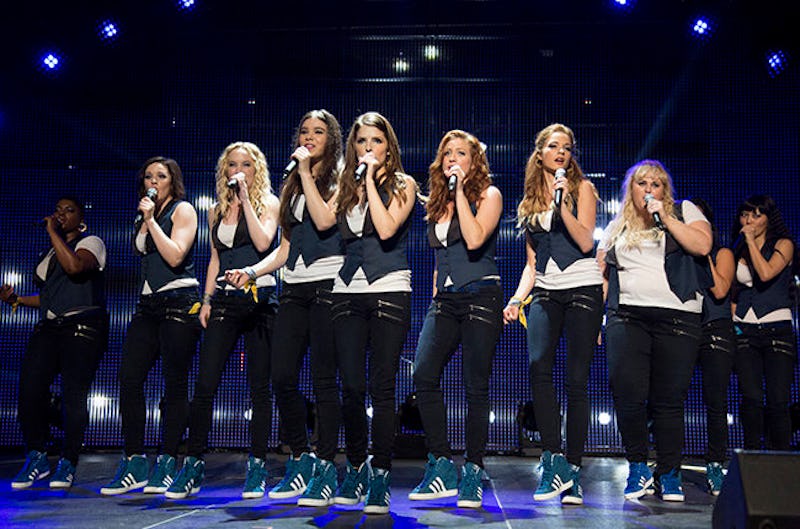 Look, I know Pitch Perfect 2 has only been in theaters for, like, a week now, but what can I say? I'm impatient. The musical comedy is killing it at the box office, and the movie's soundtrack even debuted at No. 1 on the Billboard Top 200 albums chart this week. Basically, everyone has caught Pitch Perfect fever, and I'm already looking forward to a possible third installment in the franchise. To be more specific, I'm looking forward to a possible Pitch Perfect 3 soundtrack, because while the Barden Bellas and the Treblemakers have already covered some amazing pop hits, I've got a list as long as my arm of ones they haven't, and I demand it gets done.
Of course, there are too many amazing songs out there for the Bellas to do them all. If that happened, we'd be getting new Pitch Perfect movies until 2050 (though maybe that wouldn't be such a bad thing). But there are a few tracks that would just be so perfect done with an acapella arrangement, so if the film's producers/writers/creators or whatever want a little inspiration, here are some songs for Pitch Perfect 3 and I'm not even charging for it. You're welcome!
"Can't Be Tamed" by Miley Cyrus
Lots of Miley songs would be great done by the Bellas, but "Can't Be Tamed" just has the perfect fierceness for a competition. They'd sweep the whole thing, obviously.
"Jealous" by Nick Jonas
Maybe I'm just picking this song because it's SO GOOD, but honestly, I've heard lots of artists cover it, and every version has been awesome. The only people I haven't heard cover this are the Bellas or the Treblemakers. Let's fix this.
"Mama Knows Best" by Jessie J
The Bellas have incorporated "Price Tag" into past performances, but "Mama Knows Best" is another absolute jam from Jessie that they could do justice to. Just a thought, ladies.
"Lips Are Movin'" by Meghan Trainor
I'm not necessarily the biggest Meghan Trainor fan, but she makes some catchy songs, and "Lips Are Movin'" is definitely my favorite. I can see the Bellas doing an AMAZING number around this to the point that I'm surprised it hasn't already happened.
"Happy" By Pharrell
How is it that the Treblemakers haven't already covered this? Could they not get the rights? Let's fix this immediately, please.
"Uptown Funk" by Marc Ronson & Bruno Mars
Another no-brainer for the Treblemakers, or maybe even for the Bellas. This is one of the best songs of the past year, so it deserves the acapella treatment.
"One More Night" by Maroon 5
Is it wrong that I love Maroon 5? No, it isn't, because they make amazing pop music. You could basically take any song from their catalog and use it for Pitch Perfect, but I'm going with "One More Night", just because I can.
Image: Universal Pictures