9 Reasons to See 'Thor: The Dark World' Even If You Don't Think You Want To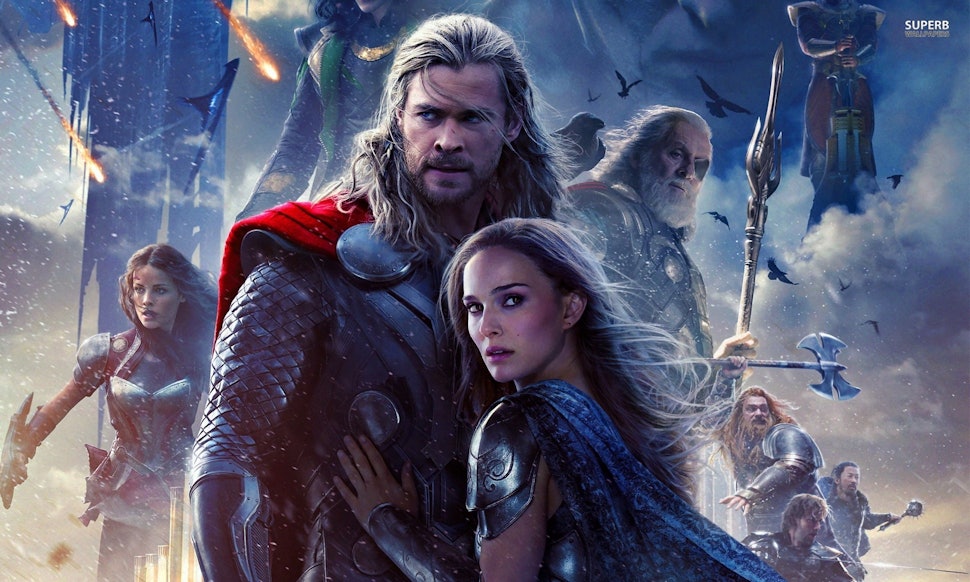 Thor: The Dark World, the latest installment of Marvel and Disney's infinite Avengers franchise, comes out Friday and trust us, you're going to want to see it. Chris Hemsworth returns as Thor, the demi-god from Asgard who was last seen battling his strangely attractive (thanks to Tom Hiddleston), kind of evil brother Loki in The Avengers.
This is only the second film of Marvel's Phase Two, the group that started with Iron Man 3 and will tie together before culminating in The Avengers: Age of Ultron in May of 2015. Until then, we have Thor, Captain America: The Winter Solider and Guardians of the Galaxy to set up who or what the heroes will face when they team-up for another guaranteed record-breaking movie.
Even if you don't think you like superhero movies or Thor is your least favorite Avenger or you don't trust men with half-ponytails, here's why you should give it a chance.
Marvel Movies Have Basically Become Episodes in a Series
Thanks to their whole concept of splitting the various movies into phases, Marvel's Avengers films have become tightly linked. Each movie usually sets up the next in some way, even if each stars a different Avenger, and they are filled with clever callbacks and hints. Unless you plan on being the only person in America to not see The Avengers: Age of Ultron in a few years, you're going to have to see Thor: The Dark World at some point.
Loki is Back
To put it simply,Tom Hiddleston stole Thor from Thor, and The Avengers from the avengers. Though last time we saw him he was in big trouble, he was alive, and now he's a key character in the Thor sequel. Don't worry, Hiddleston has made him as confusingly appealing as ever.
Only Thor/Chris Hemsworth Can Rock a Half-Up Look
In almost every instance, men with ponytails are just not okay. It's a rare thing for a guy with any kind of elastic in his hair to pull it off, but somehow, Hemsworth does — especially when paired with his Thor armor. Throughout the movie, his blonde hair is in a half-up ponytail with some random braids in it, and it really works. Unfortunately, the same cannot be said of his similarly-styled father, played by Anthony Hopkins.
The Women Get to Kick Ass, Too
One woman in particular gets to fight and protect others as much as Thor himself does, Sif. The Asgardian warrior is a member of Thor's core team of soldiers, and gets in on a lot of the action. Natalie Portman's character Jane eventually contributes through science, which is better than just standing around and screaming, but Sif is definitely the biggest female badass of the movie.
That Fun, Cheesy Sense of Humor
Part of what makes the Avengers' films so great is their balance between intense action and fun, lighthearted humor. There are always scenes meant to just make you laugh, and just like in the first Thor, much of the sequel's humor comes from corny jokes and one-liners — but who cares? Thor doesn't understand Earth life so it's funny to see him try to human things, and Loki has a comeback for everything. There's no shame in laughing at silliness.
There is an Amazing Cameo from a Fellow Avenger
Thor is not the only Avenger to appear in The Dark World. In the movie, there is a brief, hilarious appearance from one of his former teammates. I won't spoil which one, or the circumstances in which they appear, just know that it's absolutely perfect and one of the best scenes of the movie.
Idris Elba Takes the Helmet Off This Time
You might not have even recognized Idris Elba in Thor, since he played Heimdall, a cosmic gatekeeper who wears a large gold helmet for much of the movie. Maybe it's because the Luther star has gained some more recognition thanks to turns in Prometheus, Pacific Rim and Mandela: Long Walk to Freedom, because he's given a pretty flimsy excuse to take his helmet off and show off that face. His character also gets a larger role in general this time.
Two After-the-Credits Scenes
It's become a Marvel signature to have short but telling scenes after the credits of their films. Thor gets two, and one is important, while the other is more for fun. The first scene comes right after the main credits, the more colorful, exciting ones, and features what has to be a clue for an upcoming movie, like Guardians of the Galaxy perhaps? The second scene, after the full credits, is not remotely important but a fun little extra.
More of This
We're all thinking it, so let's just put it out there. At times, Hemsworth's Thor armor is conveniently sleeveless, and yes, he does take his shirt off. Like I said, you really should see this movie.
Images: Marvel