This Is One Crazy Stylish 3-Year-Old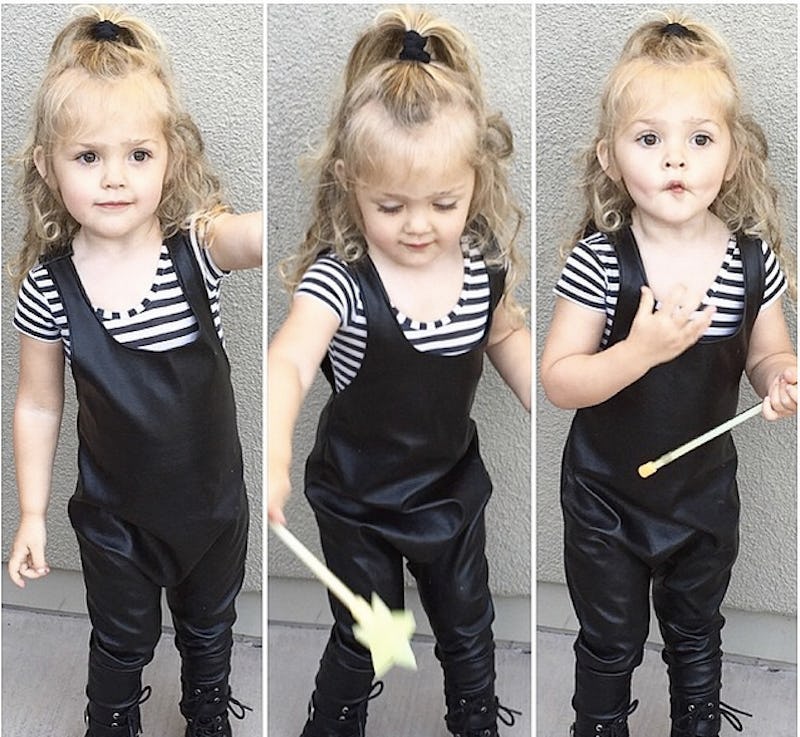 I feel like it's been awhile since a stylish member of the under-5 set stole my heart. Enter Daisy Lou, fashionable two-year-old Instagrammer, as introduced to my social media feed by the Huffington Post. OK, so maybe the whole "ultra trendy toddler" thing is getting a little bit old at this point (I blame North West), especially since the key to being fashionable at such a young age is usually parents with taste. However. Little kids dressed up in awesome outfits are just so freakin' cute. I never really get tired of it.
According to HuffPo, Daisy Lou is a San Francisco native whose Instagram feed is run by her mother, Samantha Rizzo, who told the site that Daisy, "can't get enough of harem pants and leather jackets." Sounds like a girl I'd like to get to know!
As far as her wardrobe goes, it's definitely little kid appropriate — if more little kids rocked Louis Vuitton logo bags and hand painted, glittery Timberlands instead of muddy light-up sneakers. So no, this is not your typical two-year-old's aesthetic. But what can I say? Daisy is a sharp dresser and she has basically the cutest face I've ever seen, so yes, I'm perfectly happy to scroll through her Instagram feed and feel complex feelings of jealousy. I invite you to do the same and snag some outfit inspo from the following photos of Daisy Lou's best looks.
1. Leather Jacket
I mean, seriously.
2. Headband Swag
Blair Waldorf is definitely jealous.
3. Customized Timbs
OK, I want these.
4. Leather Overalls
OH HAI, Cara Delevingne in training.
5. '70s Sass
I, a twenty four year old woman, could not pull off this outfit so successfully.
6. Kuilted Kitty
A more perfect skirt has never existed.
7. Puppy Co-Ord
To quote Rachel Zoe, "I. Die."
Images: daisylou/Instagram