The Classic Cocktail You Need To Know About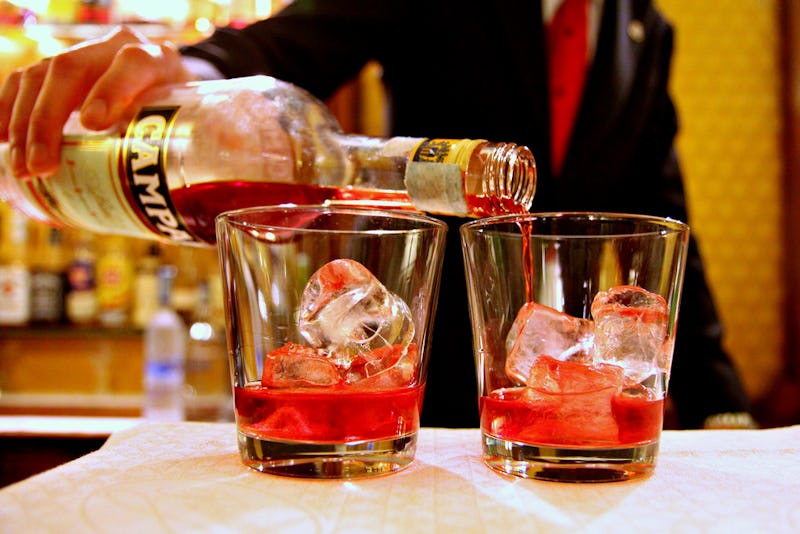 The first week of June welcomes yet another unique holiday, when we're asked to raise our glasses for a toast to what is perhaps the most classic cocktail of all time, the Negroni. Ah yes, the timeless Negroni — an apertif so famous we've dedicated an entire week to its honor, aptly naming it, what else, Negroni Week. From June 1 through 7, more than 1,300 bars, restaurants, and small businesses all over the world will mix their favorite versions of this vintage potable for public consumption. And the absolute best part? A portion of the proceeds will be donated to each establishment's charity of choice.
But if you're not a bartender, server, ambassador, distributor, do-gooder, or functioning alcoholic, I would never expect you to have all of this boozy information committed to memory. Because let's be real — there are hundreds upon hundreds of cocktails and charities floating around out there — who could possibly have time to know and love them all?
That's why I'm starting with the facts, providing you with the most essential information for the loaded week ahead. I'll tackle all the hard hitting questions like... What is a Negroni? What does Negroni Week celebrate? Where can I celebrate Negroni Week? And most importantly, how can I make my very own Negroni? Alright, enough of this stream of consciousness, let's get this informational party started...
Q: What exactly is a Negroni?
A: The Negroni is simple. Created in 1920s Italy, this sophisticated cocktail consists of three equal parts liquor, perfectly harmonizing the herbaceous notes of gin with the bitter citrusy and cacao flavors of Campari and sweet vermouth. Think chocolate orange with an herbal kick. The immortal beverage was introduced stateside in 1947 when Orson Welles wholeheartedly endorsed the Italian concoction by famously declaring, "The bitters are excellent for your liver, the gin is bad for you. They balance each other." Serve it straight up or on the rocks. Your choice.
Q: What does Negroni Week celebrate?
A: Presented by Imbibe Magazine and Campari, Negroni Week was launched in 2013 as a way to pay homage to the spirits while giving back to society. Each June, worldwide bars, restaurants, and small businesses sign up to participate in the festivities by putting their own special touches on the classic Negroni (think Campari fruit roll ups, Negroni ice cream sandwiches, Negroni soap, etc.), offering up their booze-laden goods to the libation-loving public and donating a portion of the proceeds to the charity of their choice. In 2014 alone, more than $120,000 was donated to global charities as a result of Negroni Week.
Q: Where can I celebrate Negroni Week?
A: So glad you asked! If you're in New York, have a drink at The Happiest Hour, or indulge in some grapefruit Negroni creamsicle ice cream from Tipsy Scoop. Headed to San Francisco? Cockscomb is making a Negroni mignonette to have with your oysters. And thanks to Tasty Ties, you can dine in style — because they're selling Campari bowties made of 100 percent pure Italian silk. And if you find yourself in Denver, take advantage of Green Russell's June 1 tapping party, where they'll tap a 53 gallon Wild Turkey barrel which is currently housing the world's largest barrel-aged Negroni. A $10 ticket will get you two Negronis and two apps, and 100 percent of the proceeds will be donated to Children's Hospital. Get the full list of the 1,321 venues participating in 28 countries here.
Q: How do I make my own Negroni?
A: Like this. And feel free to sub tequila, rum, or mezcal to taste.
Images: franzconde/Flickr; Campari/Facebook (3)