The Trailer For 'Diary Of A Teenage Girl' Is Here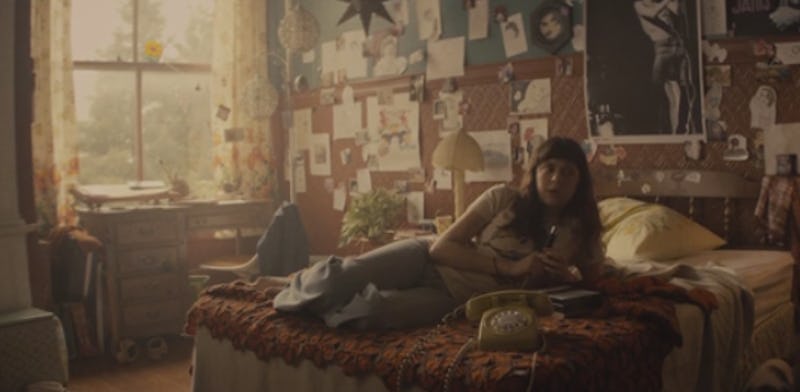 There's a new coming-of-age story to put on your must-watch list. The trailer for Sundance darling Diary Of A Teenage Girl has arrived and it gives us hope that the new film will be a rare, important look at a young woman's sexuality. The film stars newcomer Bel Powley as Minnie, a 15-year-old girl growing up in 1970s San Francisco whom is undergoing (for lack of a better term) a "sexual awakening" that includes having sex with her mother's much older boyfriend, played by Alexander Skarsgard. It's a controversial topic, yes, but the trailer also paints a refreshing portrait of female sexuality that suggests it's definitely more than this one specific plot point.
Though I'll have to reserve any significant judgements about the film until I see it, the trailer has at least two things going for it. The first is that the film seems to be told entirely through Minnie's perspective, as made evident by Minnie recording her life events in her "diary," or in this case, a cassette tape. The second is that though it's about a young girl having sex, the trailer doesn't show some of the tired, common tropes of the "virginity" story, which all too often strips young women of their agency. Minnie doesn't hum and haw over her decision to have sex, or feel disappointed by the experience — in fact, it's almost the total opposite. Minnie seems thrilled to have finally done the deed, which is a side of the story often reserved the for teenage boys who "swipe their V card," a la films like American Pie.
Hopefully Diary Of A Teenage Girl will be a movie that gives its main character some sexual agency. It's so rare for teenage girls to be depicted as human beings who might actually not be ashamed of their bodies or their sexuality, and if Diary Of A Teenage Girl can bring a real conversation about that to the table, I'm all for it.
Image: Sony Picture Classics