9 Things That Happen In Every 'L&O: SVU' Episode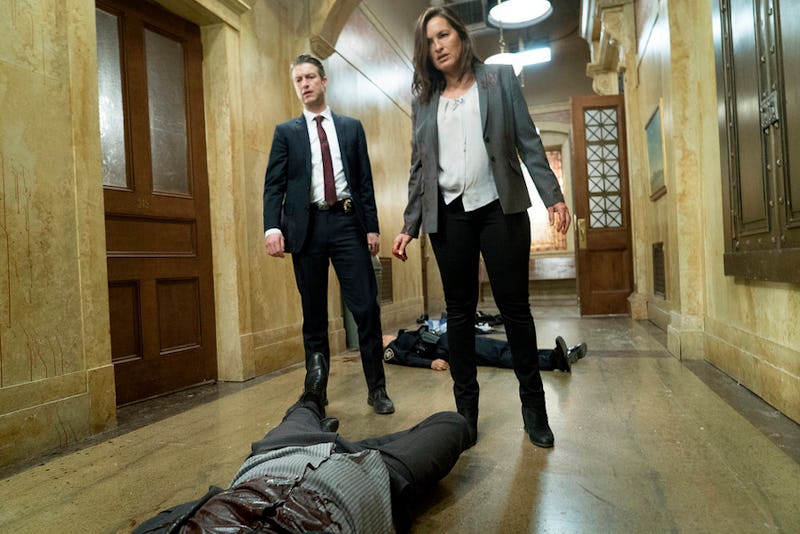 Last week, NBC aired the very intense season finale of Law & Order: Special Victims Unit . There was a shootout in a courtroom, the squad lost one cop (to transfer), and Detective Olivia Benson was finally able to officially adopt Noah. But as a longtime L&O viewer, I couldn't help but notice that the episode — while being special — still had all the things found in every episode of Law & Order: SVU over the years. After all, that's what makes the show such a comfort to watch even after 16 seasons: I know what to expect and I'm happy to welcome it into my living room.
It's even hard for me to stop watching L&O: SVU after one episode. I just crave more. It's times like these that I miss having cable and being able to watch Law & Order (of all kinds) marathons. Sure, I don't ever want to trust anyone ever again after watching an episode and feel like the world is a dangerous place, but it's nice to have some fair warning, right? Former Jezebel writer Lindy West wrote that watching L&O: SVU is like "pressing on a bruise" — I think that's pretty accurate. Even if I'm not particularly interested in the episode, I simply cannot look away.
So here are nine things that every episode of SVU has — and I can't help but love.
1. It's A Storyline Ripped From The Headlines
I know it's become standard to expect SVU to adapt news stories for its episodes, but I'm still into it. Nothing like reliving a scandalous news story with some "chung-chungs."
2. It's Not Just A Regular Crime, But A Sex-Related Crime
Well, that is what the SVU stands for — okay, the S stands for special, but it's because they couldn't call it L&O: Sex Crimes (which is indeed what the original title was).
On that note, I hope that one day there is a Law & Order: Special Pizza Unit, perhaps on the Food Network.
3. Detectives Always Take It Personally
Because hey, they're people, too. My favorite moments were always when dearly departed Detective Stabler (Christopher Meloni) would take the situation uber personally and go totally nuts when kids were involved in a case because he was a father.
4. And If The Detectives Aren't Moved, The Lawyers Are
Because lawyers are also people. With feelings.
5. There's Always That Person You Need To Question A Second Time
Every time I watch any episode of L&O, I make a little bet with myself. You know how the detectives go around interviewing witnesses, family members, and suspects? Well, I always try to guess which one they'll have to go back to — because there's always someone they have to find again, re-ask a few questions...
6. And It Leads The Detectives To Who Did It
If only it could work out that well in real life.
7. They Always (Mostly) Catch The Culprit!
And you do not want to be on the other end of Benson's wrath.
8. Ice-T Is There, Usually
And he always has something awesome to say.
9. You Can't Trust Anyone
Except everyone in the Special Victims Unit. They'll always get the job done.
Images: Michael Parmelee/NBC; Giphy (8)