When Will 'The Voice' Winner Sawyer Have An Album?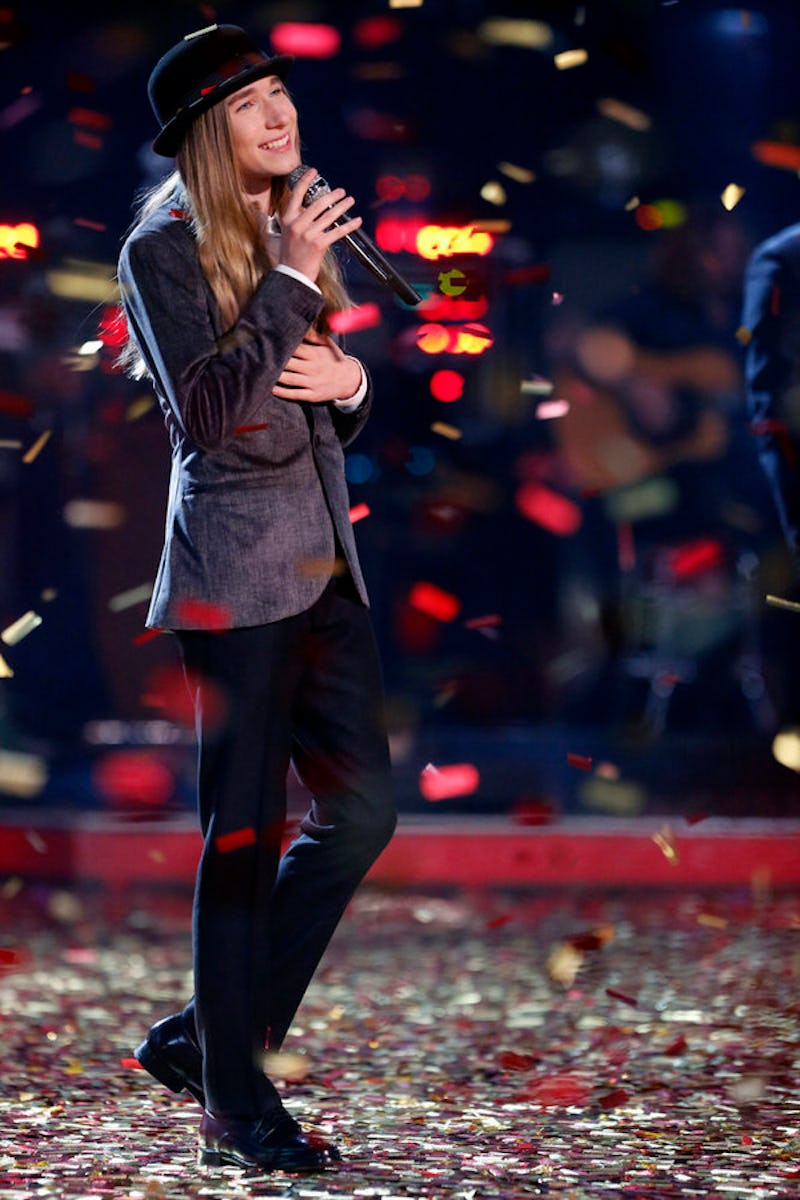 The voting is over and the winner of The Voice has been chosen for Season 8. Front-runner Sawyer Fredericks proudly took home The Voice trophy after performing in a star-studded finale along with finalists Meghan Linsey, Koryn Hawthorne, and Joshua Davis. Now, the question is when will Sawyer Fredericks release his first album? Well, I got the chance to ask him, and the 16-year-old New York native says an album is definitely on the horizon. But, as for when we can expect it? It's hard to say right now. After all, he's been busy making appearances at NBC's Red Nose Day and other events as the newly-crowned champ.
Fredericks is the first singer coached by Pharrell Williams to take home the title, and Fredericks hopes he and the award-winning hit singer and producer will continue to work together in the future — perhaps even on that upcoming album. "I want to make plans to get into my new album, but I'm not sure when that's going to happen yet, or when we're going to have time to do it, or when I'm going back out to LA to record it," Fredericks tells me. "I have no idea what's going on with that, or who's going to be working on it with me, but I'm hoping it's going to be Pharrell, because it was really great working with him on the song 'Please.'"
For now, Fredericks is just enjoying a break from the long road he took to get on the show. He went from living on his beloved family farm in Upstate New York to becoming the new champion of The Voice — and I got to take a look back at that journey with him.
His Path To The Voice
Fredericks says that the producers actually reached out to him and invited him to a callback after seeing one of his videos on YouTube. "I did that, just kinda went into it thinking, 'This will be a great learning experience and let's see how this goes,'" he reveals.
It seems to have all turned out well for the New York native, who has been singing his entire life. "It's always been something I've wanted to do, and I didn't really care about if I wanted to do it as a career," Fredericks says. "When people asked, 'Do you want to be a singer when you grow up?' I'd just say 'I am a singer and I enjoy it.'"
The Grand Finale
During the final moments of The Voice finale, Fredericks resolved to just have fun. "The last results night was really just fun because I got to perform with the Top 20, and I got to see all my friends again," he tells me. "That was really fun and I got to sing with John Fogerty, which was amazing. It was just a great night."
Not only that, but Fredericks got to debut his new single "Please" (above) that he recorded with Pharrell Williams as producer — an experience that he truly appreciated from his Voice coach.
He's such a nice guy and we have similar personalities. He really allows me to be myself, and I think the biggest piece of advice he's given me is to stay true to yourself. Working on the song with him was really fun, because it was the first time I was really working with him off-camera and in the studio. It was really cool to meet that side of him."
Life On The Farm
Fredericks has made it very clear in many interviews that he's not a city guy, and his family operates the 88-acre Windrake Farm in Fultonville, New York that he absolutely adores. When I spoke with him, he was in a car headed back to the farm and was ecstatic to go home for the first time in awhile. "I haven't been home since the finale, so I'm not sure what's going on there. But, I've had great support from my hometown, even before the show," he says. "I'm really happy to have their support through this experience."
And, of course, he'll get to see his beloved animals once again. "My favorite animals back home are the dogs and ... the pigs, but we don't have any pigs right now," Fredericks tells me. "Next week, we're going to get some. We have 20 cows, 14 chickens, and one donkey, along with three dogs."
Sounds like the farm of a champion to me. And, after he has a little downtime, I'll be waiting for him to "Please" get to work on that album. The world needs more Sawyer Fredericks' singles ASAP.
Images: Trae Patton/NBC