How Many Women Prefer Masturbation To Sex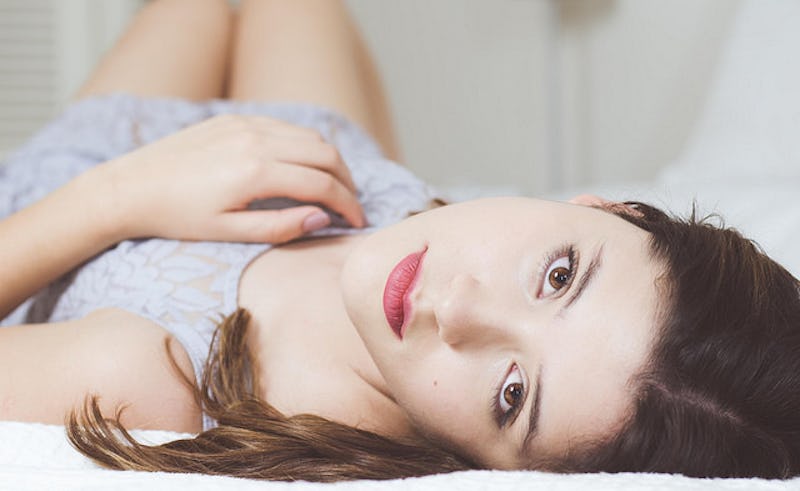 According to a new infographic created by the sex toy site, Adam & Eve, four in ten women prefer masturbation to sex. Yes, you read that correctly. The stat came from a 2003 online survey from healthystrokes.com of 178 women. Although the infographic includes other interesting tidbits like how 41 percent of adults have been caught in the act of masturbating and 46 percent of those over 60 still masturbate on a regular basis, the fact that 4 in 10 women would rather double click their mouse solo style than have intercourse with someone remains the most intriguing part. But, honestly, I can't say I'm totally surprised. Can you?
Not to knock my partner's skills in the bedroom, but sometimes I'd much rather masturbate, too. I can get in, get out, and know, for a fact, that I will be satisfied, because when I'm in charge, having an orgasm is inevitable. I also get to tease myself, take my time, and experiment with different ways in which to come. Then, when I'm done, I don't have to cater to my partner's needs, which can be sort of refreshing. This isn't to say that I don't love to make him happy in bed, but sometimes you just want to roll over after you climax and take a nap. Sometimes you just want to be selfish, and there's nothing wrong with that.
Obvious selfish reasons aside, there's also the fact that, at least for women, it's hard to have orgasm during sex. Study after study has confirmed that while men can easily climax, the majority of women just can't. A 2009 study found that 75 percent of women must have some sort of extra stimulation in order to have an orgasm during sex, because sex on its own just isn't cutting it. It's not that men are totally clueless as to how to please women (or is it?), but that having an orgasm is complicated for women; so complicated, in fact, that 10 to 15 percent never, ever, climax at all.
While in this sex-obsessed culture the idea of a woman preferring to get herself off alone might seem a bit, well, mind-boggling, once you break it down and examine the pieces, it makes sense. Instead of shaming these women, I think we should be high-fiving them for knowing what they like and going for it. If you prefer to masturbate than have sex, then good for you. There should be no shame in masturbating, even if it's someone's preferred method of sexy times.
We still have a few days left of International Masturbation Month, so honestly, we should all just quit concerning ourselves with what others do behind closed doors and get to celebrating one of humanity's favorite past times.
Images: Matías Q.V/Flickr; Giphy(2)