These Other Movies Need Reboots, Too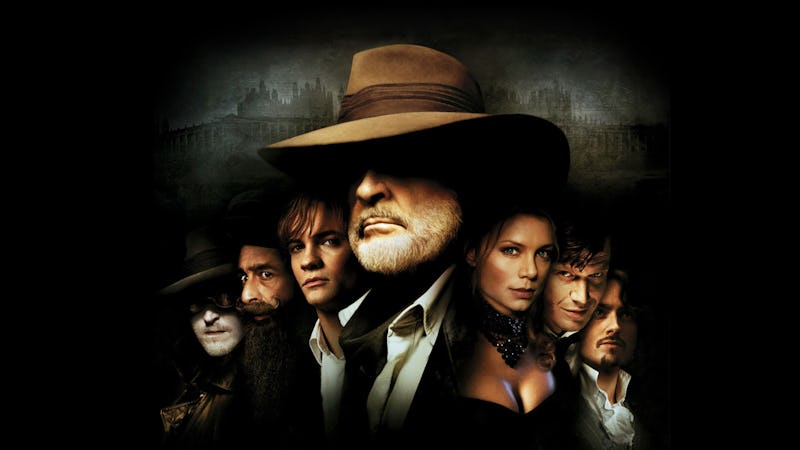 Though it was a lackluster film when it was released in 2003 (and that's just a polite way of putting it), I have to say, I'm actually pretty excited about this: According to Variety, 20th Century Fox has a League of the Extraordinary Gentlemen reboot in the works. That's spectacular news for a few reasons, but, mainly because — even though we're in a culture obsessed with movie remakes and reboots — this is one of those films that could actually use a do-over.
When the original film was released in 2003, it seemed like an interesting idea: Based on Alan Moore and Kevin O'Neill's steampunk graphic novel of the same name, the movie consisted of a sort of team-up of literature's most recognizable figures in an Avengers-like setting. It had Captain Nemo instead of Captain America, Dr. Jekyll/Mr. Hyde instead of Bruce Banner/Hulk, and a vampiric Mina Harker instead of Black Widow. Sadly, however, the movie version disappointed, because it ended up veering far away from the source material, and was bogged down with poorly rendered characters. It was also a hard sell to mainstream audiences unfamiliar with the graphic novel — not to mention there's only one main female character in the entire thing!
Now that audiences are used to this idea of a shared cinematic universe, thanks mostly to the Marvel movies, it's a good time to revisit this property. Unfortunately, I wish the same could be said for all the other failed attempts. Here are other movies that deserve remakes.
1. The Golden Compass (2007)
When fans got a look at The Golden Compass in theaters, it was clear by the end credits that director Chris Weitz did not understand the source material. Philip Pullman's overall trilogy was an elaborate fantasy/sci-fi masterpiece, but, unfortunately, The Golden Compass tried to pack as much as possible into one film, and it just didn't work well. If Hollywood ever decides to revisit this story, an editor's eye and clear direction would bring new life to the CGI-heavy effects.
2. The Last Airbender (2010)
Nickelodeon's Avatar: The Last Airbender was a hit for the network, garnering multiple seasons, a sequel series in the form of The Legend of Korra, and a cult following. Unfortunately, the same thing couldn't be said of the movie version: While the cartoon was full of life and universal themes that attracted both kid and adult viewers, M. Night Shyamalan's live-action version was too dark for fans to get behind, and virtually devoid of the humor that made the property so fun-loving.
3. Eragon (2006)
With a release time period overpopulated by adaptations of young-adult novels, Eragon was largely overlooked, and has been virtually forgotten at this point. A poorly written script, poor dialogue, poor acting, poor effects, and lack of creativity plagued the movie — all Kryptonite for any fantasy film.
4. The Punisher (2004)
Remember when Thomas Jane and John Travolta were in a Marvel movie together? That was 2004's The Punisher. Much like how Christopher Nolan and Christian Bale revolutionized Batman for a new generation, The Punisher could've been Marvel's dark and gritty superhero movie — but unfortunately the script and character development just weren't there to bolster the action.
5. The Chronicles of Narnia (2005)
The first movie in The Chronicles of Narnia trilogy wasn't all that bad. Sure, it was a little long, but overall it was an entertaining adaptation, and I can't get enough of Tilda Swinton. But as the sequels went on, Disney utilized the formula of lengthy fantasy epic with rising action building to a massive battle sequence too much, and it became too expected and dull. Even though another sequel is currently in development, Disney might want to consider simply restarting from scratch.
6. Lara Croft: Tomb Raider (2001)
The Angelina Jolie-led Lara Croft: Tomb Raider movies are my cinematic junk food. Sometimes you just want a hamburger and fries from Wendy's instead of a gourmet meal. This is one franchise that may already be getting a reboot: According to reports, MGM and Warner Bros. have a reboot of this franchise in the works.
Image: 20th Century Fox