Lifetime Shows A New Side Of Marilyn Monroe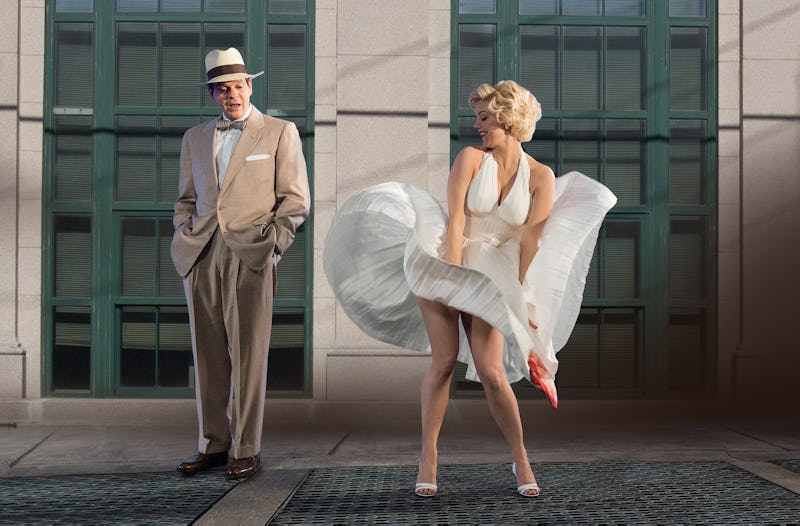 Seeing Kim Kardashian channel Marilyn Monroe on the cover of the June 2015 issue of Vogue Brasil won't be the only time the late Hollywood icon will make headlines this week. A new two-part miniseries called The Secret Life of Marilyn Monroe, which chronicles the intimate details of Monroe's personal life during her rise to fame, will air on Lifetime on this Saturday and Sunday. The network has plenty of experience in turning real celebrities' lives into films and series, but even after all of these years of film adaptations of true events, I still have to wonder just how accurate The Secret Life of Marilyn Monroe will be.
The Secret Life of Marilyn Monroe is based on the New York Times best-selling book of the same name by J. Randy Tarraborelli, although the book was written off by some critics as being little more than vapid gossip about the late actress. And that's one of the problems with creating yet another book, movie, or TV show about Monroe. Since Monroe's untimely death at the age of 36 on Aug. 5, 1962, she has taken on a larger-than-life, mythic quality that makes it difficult to know what is fact and what has just been repeated as part of her legend for years, no matter how accurate the latest project about the star's life tries to be.
Still, with a title that suggests several revelations about what went on in Monroe's life off-screen, I would hope that there's actually some truth to what The Secret Life of Marilyn Monroe exposes. Here is how some of the secrets of The Secret Life of Marilyn Monroe stack up to her real life.
Her Childhood
The Secret Life of Marilyn Monroe is presented as a series of flashbacks of Monroe's life, recounted by her during a therapy session with a new psychiatrist to help her through all of the emotions she has towards what was to be the end of her life. The flashbacks start at the very beginning with Monroe's childhood, showing how her mother was unfit to raise her due to mental illness and her father was completely out of the picture, leaving Monroe, born Norma Jeane Mortenson, in and out of the care of two women referred to as aunts in the film, as well as orphanages. However, a woman named Aunt Grace is a constant guardian of Marilyn throughout the miniseries.
Unfortunately, Monroe's childhood was actually more traumatic than The Secret Life of Marilyn Monroe depicts. Though she was put in the care of the foster parents shown in the miniseries, Ida Bolender and Grace Goddard, her mother for a brief time, and orphanages, Monroe moved actually much more frequently in real life and had many more guardians, according to Mashable. She was also allegedly sexually abused in two of her foster homes, which The Secret Life of Marilyn Monroe doesn't touch upon.
Her Mother
Much of The Secret Life of Marilyn Monroe concerns Monroe's mother Gladys Baker, who is shown suffering from paranoid schizophrenia and spending much of her life in an institution. The miniseries shows Baker and her erratic behavior as a constant disruption in Monroe's life, although the two also share some sweet moments. At one point, Monroe's talent agent and lover Johnny Hyde suggests that she cut her mother out of her life completely, a thought that Monroe was too disgusted by to even consider.
Baker was in fact schizophrenic, according to Vanity Fair, and spent much of her adult life in and out of psychiatric hospitals. However, The Secret Life of Marilyn Monroe might portray Monroe's relationship with her mother as closer than it actually was. Though Monroe pays several visits to her mother while she is institutionalized in the miniseries, she actually didn't like to visit her mother and, by the time she was a big-time Hollywood actress, she had her business manager Inez Nelson give her progress reports on her mother's condition, Vanity Fair reports.
Her First Marriage
In The Secret Life of Marilyn Monroe, Monroe marries her boyfriend Jimmy Dougherty as a teen so she can avoid being put back in an orphanage when Grace moves across the country with her husband, who doesn't want Monroe to come along. The miniseries suggests that Monroe married Dougherty just out of necessity, not out of love, and that their marriage lacked intimacy due to the poor mental health of Monroe's mother, the actress' own emotional distress, and her career ambitions.
Monroe did in fact marry Dougherty intending to avoid being put back in an orphanage when she married him at the age of 16 (he was 20 years old), according to the Los Angeles Times. Monroe later wrote that she felt insecure around Dougherty from the start, according to Vanity Fair. Dougherty later said that he loved Monroe, but cited that the lights of Tinseltown shone too brightly for Monroe to stay away. After four years of marriage, the couple divorced in September 1946 because Monroe couldn't sign a contract with 20th Century Fox unless she was single, The Los Angeles Times reports. However, The Secret Life of Marilyn Monroe suggests that Monroe just lied about being single when she signed the contract, but it doesn't really touch on her divorce from Dougherty.
Her Marriage To Joe DiMaggio
Monroe's marriage to Joe DiMaggio was filled with passion, but it wasn't always nice, according to its depiction in The Secret Life of Marilyn Monroe. Monroe and DiMaggio had instant chemistry. However, the miniseries portrays Monroe's alleged drug addiction, career ambitions, and sex symbol status as contributing to the eventual dissolution of their marriage, along with DiMaggio's physical and verbal abuse of his wife.
Though Monroe and DiMaggio really did love each other from the start, and DiMaggio did fall in love with her va-va-va-voom image, he eventually became uncomfortable with his wife's life as a bombshell, according toTime. DiMaggio reportedly became controlling, which has been rumored to have escalated into him physically beating her, as explained by the New York Post, though no charges were ever filed against the professional baseball player and he never spoke publicly about the claims. Monroe filed for divorce in October 1954 citing "mental cruelty."
However, as The Secret Life of Marilyn Monroe also shows, DiMaggio eventually came back into Monroe's life toward the end, getting her out of the mental clinic she was admitted to in February 1961. They maybe even could have gotten married again if Monroe didn't meet an untimely end, according to LIFE. DiMaggio arranged Monroe's funeral and continued to send roses to her grave after her death, according to History, a detail the miniseries also touches upon.
Her Marriage To Arthur Miller
The Secret Life of Marilyn Monroe depicts playwright Arthur Miller as mostly preoccupied with his creative pursuits during his marriage to Monroe. He seems to take Monroe's intellect seriously, and the couple share some happy moments when Monroe becomes pregnant, but her worsening drug and alcohol abuse and mounting tensions between the couple as they work on the 1961 film The Misfits eventually drives Miller away. But not before he leaves a scathing journal entry about Monroe and their marriage for the starlet to find.
So was Miller as cruel and cold in real life as The Secret Life of Marilyn Monroe shows him to be? Not quite. The two had a rather passionate relationship at the outset, as evidenced by this risque love letter Miller wrote to Monroe in 1956, the year they were married.
Monroe converted to Judaism to marry him and spoke in his favor when he was found guilty of contempt of Congress by the House Un-American Activities Committee after refusing to reveal the names of a literary group of suspected Communist sympathizers, according to BBC. Many think Monroe's intervention contributed to the eventual overturning of this ruling the following year, although The Secret Life of Marilyn Monroe completely skates over that part of their marriage.
The rest of their marriage was similarly turbulent. Monroe and Miller conceived a child, who was later lost when Monroe suffered an ectopic pregnancy, as PBS reported. Miller also really did leave his diary out for Monroe to see in which he described his disappointment in her, which completely devastated Monroe, according to Vanity Fair. Monroe's alleged drug problem also had a hand in destroying the couple's marriage, according to Biography.
Her Mental State At The End Of Her Life
The Secret Life of Marilyn Monroe suggests that mental illness ran in Monroe's family. Just as her mother suffered from paranoid schizophrenia, Monroe also deals with bouts of paranoia, delusion, and depression. In the series, things got so bad that Monroe almost tried to kill herself by jumping out of a window several stories up, which eventually caused her therapist Dr. Kris to admit her to a psychiatric hospital.
It's unclear if Monroe ever exhibited the behavior depicted in The Secret Life of Marilyn Monroe or if she was ever officially diagnosed with a mental illness. However, Dr. Hyman Engelberg, who had prescribed the sleeping pills Monroe took the night she died, is quoted as saying, "We knew that she was a manic-depressive, which is now called bipolar personality," in the 2001 documentary Marilyn Monroe: The Final Days. Dr. Kris also did admit Monroe into the psychiatric ward at Payne Whitney in 1961, which sounds like it was an even more harrowing experience than what was depicted in the miniseries, with a doctor forcing a physical exam on her and Monroe threatening to cut herself with glass if she wasn't released, according to Vanity Fair. A Los Angeles Times report published the day after Monroe's death also describes the actress as being depressed and listless before she passed away.
Well, if you watch The Secret Life of Marilyn Monroe, you'll certainly learn more about this star than you could have imagined, given the fact that she's one of the most ubiquitous figures of all time. However, you'll also come to the sad realization that you'll never come to truly know her either, which is what Monroe wanted but also feared the most.
Images: Ben Mark Holzberg (4), Danny Feld (2)/Lifetime; Getty Images