HBO Is Giving Viewers A Solid Dose Of Rock & Roll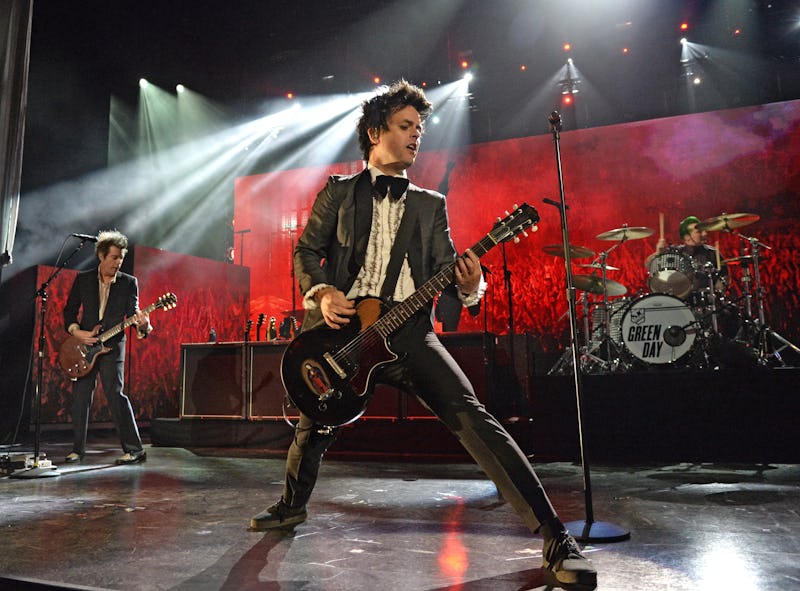 Joan Jett sang about loving rock and roll, and rock and roll loves her right back. This year her band was even inducted into the Rock and Roll Hall of Fame. Although the ceremony originally took place on April 18, us non-rock stars will get a chance to watch the 2015 Rock and Roll Hall of Fame Induction Ceremony on Saturday, May 30. HBO will be airing the Cleveland ceremony at 8 p.m. so you can finally see Ringo Starr, the "5" Royales, the Paul Butterfield Blues Band, Green Day, the aforementioned Joan Jett & the Blackhearts, Lou Reed (!), Stevie Ray Vaughan & Double Trouble, and Bill Withers get inducted into the coolest hall of fame there is.
If you're not convinced to tune in at the thought of seeing some of those rock stars perform live, there are plenty of other A-list musicians that joined them at the ceremony. Paul McCartney inducted Starr. Fall Out Boy inducted Green Day. Stevie Wonder inducted Withers. Patti Smith inducted Reed (she had previously inducted Reed's band the Velvet Underground), while all-around awesome experimental musician Laurie Anderson — who was married to Reed before he died in 2013 — accepted on his behalf. And, Miley Cyrus inducted Joan Jett & the Blackhearts with a pot-smoking anecdote and all.
Plus, Beck, Zac Brown, Dave Grohl, John Legend, John Mayer, a pregnant Karen O, and Nate Ruess also graced the stage at the 30th Rock and Roll Hall of Fame induction ceremony. With so many buzz-worthy performances and speeches, HBO is giving viewers of the ceremony an extra outlet to discuss it through its beta site HBO Connect. So, if you want to do more than just watch, you can chat about it with other fans on that site and extend the rock and roll experience.
For those rock and roll fans who don't pay for the premium channel HBO, unfortunately you're out of luck. You can only watch the ceremony through the channel or online through HBO GO, (which you need a valid HBO subscriber login to access). This year makes the fourth time that HBO has aired the ceremony and the channel signed a three-year contract to continue doing so, so unless you can afford to go to Cleveland next year, HBO is the only gig in town.
Now, as a rock and roll fan, you be out and about catching some live music on Saturday and unable to watch. (But, hey, no judgment if you are just chilling on the couch — even rock stars need some downtime.) With that in mind, HBO is offering a plethora of air dates of the ceremony on HBO and HBO 2 and allows you to view it anytime after May 30 on HBO GO. So, don't miss your opportunity to see some of rock and roll's legends onstage — and if you don't have HBO, you should make friends with someone who does. HBO subscribers are just good people to have around in general.
Images: Kevin Mazur/HBO; Getty Images (2)